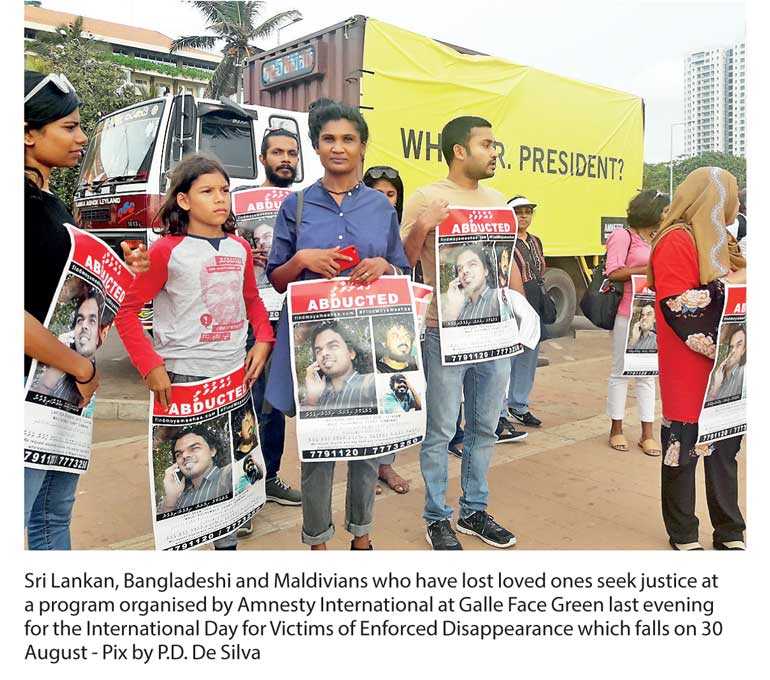 As the world marks the International Day of the Disappeared, Amnesty International calls on governments across South Asia to deliver long overdue justice to the families of thousands of people who have been forcibly disappeared, some of them decades ago.

Enforced disappearances have scarred communities across South Asia, with some governments continuing to persist with the cruel punishment while others have failed to deliver on promises of justice for the thousands who were wrenched away from their loved ones during conflict.

"Few punishments are as cruel or deliberate as enforced disappearances. People are wrenched away from their loved ones by state officials or others acting on their behalf, who deny the person is in their custody or refuse to say where they are. Families are plunged into a state of anguish, desperately trying to keep the flame of hope alive while fearing the worst. They may be trapped in this limbo for years, even decades," said Biraj Patnaik, Amnesty International's South Asia Director.

"South Asia has a particularly gruesome record when it comes to enforced disappearances, with some governments persisting with the practice while others have failed to provide answers to those who have waited years for them. It is about time that governments in the region criminalise enforced disappearances and consign them to the past, release the people disappeared or charge them with a recognisable crime, and hold the perpetrators accountable."

The disappeared are at risk of torture and even death. If they are released, the physical and psychological scars endure. If they are killed, the family never recovers from their loss. Disappearances are a tool of terror that strikes not just individuals or families, but entire societies. This is why they are a crime under international law, and if committed as part of a widespread or systematic attack, they constitute a crime against humanity.

Afghanistan

More than four decades of conflict in Afghanistan has left tens of thousands without news of the fate or whereabouts of their loved ones. There were tens of thousands disappeared when the communist People's Democratic Party of Afghanistan seized power in the late 1970s.

Disappearances were a constant feature of the Soviet invasion that followed, the civil war that ensued after the Soviet retreat, and under the Taliban's rule. Enforced disappearances sadly continue to this day. Instead of reckoning with this haunting past, the Afghan government has failed to ratify the International Convention for the Protection of All Persons from Enforced Disappearance even as people continue to be snatched from their families by the authorities.

Bangladesh

Since 2013, the current Bangladeshi government has been responsible for hundreds of enforced disappearances.

According to a recent report by Human Rights Watch, 90 people were disappeared in 2016 alone. Most of these cases were short-term disappearances, with the disappeared produced in court weeks later. However, 21 people were later killed, and nine people remain unaccounted for. The victims have mainly been members of the political opposition.

Maldives

Four years ago, Ahmed Rilwan, a blogger and a reporter for the Maldives Independent newspaper was abducted from outside his home. There has been no news of his fate or whereabouts since amid fears that he may have been subjected to an enforced disappearance.

In 2012, Rilwan had received death threats for reporting on the attack on blogger Ismail Hilath Rasheed, who was stabbed and wounded. In the face of protests, the authorities arrested four suspects in September 2014. The following month, two of the suspects were released.

In August 2018, a criminal court in the Maldives acquitted two men accused of kidnapping Rilwan. The President of the Maldives, Abdullah Yameen, callously remarked that Rilwan was "undoubtedly dead" before walking back his comments the next day.

Nepal

During the more than decade-long conflict, more than 1,300 people were forcibly disappeared. The United Nations estimates that more than 250 people were disappeared from a single district.

The government has established the Commission of Investigation on Enforced Disappearances, which finally began receiving submission in 2016 and has collected more than 3,000 complaints. However, due to limitations on its mandate and persistent political and resource constraints, the commission has not been allowed to function effectively.

Pakistan

Over the past two decades, Pakistan has seen perhaps thousands of people disappeared by the authorities. The UN Working Group on Enforced or Involuntary Disappearances has more than 700 pending cases from Pakistan, and Pakistan's State Commission of Inquiry on Enforced Disappearances has received reports of hundreds more, from across the country.

The disappeared have included bloggers, journalists, students, activists, human rights defenders, members of religious minority groups, and suspected members of armed groups. Once confined to the restive provinces of Khyber Pakhtunkhwa and Baluchistan, disappearances now strike deep into Pakistan's heartlands and its main cities.

Sri Lanka

Since the 1980s, Amnesty International estimates there have been at least 60,000 and as many as 100,000 cases of enforced disappearance in Sri Lanka. The victims include Sinhalese young people who were killed or forcibly disappeared by government death squads on suspicion of leftist links in 1989 and 1990. They include Tamils suspected of links to the LTTE, disappeared by police, military and paramilitary operatives during the conflict from 1983 to 2009. And they include human rights defenders, aid workers, journalists, government critics, and prominent community leaders.

Despite international commitments to end impunity for enforced disappearance, the authorities have failed to investigate these cases, identify the whereabouts or fate of the victim, or prosecute those suspected of the crimes.