India's Defense Minister Nirmala Sitharaman has expressed concerns over China's plans in Sri Lanka, after the Sri Lanka handed over the operational control of its strategic southern port in Hambantota to a Chinese state-owned company in January.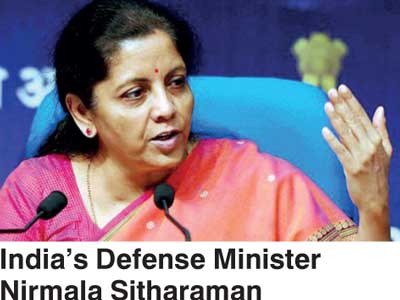 Hinting at security concerns over Sri Lanka handing over its Hambantota Port to China, Defense Minister Nirmala Sitharaman has raised doubts whether China would confine itself only to port activities, according to a report in The Hindu.

"Whether China will confine itself to only port activities in Hambantota port is a question and I do not want to say anything further," she told reporters after a meeting on the implementation on "New India vision 2022" at the Collectorate in Ramanathapuram on Wednesday.

She said the Sri Lankan government had handed over the port to China on a 99-year lease after having failed to repay a loan. On whether China setting up its 'base' in Hambantota port posed security threat to the country and whether India was prepared to face the threat, she said, "whether China will use the port only for port activities is a question mark and my reply answers all your queries.'

About the failure to identify the killers of Rameswaram fisherman K. Britjo, who was allegedly shot dead by the Sri Lankan Navy on the high seas on March 6, 2017, Sitharaman said it was taking time as it was an international issue and the Centre was following it up. "We will not give it up," she added.
India boosts maritime reach with Seychelles pact to build naval facilities
NEW DELHI/PORT VICTORIA (Reuters): India has signed a 20-year pact with the Seychelles to build an airstrip and a jetty for its navy in the island chain, the two countries said, as the South Asian nation steps up a contest with China for influence in the Indian Ocean.

China last year inaugurated its first overseas military base in Djibouti, near one of the world's busiest shipping lanes, deepening Indian insecurities and pushing it to gain a foothold in the region.

The agreement signed in the Seychelles' capital of Victoria last weekend provides for India to develop the airstrip and jetty on the Assumption islands, near another shipping route.

"India is helping us free of charge, and the facilities and activities will entirely be at the control of Seychelles and will be conducted as per the laws of Seychelles," Barry Faure, its secretary of state for foreign affairs, told Reuters.

But nothing had been leased to India and the new facilities would help Seychelles better control its exclusive economic zone of 1.3 million square kilometres, Faure added.

First announced during Indian Prime Minister Narendra Modi's trip to the islands in 2015, the pact faced problems, as critics who feared a handover of territory demanded that the Seychelles government make clear the terms of India's role.

But those concerns have since been tackled, officials said. India and Seychelles are maritime neighbours with a stake in each other's security, said Indian Foreign Secretary Subrahmaniam Jaishankar, who signed the agreement in his last official action before retiring this week.

"India and Seychelles have drawn up a cooperation agenda that covers joint efforts in anti-piracy operations, and enhanced surveillance and monitoring to prevent intrusions by potential economic offenders," he said. These are people engaged in illegal fishing, poaching, drug and human trafficking, he added.

China has been building ports, power stations and highways across Asia, but the terms of some of its investments have angered people. In Sri Lanka, China faced criticism after taking control of the southern port of Hambantota it had built in a debt-to-equity swap deal.

India has tried to be more careful, avoiding giving hard loans and casting its assistance as a joint endeavour.

But military officials called the Seychelles pact a big step in extending the reach of India's navy, which is expected to rotate its ships and aircraft through the islands. "The development is a clear indicator that India's geo-strategic frontier is expanding in tandem with China's growing strategic footprint in the Indo-Pacific," said Captain Gurpreet Khurana of the Indian Navy's National Maritime Foundation.