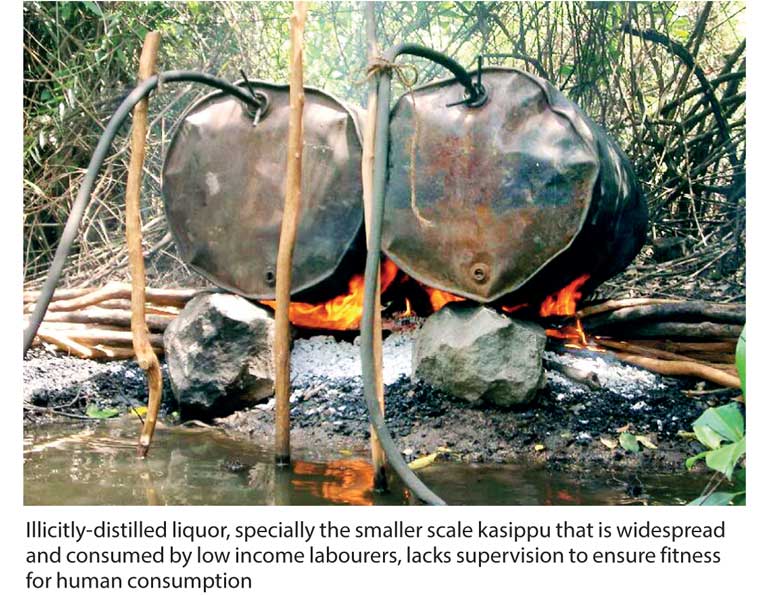 By Tassie Seneviratne

The problem of illicit liquor is not something new to Sri Lanka. It is to the credit of this Government that it has viewed this problem with the seriousness that it deserves.

Latest statistics of the Excise and Police Departments reveal that 97,000 illicit liquor dens have been detected within the year 2015 alone. This means that an average of 270 raids have been conducted per day and it follows that a raid has been conducted every five minutes daily.

Still for all, manufacture and consumption of illicit liquor goes on unabated. Political patronage received by illicit liquor barons coupled with bribery and corruption on the part of Government agencies tasked with prevention and detection of this menace, remain the drawbacks.

Police involvement in detecting and preventing illicit liquor is with a view to preventing crime. Apart from the fact that many acts of violence are committed at or in the vicinity of illicit dens, illicit liquor is tied up with gambling dens and many a nefarious activity that this country is plagued with.

The illicitly-distilled liquor, specially the smaller scale kasippu that is widespread and consumed by low income labourers, lacks supervision to ensure fitness for human consumption and poses another problem to reckon with. The cost to the Government to provide medical treatment for those suffering from diseases due to consumption of this poisonous liquor, is considerable.

In my experience as an Inspector of Police and up to the rank of Senior Superintendent of Police, I have had the opportunity of looking at this problem from a broad perspective – specially having been the Officer in Charge of the Central Vice Squad in the City of Colombo.

I could best illustrate with a case study the extent to which the tentacles of illicit liquor barons spread – Lesson from the Kalattawa murders: Having done a correspondence course in homeopathy, the villain Alfred de Zoysa adopted the prefix of 'Dr.' to his name and wangled a post in Government service as an apothecary. Later he got into private practice in Weliweriya. After some time, having accumulated enough money for the purpose, he invested in winning tenders from the Excise authorities for arrack taverns in various parts of the country.

Crimes including abduction, assault, robbery and murder were part of the process in the auctions to win tenders for arrack taverns. He next resorted to adulteration of arrack sold at the taverns, with illicitly distilled liquor and amassed a fortune. To carry on in this fashion he established close connections with the underworld. In this scenario only thugs and illicit liquor barons could take arrack taverns on rent.

Having become a successful arrack renter for taverns in Colombo, Negombo, Puttalam and Balapitiya, he successfully rented taverns in Anuradhapura. Although he won tenders to sell government arrack, what he mostly sold was illicitly distilled liquor from his own illicit distillery in Kalattawa and made huge profits.

With this enormous wealth he had thus amassed he was able to obtain large-scale Government contracts in the Northern, North Western and North Central Provinces, including a contract with the Army for the laying of railway tracts. The large number of motor vehicles and heavy machinery necessitated him to establish a garage at Anuradhapura in which he employed many workers.

With a sense of complacency coupled with his vanity, he became careless, indifferent and contemptuous of the law. Any employee who fell from his grace was tortured and killed and none complained through fear, especially due to his connections with the Army and Police.

A civic-minded cultivator however made a formal complaint and Inspector S.S. Navaratnarajah with a Police party rescued a former employee who had been tortured in a most sadistic manner and was about to be burnt alive. With this arrest the wheels of the law started to roll and many other complaints too started to flow in. Finally, the long arm of the law spread its tentacles strong enough to catch up on him and on 20 July 1972 Alfred de Zoysa was executed.

Another good illustration to show how illicit liquor finds its way into Government rented taverns is taken from an exercise carried out at the instance of Dr. N.M. Perera, on my suggestion, when he was the Finance Minister.

The exercise was to compare the amounts in the tenders for the Kotahena and Kollupitya arrack taverns, with the profits from Government arrack supplied to these taverns. The profits from legal sales was way below the amount paid for the tenders. This disclosed how much illicit arrack was being sold at these taverns – not excluding other taverns. It also disclosed the extent to which the sale of Government arrack was undercut and the Government deprived of the revenue due to it. It is a vicious circle.

Arrack business has always been big business and continues to get bigger and bigger. A phenomenon observed in arrack business is the entry of unscrupulous business magnates into this business. Since of late the monster in the Central Bank bond scam has been evincing great interest in arrack business. Arrack consumption will surely increase with the promotion of this business and so will the attendant evils.

Unscrupulous big timers will not stop with sale of adulterated arrack, and will not hesitate to use the same push to pedal narcotics that is speedily catching up and is also easy money that is undeclared. This mafia will go all out to sabotage any moves to combat its activities. They will tap experts who will prostitute their positions for big money – and such experts are a dime a dozen.

Beer is a soft alcoholic beverage brewed in hygienic conditions under strict supervision. Never has there been any complaint of beer bottles/cans being contaminated. But it has been quite a common occurrence to find bottles of arrack smelling of kerosene. Smell of kerosene is easily detected. There can be worse muck in these bottles that is not detectable by smell. This shows the extent to which illicitly bottled arrack finds its way to arrack taverns.

It is a myth to say that reducing the price of beer will induce non-alcoholics to take to beer. The fact is that those who don't take alcohol at all don't take it even when offered free. It is only after one takes to alcohol that the cost factor comes in.

If people take to a drink just because it is cheap, then the cheapest drink in Sri Lanka is water, in which case we will have a healthy nation. But that too will not suit the pharmaceutical mafia which is as powerful as the narcotics mafia, and is also not in the interest of doctors who benefit from 'big pharma'.

The bold decision of the Government to reduce the price of beer with a view to wean the people, especially the youth, from poisonous liquor and narcotics, vested interests notwithstanding, is laudable.
(The writer is a retired Senior Superintendent of Police and a human rights activist.)