Harvard Sino-American policy expert Dr. Patrick Mendis recently addressed the inaugural Belt & Road Lecture at the Faculty of Education of Hong Kong University (HKU), which has been ranked fourth in the world.

The public lecture was entitled 'American Vision and Chinese Mission: Will President Xi's Belt and Road Initiative (BRI) create a 'Pacific' New World Order?'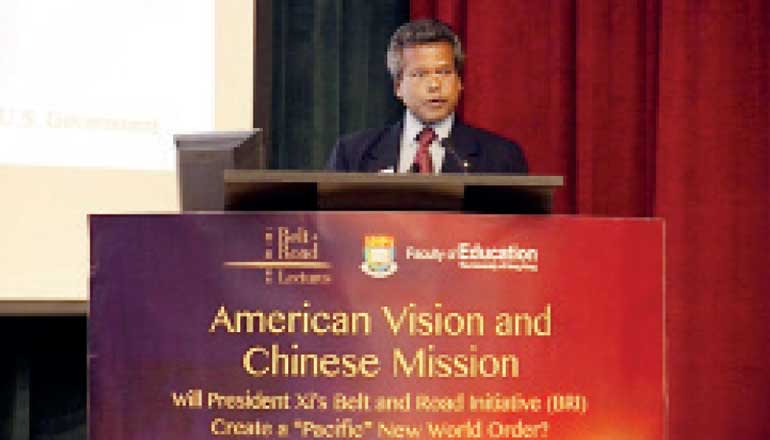 Dr. Mendis addressing the audience – Pic by Hong Kong University
Prof. Mendis explored the less-known Confucian influence on the enduring American foundation for a deeper understanding of the evolving Sino-American relationship and its challenges for Hong Kong and the world.

Sri Lanka is an integral part of China's One Belt, One Road (OBOR) Strategy, commonly known as the BRI.

The 'Island of Pearl' in the Indian Ocean now connects the 'Pearl Square' in the Middle East and the 'Pearl Delta' of the triangulated region of Macau, Shenzhen and Hong Kong through President Xi Jinping's 21st Century Maritime Silk Road, said Prof. Mendis.

In the age of President Donald Trump's 'Make America Great Again' nationalistic policies, the Harvard sinologist offered a reminder of the founding vision of the United States as a global nation. He then explained how President Xi was using a similar but commercial vision in the 'Chinese mission' in the world.

The scholar compared the two countries and said: "Chinese culture and Confucian philosophy inspired the founding fathers of the United States of America."

Quoting Benjamin Franklin, a founding father, Prof. Mendis said: "The Chinese are regarded as an ancient and highly civilised nation."

On the Chinese sage, Franklin also wrote about the relevance of Chinese civilisation in American progress, talking about "what Confucius proposed to the princes" for moral governance "according to this [Confucian] model" for a "happy and flourishing empire" in the United States.

He elaborated that Thomas Jefferson, another founding father and the third President of the United States, envisioned that the new republic would keep "honest friendship with all nations and entangling alliances with none."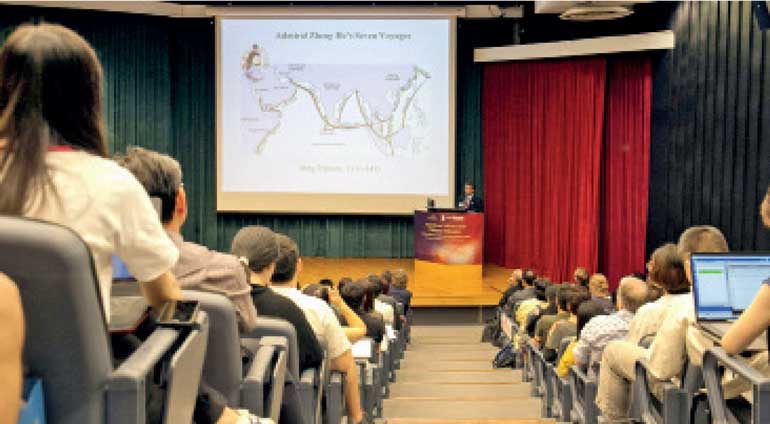 Dr. Mendis delivering his lecture – Pic by Hong Kong University
Over the years, this founding vision has gradually changed, the professor explained. With the BRI, China intends to rejuvenate its Confucian culture and the commercial glory of the ancient Silk Road civilisation.

Prof. Mendis is the author of 'Peaceful War: How the Chinese Dream and American Destiny Create a Pacific New World Order'. The highly-praised book is now published in Mandarin Chinese in Beijing.

Prof. Mendis, Harvard Kennedy School's former Rajawali senior fellow at the Ash Center for Democratic Governance and Innovation, is an associate-in-research of the Fairbank Center for Chinese Studies at Harvard University.

An award-winning American diplomat and military professor at the NATO and Pacific Commands, Dr. Mendis has lectured at more than 25 Chinese universities, visited all the provinces of China and travelled to every state in the US as well as 126 countries.

An alumnus of the University of Minnesota's Hubert Humphrey School of Public Affairs and the Harvard Kennedy School of Government, he is a first-class BSc (Hons.) graduate of business administration and economics at the University of Sri Jayewardenepura.

The BRI lecture series is supported by the Hong Kong Special Administrative Government under the University Grants Commission.