Economic prospects damaged as Colombo struggles to repay foreign debt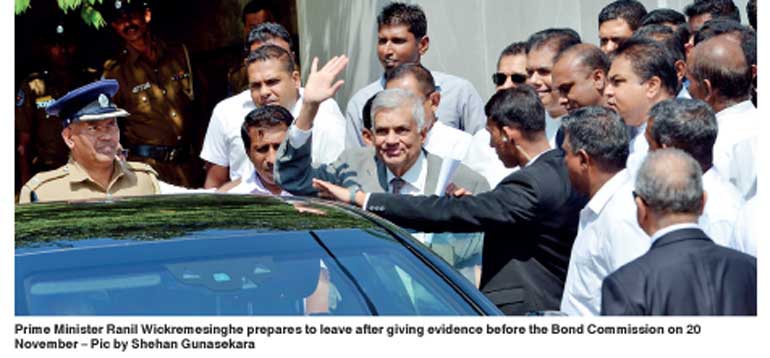 By Marwaan Macan-Markar

Nikkei Asian Review: Prime Minister Ranil Wickremesinghe made unwelcome political history on Nov. 20, appearing before a presidential commission of inquiry into a Rs. 10 billion ($65 million) bond scandal that is shaking his Government and damaging the country's economic prospects.

"I have disclosed everything, as we have nothing to hide," Wickremesinghe told supporters as he emerged from the so-called Bond Commission hearing after becoming the first sitting prime minister to be questioned at a presidential corruption inquiry.

Wickremesinghe's stance was mirrored on the streets of the capital, where posters quickly appeared describing the leader of the United National Party, the senior partner in Sri Lanka's nearly three-year-old coalition Government, as a "fearless premier". But the coalition may need more than political spin to escape from the bond revelations, which have exposed murky dealings within Colombo's incestuous financial sector.

Details of the scandal have dogged the UNP since it became public in March 2015, two months after the coalition's shock victory in a presidential election in January. The coalition, which successfully fielded Maithripala Sirisena as its candidate for president, campaigned on a platform of good governance and accountability to defeat the authoritarian and corrupt regime of former President Mahinda Rajapaksa.

But the scandal also has broader business implications, not least because it reinforces a global impression of Sri Lanka as a country where corruption remains rampant. It was a factor in Sri Lanka's fall of 12 places in the 2016 Corruption Perception Index, released annually by Transparency International, a global anti-graft watchdog, and analysts say it has complicated the government's struggle to finance foreign debt repayments.

The $87.5 billion economy faces a challenging external debt schedule, according to Fitch Ratings, a ratings agency. Sri Lanka has just $7 billion in foreign currency reserves, and is due to pay more than $5 billion in maturing foreign loans and interest starting in 2019. A "prolonged drought of foreign direct investment," as one economic analyst put it, has not helped. FDI amounted to just $450 million in 2016, down by 54% from 2015.

The bond scandal has shaken international confidence, according to financial analysts, who say foreign investors are unimpressed by the Sri Lankan Government's claim that the prime minister and other senior ministers are appearing before the commission as a mark of good governance.

Sudden decision

Sirisena appointed the commission to investigate the sale after Opposition lawmakers demanded an independent inquiry, claiming that the bond issue had raised government borrowing costs by more than $1 billion over the two years.

The Central Bank of Sri Lanka rejects those claims, but the Government's credibility began to fade after it emerged that the bank had suddenly decided in late February 2015 to raise Rs. 10 billion from a sale of 30-year-Government bonds with a coupon (fixed interest rate) of 12.5%. It had initially advertised an offer of Rs. 1 billion with a 9.5% coupon.

Bonds worth Rs. 7 billion were snapped up by Perpetual Treasuries Ltd., a primary dealer owned by Arjun Aloysius, a son-in-law of Arjuna Mahendran, the Governor of the Central Bank. Mahendran, a Sri Lankan-Singaporean banker, was chosen for the top banking job by Wickremesinghe.

Both Mahendran and Aloysius have denied any wrongdoing, as have officials at Perpetual Treasuries. But the whiff of conflict-of-interest was followed by other details, such as a lack of due process in the transaction the Government asked Mahendran to increase the amount raised, which would normally have been determined by the bank's Monetary Board.

The Government said it needed the money to repay debts amounting to more than 10 billion rupees inherited from the Rajapaksa regime for infrastructure spending. The debts had to be repaid by the first quarter of 2015.

The inquiry has also revealed extensive insider trading on the debt side of Sri Lanka's capital markets, going back to the Rajapaksa years. Witnesses before the Bond Commission have painted a picture of a business-political nexus drawn from an ultra-wealthy and socially-privileged section of Colombo society.

At the commission, Aloysius was accused of having access to inside information, which enabled him to sell the bulk of the bonds his company bought to the Employees Provident Fund, Sri Lanka's largest social security scheme. Aloysius has proved toxic to Mahendran, who resigned in August 2016 under a cloud of suspicion. Ravi Karunanayake, the first finance minister of the coalition Government, has also paid a political price. He stepped down as a minister in 2017 after it was revealed at the commission that he had been living in an apartment owned by Aloysius, a close family friend. Karunanayake denies any wrongdoing.

Political observers expect the findings of the commission, which finished its inquiry on 20 November, to further dent the political credibility of Wickremesinghe and the UNP. An estimated three million young voters backed the coalition in 2015 because they wanted an ethical and clean government, said Jayadeva Uyangoda, a recently-retired political science professor at the Colombo University.

"They have lost faith in Ranil, and the UNP has squandered its political capital as a party with a leader appearing to be a moderniser," Uyangoda said.

The Parliamentary Opposition is expected to focus on the Government's corruption record in local government elections expected in early 2018 – the first electoral test of the impact of the Bond Commission's revelations.