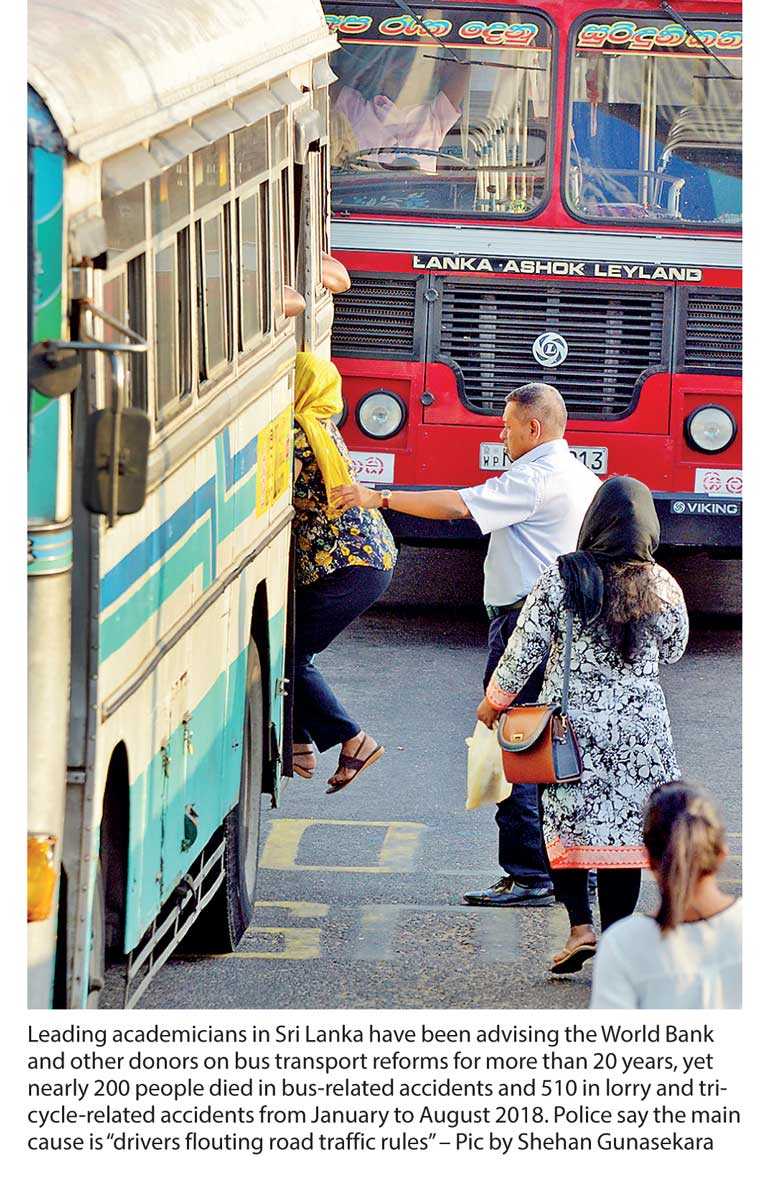 By Professor Prianka Seneviratne, PhD, PEng.

The Government is currently negotiating with the US Government's Millennium Challenge Corporation to receive $ 480 million of American taxpayer-bucks to address the "lack of access to land, policy uncertainty, and inadequate overland transport".

Of this, $350 million is set aside to address "inadequate overland transport" because "weaknesses in transport and logistics infrastructure and planning", is resulting in "high costs of overland transport", which in turn are constraining "private investment and entrepreneurship, and that therefore hold back economic growth".

The high cost of transport will be addressed by spending the $ 350 million bucks in an Advanced Traffic Management System (ATMS) for Colombo ($ 160 million), a Bus Transport Service Modernisation ($ 50 million) and improving 131 km of road in the central provinces ($ 140 million).

The main rationale for this, based on a 'Constraint Analysis' by Harvard University experts, is that average travel speed in Colombo will drop to 9 kmh by 2013 from 14 kmh in 2012 and further reduce the 20 kmh average speed (based on the expert's Google Maps-based computations) on major routes.

These speed drops will "increase transportation cost and shrink market scope". The experts have estimated that the 20-year economic return on transportation investment will be 19%. However, experts have not reported post investment average speed, crash rates, bus passenger waiting times, etc., in their analysis.

Indeed, Sri Lankans will be thankful to American taxpayers for the $ 480 million grant. The rationale is theoretically sound and proven elsewhere. Yet, will this derive the biggest bang for the buck? Unlikely. Why?

Take, for example, traffic congestion in Colombo city. Much of it is caused by improper and illegal parking, undisciplined road users (drivers, pedestrians, bicyclists), and traffic mix (bikes, motorbikes, trishaws, buses, trucks, etc.).

Leading academicians in Sri Lanka have been advising the World Bank and other donors on bus transport reforms for more than 20 years, yet according to the Sunday Times of 23 September ('Private, State buses mow down hundreds every year'), nearly 200 people died in bus-related accidents and 510 in lorry and tricycle-related accidents from January to August 2018. Police say the main cause is "drivers flouting road traffic rules".

The World Bank says that the bus regulator has "deployed electronic ticket machines on half the nation's bus fleet and launched a pilot intelligent transportation system". The Government introduced bus-only lanes in August 2017. But, Culturetrip.com's "Tips for Taking a Bus in Colombo" include "expect to wait, be prepared to run, have upper body strength, and wear modest clothing".

The Sunday Times of 4 March says that "Bus priority lanes cause chaos in Colombo"—after investing Rs. 400 million average speed is 5 kmh compared to 10 kmh before. In this context, should not the MCC negotiating team and the Government be asking themselves whether improving intersections along 205 km of city roads and implementing ATMS, and rationalising bus route, enforcing timetables, and having smart payment systems will return 19% on the investment?

ATMS, smart fare cards allowing intermodal transfer and some trunk road improvements are helpful. But, it will not return 19% on the buck. For that a country needs disciplined, law abiding, patient and respectful road users. It needs service providers with long-term commitments and not short-term profit orientation. It needs an educated, skilled, and certified workforce. It needs land use changes. The Government should, therefore, have been asked to co-finance at least well-designed and sustained workforce development and road-user education programs to get a better return on the investment.

It is also surprising why the Harvard experts did not propose improving the railways after reporting that "outdated and limited rail infrastructure makes the already dense road network more congested". Perhaps because the Government has agreed to borrow for rail than use grants.

True that Sri Lanka Railways is running at a massive loss-largely because of under-utilised assets, unfair trade unions and unsustainable fare. But, it is much easier to add passenger capacity and better utilise existing freight capacity of the railways with a similar investment in rolling stock and technology.

Bus reforms could then be aimed at providing more feeder services to the railways. Together, they will reduce congestion significantly more than an ATMS and bus transport reform. The bang for the buck with this approach will certainly be more.