HOW GREEN WAS MY RALLY: As a triumphalist gesture, it was a great excess for the UNP to indulge in. With that said, it probably sent out all the right signals to the watching world. So the GOP and its savvy grandmaster are back at the great game of global politics – Pic by Shehan Gunasekara
---
Every morning, I play voyeur and watch that nice neighbourhood uncle pluck flowers to pooja-fy his guardian deities. He is quite religious about it. And industrious to boot. The problem, of course, is that he doesn't restrict himself to his garden. Looking every inch an encroacher, he nimbly helps himself to blooms blossoming in his best bud's garden patches. I draw a circle in the sand for him in re mine. There is such a thing as a bridge too far. Good fences make good neighbours.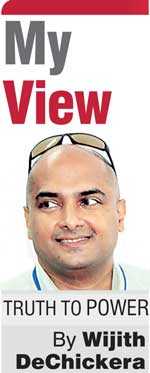 I was reminded of the art of overreaching oneself when I read about the grass-tramplers at Galle Face Green two evenings ago. But whether it was an act of self-indulgence or self-preservation I could not tell immediately. Since the democratic victory delivered by the courts less than a week ago was being interpreted by the greens as a triumph for their party and its evergreen leader, I suppose there was a touch of self-indulgence to it.

However, because one suspects that the savvy grandmaster of GOP politics has his eye on the global scene, one has to admit that there was a smidgen of self-preservation in the 'democratic convention' in plain sight of that eyesore, the Port City. Therefore let us not to the marriage of true minds – not – admit impediments.
Ire
Of course, there are personal as well as planetary dimensions to be taken into account. No doubt the dressing-down that an evidently irate president gave the greens at the swearing-in of their beloved leader as prime minister again was a premier cause for the UNP leadership smarting a bit, under the grim smiles and good-natured nodding at the madness of our newfound king. In noting how the turf lies across the Indian Ocean though, our now once again de facto premier probably had bigger fish to fry than the blue whale who's acting like a big baby in his – the PM's – backyard.
Too far
And then again, there's the not-so-great-game of realpolitik being played once more at the taxpaying, Supreme Court worshipping citizens' expense. While the UNF has got religion and become holier than thou all of a sudden in its desire not to impeach the President, the grass is always greener on the side of their presidential ambitions. However much the restored Prime Minister may preach democracy abroad, he is a tyrant at home… to his party in particular and Government in general. Therefore, we would not put it past him to engineer a broad alliance with the SLPP and rump party dissidents deserting the leaking SLFP ship to impeach Public Enemy No. 1.

I wouldn't put it past Ranil Wickremesinghe to even subvert democracy to achieve his larger personal and partisan agendas, but that would be – again – a bridge too far. Since there is no proof there he was an agent in operationalising the coup to make Maithri the villain of the piece and Mahinda the village hero redux!
GOP
Until and unless the UNP really comes to the democratic-republican party that the Supreme Court and its sister judicial magistracies threw, they will also remain suspect. Their credentials as a party that has the united national interest of the country is at stake – as much as their future as a force for social transformation through constitutional reform, an equitable redistribution of power and instrumentality in the body politic, and transitional justice.

If the Grand Old Party continues to subscribe to liberal politics and neoliberal economics, it will no doubt win friends and influence financiers in the West. If it enrols old buddies into key fiscal and fiduciary positions in the new government, it will make fresh enemies in the rest of the country not already under the Rajapaksa regime's yoke.
OBN
You know, in many respects, there is not much difference between that flower-plucking neighbour and the plug-ugly uncles in the UNP. Both of them, for reasons personal/religious and partisan/republican, are stealing other people's rightful property. Uncle Ajith I can curb with my faithful hound Frodo. Pl tell me, dear people of our newly-restored democratic-republic, how best we may keep the flower-pluckers of the Grand Old Party at bay? Media hounds? Civil society? Courts again?

For one, we must be vigilant that they don't bring the usual suspects in the Old-Boy Network back into any positions of power, influence, mainlining, progress – through the back door – under any pretext whatsoever. You know whom I mean. Then again, there's that burgeoning cabinet where the biggest rats in the history of bilge-water are being accommodated in UNP ranks for love of lucre, realpolitik and future gerrymandering. Last but by no means least, there's the one sole solitary (OK you get it) consideration under which we could let the green hornets at Galle Face Green off the hook just this once.

It is that we are all for the moment at least savouring the fruit of a two-month-long resistance against a dastardly coup driven allegedly by China's "deep pockets" (if we've read the writing on the wall right). So it is important to shout out the gospel of deliverance to our former friends in the west. If the grass is greener over the septic tank, it's because there's a heavy top soil of rich pay-dirt under that patina of restored democracy; and our republicans are the roosters who climb their own dunghill to crow loudly about it.
(Journalist | Editor-at-large of LMD | Writer #SpeakingTruthToPower)