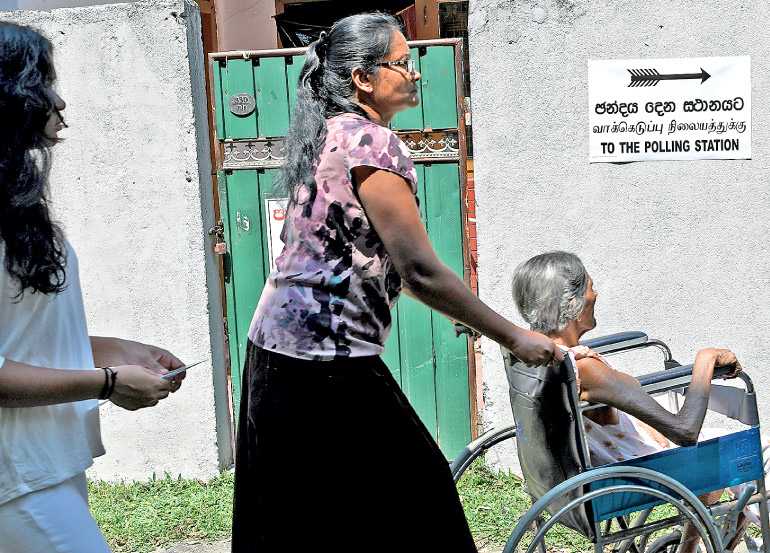 There is absolutely no one-size-fits-all solution to the challenges facing diverse segments of voters. Exploring how different voting methods could mitigate inequalities within the electoral process while taking cues from other countries is a way forward for participatory governance – Pic by Shehan Gunasekara
---
2017-2020 Strategic Plan of the Election Commission has outlined expansion of the categories of voters eligible for postal voting both in public and private sectors as one of its objectives
---
By Dishani Senaratne
---
Every citizen's vote counts. But, for some voters, is exercising franchise a privilege or a fundamental right? An overwhelming majority of blue-collar workers based far from home toil in trying circumstances that have taken a heavy toll on their voting rights. At the same time, small-time entrepreneurs face difficulty in setting aside much-needed work time to provide for political elections.

The 71% voter turnout at the 2020 General Election was indicative of Sri Lankan citizens' interest in exercising their suffrage notwithstanding the pandemic. Notably, Election Commission (EC) Chairman Mahinda Deshapriya commended the public for recording such a high voter turnout rate in spite of the sudden surge in COVID- 19 cases. Yet, a fall of 3 % was seen in total turnout compared with the 2015 general elections, according to the EC statistics. Amid the post-election mixture of popular jubilation and disappointment, the workforce's diverse and nuanced perceptions and experiences of voting remain unnoticed and unaddressed.

Returning to home areas for the sole purpose of voting is a challenge in work environments where meeting tight deadlines is the norm. A senior mason at a major construction site in Slave Island, Colombo, pointed out that engaging in a physically demanding job in tandem with minimal time off may not be conducive for citizens' participation in elections.

"Most of the time, we don't take our Sunday or Poya off-days. We have to complete the project on time. We work six days in a row and get one off-day. Some people work continuously and take leave in one go. The election was held on a weekday this time and that is how I went back to Ampara to vote," he explained the strategy that he had to employ to cast his ballot sans giving up work time.

In a similar vein, during pre-polls interviews, many Micro, Small and Medium Enterprise (MSME) employees as well as employers echoed that taking time off to vote is no simple task because daily cash is crucial for sustenance of their businesses. In contrast, workers in large-scale enterprises are granted leave to vote partly as a sign of commitment to employee suffrage.

Likewise, some of the principal employer organisations in the country – the Ceylon Chamber of Commerce (CCC), the Employers' Federation of Ceylon (EFC) and the Ceylon National Chamber of Industries (CNCI) – concurred in the view that facilitation of employee voting rights nurtures democracy. "The employers should also have a moral obligation to give employees time off from work to vote," a CCC member reiterated the importance of thinking beyond legal framework for employee voting rights.

Initially brought over by the British as indentured labourers, the workers on tea plantations are often victims of social, economic and political marginalisation. Even though working and living conditions of the tea plantation sector have considerably improved over the years, there is ostensibly a long road ahead for them to exercise their voting rights in a free and fair manner. The lack of regular identification documents is a huge barrier that keeps the up-country Tamil community from voting.

Adding to that, uninformed voting is compounded by illiteracy of the elderly. A middle-aged plantation worker in Hatton revealed how relatively more vulnerable voters are prone to intimidation, undue influence or force in relation to exercising their franchise.

In the wake of the pandemic, a new economic woe has emerged within this community. Having lost their jobs since lockdown, a great number of youths who had left to urban areas for employment have reverted back to estates. Inevitably, many are at risk of falling into extreme poverty which will probably exacerbate rampant domestic violence. The proposed 1, 000-rupee daily wage for plantation workers is yet to become reality albeit the matter abruptly resurfaced during the pre-election period.

Logistical problems encountered while travelling in order to cast votes have been the bane of many Free Trade Zone (FTZ) workers. "We were granted leave but there were no buses from Matugama to come back," a garment factory worker was disappointed that her failure to report back to work on time resulted in deduction of her attendance allowance.

"I felt unsafe while walking in the dark to reach my home, after getting down from the bus," a FTZ worker who hails from Molkawa pointed out how women are usually compelled to risk their safety in order to sustain their livelihoods. Conversely, the Daa Bindu Collective, a non-profit FTZ workers' organisation, remarked that a considerable number of FTZ workers tend not to go home to vote due to high travel costs.

Reflecting how voting rights are generally jettisoned in the face of "much larger issues" such as the looming economic shutdown, almost all FTZ workers who responded were more concerned about their growing job vulnerability as a result of COVID- 19.

On a positive note, some Free Trade Zone Manufacturers' Association (FTZMA) members have moved to introduce work rosters to keep supply chains moving although work orders have been significantly slashed or cancelled. The FTZMA acknowledged the support rendered by the Board of Investment (BOI) and other government bodies that was instrumental in resuming work subsequent to lockdown, complying with safety and health guidelines.

The initial decision by the Election Commission to offer advance voting for those who were in quarantine centres was later abandoned due to legal barriers, much to the dismay of repatriated migrant workers.

"I have voted only twice in my lifetime. This time I was at a quarantine centre and missed the opportunity to vote," a domestic worker in her late 50s who has been working in Kuwait for more than three decades complained, declaring that exercising her fundamental right to vote remains 'a distant dream.' She was frustrated with the authorities' slow pace in introducing a remote voting system for migrant workers whose remittances contribute massively to economic development.

Contrary to the case of domestic workers who are based in West Asia, voting woes of their counterparts who reside in Sri Lanka are seldom in the limelight. A live-in domestic who is working in a household in Kirulapone, Colombo, disclosed that the homeowner forced her not to return to her village in Aralaganwila simply because she was granted leave to vote at the last year's presidential election. Since domestic work is yet to be regulated, violation of worker rights in private households generally goes unnoticed.

The following statement made by a daily-paid labourer in Pettah exemplified how workers who move to cities from rural areas for employment are doubly sidelined by politicians from both work and home areas: "The politicians from our village think we don't go back to vote and ignore us. The politicians from Colombo don't care about our problems because we are not registered to vote in Colombo."

Attorney-at-Law Lakmali Hemachandra, added that there have been numerous cases where children were denied admission to schools as parents are not registered voters in areas where they work.

It is imperative for all political parties, regardless of whether they are in power or not, to ensure that no citizen is compelled to choose between his/her livelihood and exercising his/her franchise. While struggling to make ends meet, the workers might pay little attention to their voting rights once the election is concluded. Even worse, they would be wary of making election complaints to authorities for the fear of losing their jobs.

The 2017-2020 Strategic Plan of the Election Commission has outlined expansion of the categories of voters eligible for postal voting both in public and private sectors as one of its objectives. Unarguably, enabling postal voting for the MSME and blue-collar workers who are unable to access their relevant polling centres on the election day owing to work and travel commitments will be a step in the right direction towards inclusive voting.

In a pandemic situation, offering different advance voting options such as postal voting may reduce the burden and traffic on voting booths but complete elimination of traditional in-person voting is unrealistic, a recent LIRNEasia policy brief written by Gayashi Jayasinghe and Prof. Rohan Samarajiva observed.

Given that the world has seen remarkable technological progress, it is not surprising that internet voting is fast gaining momentum as a method of remote voting. Conducting a pilot project for the security personnel who are deployed overseas on introduction of remote voting can be extended to enable not only migrant workers but also expats who are scattered all over the world to participate in the political decision-making process, a 2017 report by the Centre for Monitoring Election Violence (CMEV) noted. However, heavy costs and technological barriers are likely to become bottlenecks in realisation of this novel voting practice in the Sri Lankan context.

Evidently, there is absolutely no one-size-fits-all solution to the challenges facing diverse segments of voters. Exploring how different voting methods could mitigate inequalities within the electoral process while taking cues from other countries is a way forward for participatory governance.
(The writer is a freelance journalist and currently an Internews Story Fellow.)