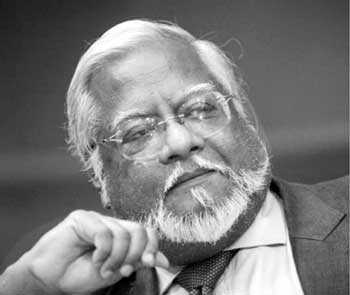 Following is the address to the Taihu Forum held on 18 October in Beijing by Nirj Deva DL, Member of European Parliament:
President EU China Friendship Group European Parliament, Vice President EU Parliament International Development Committee, Chairman Gao Peiyong, Your Excellencies Romano Prodi, David Gosset, Edmond Alpphndery, Chen Wenling.

Economic globalisation is taking place at the onset of the most turbulent period in industrial history. The Digital Age is upon us, bringing in a whole new culture while shaking the very foundations that underpinned the cultural norms which, balanced the industrial and services revolution for 300 years.

China is now the leader of this epoch-making globalisation exemplified by the Belt and Road Initiative, while the very architect of the 75-year-old global multi-lateral order, the United States of America is threatening its core beliefs.

This is taking place within a cultural and political mindset that the West is wrongly applying to the East. We in the West are trying to say that Chinese culture is no different from our own with respect to colonialism, foreign conquests and imperialism. I believe this to be fundamentally wrong.

We are therefore unwittingly laying down the foundations for huge future conflicts and cultural misunderstandings unless we address these issues now. I am delighted and most grateful that I have this opportunity in front of this august and learned forum to touch on these matters; in the most forthright way I know.

First, we believe, economic globalisation is inevitable and unstoppable; unless, there is to be a war on a global scale. This happened in 1914 when the conditions for a global economy set by the outreach of the British Empire was stopped by Germany.

Today conditions are very different from then. Today there are no colonial subjects, no huge social disparity in rank and by aristocracy, no Emperors and serfs and no subject peoples.

Rather, instead, today we have the rule of international law, the United Nations, WTO and other multilateral institutions followed by a global internet, a global social media, Weibo, Facebook, Twitter, WeChat, global payment gateways Amazon, Alibaba, Alipay, Pay Pal, etc. fusing together a new world culture of the young underpinned by commerce and social exchanges.

The only true market impediment to complete globalisation now, is capital and in this regard China is meeting that need magnificently.

The Belt and Road initiative is a bold determined and extraordinary step in human history. It is a step forward in creating a shared future for over 65% of mankind in a region historically rent asunder for thousands of years by war.

That China has stepped forward to create a community of a shared future, underpinned by common values is a huge advance for mankind. This globalising enterprise could historically only have been possible once, long time ago, had the then Roman European Empire linked together over the vast Eurasian steppes with the Chin Empire.

In today's Europe and todays China what was not done then could well be done now creating huge new markets for both the EU neighbourhood and for China.

However, globalisation is again at risk, this time not by a war mongering Prussian King but by a new and alarming American policy of putting America First. America First mean everybody else second, including the global multilateral system that America herself had created. We can only hope that it is a passing phase.

Another risk to globalisation comes from the widening gap created by the stealthy dawn of the Digital Age which has suddenly burst upon us.

Only by acting together can we protect the economic wellbeing of our peoples in the coming period of the most disruptive economic history. By 2025 or even sooner, the changes to the global economy by a combination of artificial intelligence and bio technology will see the total destruction of our conventional industrial and service base, to be replaced by the digital age.

An age where artificial intelligence, health and educational software, autonomous and electric cars, 3d printing, robotics and agriculture-related software, will disrupt 90% of the traditional industries which we know now; making hundreds of millions of people unemployed.

It is amazing to think, that Uber is just a software tool, don't actually own any cars, but are now the largest taxi firm in the world. Air Bnb the biggest hotel company in the world though they don't own a single hotel. Or that IBM Watson giving affordable legal advice with 90% accuracy, is putting hundreds of thousands of young lawyers out of jobs. Or that IBM Watson helps to diagnose cancer four times more accurately than human nurses. It is expected at least in the West that by 2028 car ownership will collapse, with driverless cars delivering us to our destination and thus leading to car-parking spaces in cities becoming empty.

The price of solar energy will drop so much that we will have the age of cheap electricity leading to massive growth in every sector, including increased desalinisation, creating an abundance of clean water.

We are now at the confluence of two immense revolutions. When the biotech revolution merges with the infotech revolution, it will produce big data algorithms which will challenge our entire societies and centuries old cultures.

Power will be in the hands of digital giants forming digital monopolies, in an unregulated system. Big data algorithms will by creating the norm, undermine if not destroy the very idea of individual creativity; the cornerstone of cultural diversity and artistic creativity.

China is emerging on the global stage as an economic super power at the very time when the world is going through its most turbulent and disruptive phase for three hundred years.

While most nations welcome China's economic and lending power which has already alleviated poverty in Africa and parts of Asia, her emergence has not been openly welcomed as a partner in development by the West.

This caution in the West must be addressed and addressed now to prevent manifold problems in future for China's tryst with her destiny. Steps must be taken now to correct a huge misapprehension and misunderstanding that is taking root deeply in Western minds.

This misapprehension is that the West thinks that Chinese culture and social values are just like their own. They are totally unaware and completely ignorant of the cultural values that underpinned 5000 years of Chinese history. They are unable to grasp that the Chinese may and could be different from them.

For 500 years or more starting with the Portuguese, Spanish, Dutch British French and little Belgium owning the Congo believed that their culture and in particular their religions were superior to those of other races.

They believed that it was their duty therefore to "civilise" the world and propagate Christianity throughout the globe. The subsequent conquests, enslavement, exploitation, colonialism and empire building that followed was morally underpinned by a cultural superiority that justified all that they did in the name of progress and enlightenment; hiding the base commercial greed that impelled them to travel and conquer in the first place.

Now, 500 years later in the modern post-colonial period, these former imperialist are wracked with guilt about what they have done. Their elites are in moral agony about slavery and conquests. They see all other countries engaging abroad and cooperating with third countries as a modern form of colonialism. They simply cannot see the difference between partnership and investment from colonisation.

But most importantly they cannot see what Chinese history can easily tell them. They cannot see that for nearly 2000 years China could have, if she wished conquer the whole world many times over. They cannot see that even as late as 1455, Admiral Zheng He with his grand fleet of over 300 Chinese ships having circumnavigated the globe in 4 directions colonised no one and conquered none. They cannot, even today see, that after China has poured billions and billions of Yuan into Africa, over a period of 20 years, that there are no Chinese Governors Generals, nor Chinese Administrators in any part of Africa.

In short they cannot see that Chinese culture is totally different from Western cultural superiority and the need to "civilise" other nationalities.

I speak as a friend of China when I say that these misperceptions must be corrected and corrected now. Otherwise, all that China is doing to bring a future of shared values will be misunderstood, leading to tension and containment.

For my part as Chairman of the EU China Friendship Group in the European Parliament for the past 12 years I am happy to say much has been achieved.

Our most recent initiative which I understand was approved by the State Council of China recently in the light of China's Belt and Road Initiative and the close strategic cooperation between the EU and China is the EU Diplomat Town Project. This aims to effectively promote EU-China culture exchanges and multidimensional communications by providing several physical townships in different region of China with access to the 28 EU Member States culture, art food and beverages, music, drama, manufactured goods and services show cased in houses or pavilions on a permanent basis. Similarly, I urge my Chinese friends to show case in towns and cities of Europe your ancient culture and value system which has produced harmony and peace with your neighbours for thousands of years.