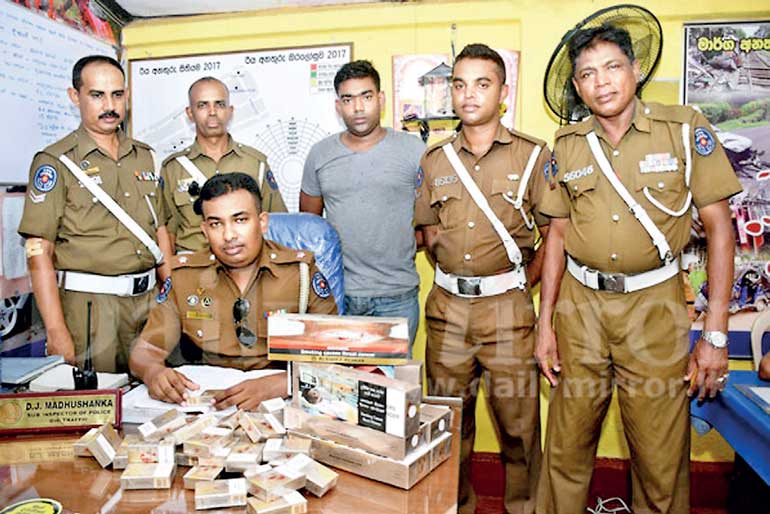 By Tharaka Wijesinghe

Sri Lanka was one of the first countries to ratify the Framework Convention on Tobacco Control (FCTC), which is a set of recommendations made by the World Health Organization (WHO) to governments, with the goal of eliminating tobacco consumption across the globe. The FCTC contains provisions on demand reduction, product packaging, pricing, tax measures and combating tobacco trafficking.

In fact, the Government acceded to the FCTC Protocol to eliminate illicit trade in tobacco products in January 2016 and is additionally obliged to combat cigarette smuggling nationally. However, it must be noted that the focus of the Sri Lankan Government has been placed squarely on curtailing the legal tobacco industry whilst ignoring the illicit industry, which has resulted in the boosting of illegal cigarette trading in the country.


Smoking rates

on the rise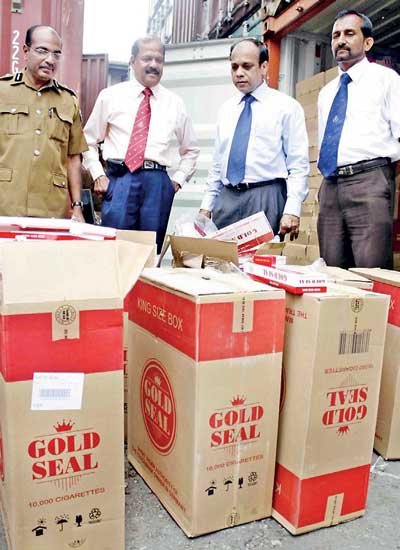 Despite the Government's heavy regulations and stringent taxation on legal cigarettes, overall smoking rates in the country have increased, driven mostly by the record high levels of easily accessible smuggled cigarettes that have been flowing into the country. According to a statement made in May 2017 by National Authority on Tobacco and Alcohol (NATA) Chairman Dr. Palitha Abeykoon, a total of 1.5 million Sri Lankans smoke 11 million cigarettes daily. With illicit fags being sold at cheaper rates, at about Rs. 25-35 a stick in contrast to a legal cigarette which sells at Rs. 50 a stick, one can make the conclusion that the prevalence of smoking in Sri Lanka is directly linked to the easy accessibility and affordability of illicit cigarettes.

Tax hikes only impact the legal cigarette industry and government revenue, and high prices of legal tobacco, as seen in any country around the world, unsurprisingly attracts criminal elements that push counterfeit and smuggled tobacco products. The 43% increase in the price of cigarettes during the last quarter of 2016, effectively meant that Sri Lankan cigarettes are now the second most expensive in the entire world. As a result, Sri Lanka has since seen a surge in illicit tobacco trading. Customs data shows that in the first half of 2017, 40 million sticks were detected, compared to a total of four million sticks detected in the full year 2016. However, with only one in ten smuggled fags being detected an estimated 360 million illegal cigarettes with market value of Rs. 18 billion have already entered the market during this period alone. As such, the Sri Lankan Government is estimated to have lost over Rs. 14.5 billion in tobacco revenue for the period.

Although the Government's goal in increasing taxation and other regulations on tobacco is to curb smoking levels and reduce the negative health burden on our economy, what has in fact taken place is the unintentional but alarming increase in smoking rates as consumers have switched to smoking the cheaper, unregulated illicit cigarettes and locally manufactured alternatives such as beedi.


Illicit trade thriving under current mechanism

In the absence of a suitable mechanism to control this alarming influx of illegal tobacco products into the country, illicit trade is thriving. It seems that the gravity of the problem is not felt by the Government and regulatory authorities like NATA, who claim that the numbers of illicit fags entering the market are exaggerated by Ceylon Tobacco Company, the monopoly manufacturer of cigarettes in the country. However, even regular cigarette consumers have noticed an increase in the availability of illicit fags, with many of them admitting to purchasing these themselves. Interestingly, Chinese brands are slowly but surely making their way into the country given the high number of Chinese nationals travelling between the two countries. One must only glance through the newspapers to get an understanding of the magnitude of the problem.

Illicit trading of tobacco products is a major global concern with far reaching negative impacts on public health, the global economy, governance and corruption. In many cases it is criminal groups who profit from tobacco trafficking, depriving governments of billions of dollars in taxes. The business involves smuggling in large quantities (in the hundreds of millions of sticks) of illicit cigarettes, then distributing them across countries using well-developed networks that get these products across to end users. The biggest problem with illegal cigarettes is that there is no way of tracking it to its sources. The criminal networks involved in the illicit tobacco trade thrives unseen and unheard, managing their billion-dollar businesses quietly and subtly, in most cases free of the hassle of Government intervention to curb the trade. This again, is due to the lack of an appropriate enforcement system and the political will to control illicit trade.

Sri Lankan Customs authorities do their best when it comes to enforcing the illicit trade in line with the current system at their disposal. However, they have proven ineffective in curbing the problem as the consequences faced by the perpetrators are lenient and almost negligible when a risk reward analysis is conducted. In instances where law enforcement authorities detect illicit fags which have penetrated the market, the offenders simply admit to the fault and pay the minimal fine in order to safeguard their bosses and sustain the illicit trade, which continues to flourish without any hindrance.

Illicit cigarette distributors and sellers further bypass the system because they can freely sell their products to anyone who is willing to purchase it. Unlike legal cigarettes, which in compliance with the NATA Act are standardised, have graphic health warnings, and not sold to any person under 21 years of age; illicit cigarettes traders have no need to comply with these rules and regulations. Illegal tobacco products, including cigarettes are easily accessible to youth due to the irresponsible illicit traders who are only focused on profit-making.


Smoking amongst

youth increasing

In recent times, the number of incidents reported of students caught consuming illicit cigarettes and other drugs have seen an increasing trend. Young people eager to experiment with tobacco and other products are easily hooked on to them due to the uncomplicated access and affordability of illegal cigarettes and other drugs. Such illicit products effectively mislead young people by not displaying text or pictorial warnings. In addition, these products do not go through any standardisation processes, which raise the possibility them being manufactured in unsafe environments, hence resulting in a more harmful product consumed.

Thus the question becomes, is there a point of having a strong, legal tobacco framework in place when smugglers and criminal organisations are able to freely engage in the trade of illicit cigarettes? Left to their own devices, they flood the market with cheaper, more easily accessible fags which drive up smoking rates. Irrespective of the large number of illicit fags being detected and seized, an even larger number of illicit escape capture as only 1 in 10 containers are detected. In addition, the low fines and minimal jail time means that many traders continue to take the risk of smuggling cigarettes because of the high rewards in terms of business profitability. In many cases, the profits from the illicit tobacco trade are used to fund other organised crimes. This leads to the Government having to deal with larger, more serious issues which threaten the safety and security of the country and its citizens.

In light of the negative and dangerous impact of the illicit cigarette trade, it is essential that the Government of Sri Lanka and other relevant authorities take steps to address this problem and re-look at their strategy of taxation and regulations, which do not have any effect on the illegal cigarette industry. Simply increasing regulations on the legal industry does not curb rising smoking rates and corruption funded by profits from the illicit trade. In order to truly make a difference, they will have to re-assess their plans and find an appropriate mechanism to control the illegal tobacco trade and effectively work towards their goal for a healthier Sri Lanka.