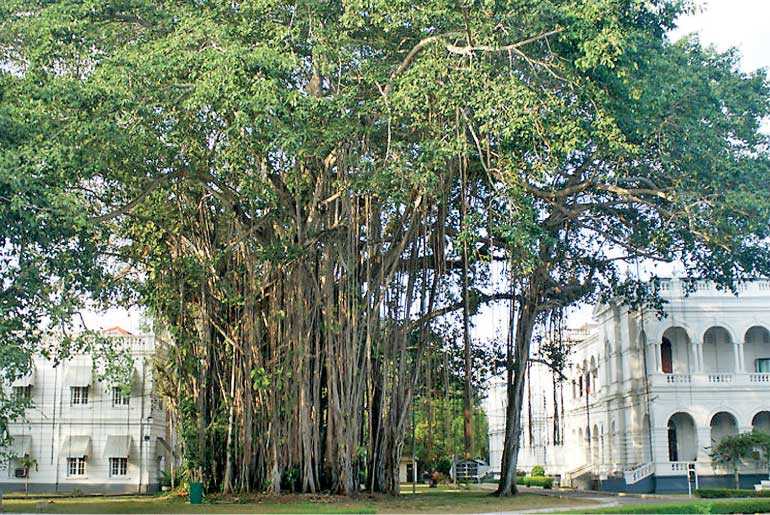 By Mahendra Amarasuriya

I read an article in the newspapers of an attempt being made by the Colombo Municipal authorities to count and record the large trees growing in Colombo perhaps in order to preserve them. This I believe is an excellent idea.

Colombo, which was considered to be a garden city around 25 to 30 years ago, is now becoming a concrete jungle with large condominium developments at every corner built on all available space and even sometimes by demolishing large old houses.

It is recalled that the legendry PM of Singapore Lee Kwan Yew visiting Colombo in the '50s or '60s and being very impressed with the greenery in Colombo, took steps to change Singapore which was then resembling a concrete jungle to a greener city by even growing ivy on the huge concrete pillars supporting the extensive over passes and other roads which had been built at a rapid pace.

Let me give a short background to my observations. When I was a kid I used to travel from my father's residence in Moratuwa to Colombo to attend School. We were fortunate to do so by car and I recall the route from Moratuwa to almost Dehiwala was a narrow tortuous one those days through the Soysa coconut plantations. I can recall at night this was quite a lonely route.

The then Minister of Transport and Works, the late Sir John Kotalawala had his home situated at Kandawala estate in Ratmalana. He had a vision of constructing a dual carriage way from Moratuwa to Dehiwela. Some criticised him saying that this was to be done to enable him to have a smooth journey from Kandawela to Parliament in Colombo. Be that as it may it was a visionary decision and the dual carriage way became a reality with a centre island. On the island were planted many Tabebuia trees with beautiful purple flowers which used to be shed in March/April creating a carpet of purple flowers on the road. This may have been an irritant to the road cleaners but the trees were beautiful and so were the flowers.

When you travel on this dual carriage way now you will hardly see a Tabebuia tree left. The reason being that they have been strangled to death by a variety of Ficus which I believe is Ficus parasitica, a strangling fig, which Sir Emerson Tennent described as being "the thug of the vegetable world".

I believe this fig is propagated by birds possibly crows eating the fruit and defecating on any available surface mainly on other tress resulting in the seed germinating and taking root on other trees. Very soon the new plant which is a parasite grows and strangles to death, the tree on which it thrives. This Ficus which is an ugly plant does not produce prominent flowers but mainly leaves. Basically Ficus parasitica has invaded effectively the entire middle island of the dual carriage way.

Unfortunately, I have noticed many beautiful trees in Colombo proper being strangulated by this parasite. Most trees seem to be susceptible to attack and are in various stages of being killed completely. Some of the older and stronger like those on Bauddhaloka Mawatha seem to be surviving this strangulation but I can see signs of the Ficus growing on some of these trees too.

I hope that the Municipality in making the tree count in Colombo observes this strangulation and takes necessary action. In the early stages this parasite can be physically removed from the tree on which it is thriving before it can grow sufficiently strong to strangulate and kill the host tree.

During this tree count I hope the Municipality will observe this destruction of the grand old trees on the Colombo sidewalks and prevent their total destruction by the strangulating Ficus parasitica, by taking immediate action.