Images of Christian priests burying so many of the dead reminds of the pain and suffering all Sri Lankans have endured through the years – Pic by Chamila Karunarathne
---
By Dr. Farah Mihlar

While mass burials take place at the time of writing for Christian worshipers killed in the Easter Sunday terror attacks, as a Sri Lankan Muslim I am filled with shame and anger. Today, all Muslims in Sri Lanka mourn with you my dear Christian friends. We will not let a fringe group of terrorists come between us and the close relationship we have held through the years.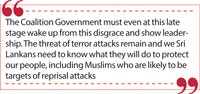 Like so many Muslims, I will always be indebted to the Christian churches which ran the schools we were educated in. We got so much more than an education from these Christian institutions and, especially us Muslim girls, the opportunity to thrive, to develop as individuals, to attain, to be successful, came from our Christian schools.

I can never forget the pastoral care and the values of love, charity, forgiveness imparted to us were so close to that of Islam. These schools gave us the space to practice Islam, to say our prayers, to learn our religion, to dress as we wanted to, to have our Islamic societies. Not just mine, but my parents and my grandparents; generations of Muslims families have Christian institutions to thank and this was not just a Colombo based, elite experience, it was shared by many others across the country.

My closest friends are Christians, as are my parents', and we have shared in each other's happiness and suffering. The thought that even in the remotest way people of Muslim origin are associated with these horrific attacks on Christians is devastating for us Muslims.

Muslims in Sri Lanka have always stayed clear of violence. Ours is a history of adaptation and accommodation. When Muslims were persecuted by Portuguese and Dutch colonial rulers, rather than retaliate they migrated and took refuge in the Kandyan kingdom, adapting their social, religious and cultural practices in line with Buddhism.

During the armed conflict, the one-third of Sri Lankan Muslims living in the north and east initially sympathised with the Tamil cause, but never militancy. For this they paid a severe price as the entire Muslim community was ethnically cleansed from the north. Many in the east faced abductions, killings and were displaced.

After the war ended Muslims were targeted by Buddhist extremist violence, which was systematic, organised and enabled by the Government. Muslims were left unprotected and many hundreds lost their homes and businesses in violence across the country. Evangelical Christian groups were also targeted in these attacks and even as the Catholic and Anglican Churches showed little concern, Muslims stood by these Christians, supporting them and raising their issues nationally and internationally.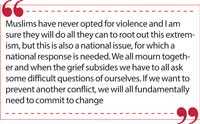 Hate campaigns based on outrageous claims of Muslims trying to take over the country through economic control and by planting substances in food and clothing to reduce fertility of Buddhist women have damaged Muslims. Despite the hate crimes and attacks, Muslims did not retaliate.

To think then that with all of this effort towards non-violence that a Muslim terror group emerged and organised themselves to the point of conducting such a horrific and coordinated attack is unbelievable.

ISIS has claimed responsibility for the attacks but their connection to the local bombers is unclear. What we do know is that the bombers were part of a fringe group, the National Thowheed Jamath, which had for some time been preaching hate and inciting violence.

Tawhid essentially means oneness with God, and Islamic reform movements have been operating under this title in Sri Lanka for many years. They have preached for religious change and some have been radical in their thinking and approach, but all of their work was to change the Muslim community and was not aimed at non-Muslims.

Muslim civil society leaders tried to engage with some in the NTJ to convince them to change their position and when they did not succeed they informed the Police. A number of Muslim leaders gave names and details to the Police and asked for their arrest but nothing was done.

The colossal failure of the Sri Lankan security establishment and the Government is not something new to us. We have seen this over and over again, perhaps this comes as a shock because we somehow expected more from a Government elected by minorities, to protect minorities and on a platform of good governance. Their failure combined with their lack of empathy, callous responses and blame game is appalling. The Coalition Government must even at this late stage wake up from this disgrace and show leadership. The threat of terror attacks remain and we Sri Lankans need to know what they will do to protect our people, including Muslims who are likely to be targets of reprisal attacks.

When the war ended 10 years ago, we had an opportunity build peace, but we didn't. Instead, the absence of violence was marked with nationalism, religious extremism and racist attacks against each other. As I watch images of Christian priests bury so many hundred dead, it reminds me of the pain and suffering all Sri Lankans have endured through the years.

As a Muslim girl I had no access to male religious leaders and part of my early life teachings came from Christian priests who I hold close to my heart. To have to watch them engage in these burial rituals, to see the suffering and sorrow on the faces of families who have lost loved ones is painful for all us Sri Lankans. It reminds me of the Christian priests who weren't even able to dig graves as they tried to bury the countless bodies of Tamils killed in the last stages of the war 10 years ago to this exact day. Many thousands did not even receive burial rights.

Those of us working on human rights were called traitors and terrorist sympathisers for drawing attention to the suffering of Tamils and for their quest for justice. How did we think we could build our country by ignoring the plight of tens of thousands of war victims? We blinded ourselves to the ethnic/religious fractures and allowed them to grow.

When I was in Sri Lanka between 2016 and 2018, so many people made anti-Muslim remarks to me not realising I was a Muslim and this in a country where the Sinhalese and Tamil population are already deeply divided. As long as we define nationhood in ethnic and religious terms we will always be creating grievances and denying the rights of another group.

We are on the cusp of returning to another conflict, an option that not a single Sri Lankan wants, but to avoid this we need to work so much harder. Images of hand holding over the Sri Lankan map posted on Facebook may be a starting point but we need to dig deeper to question our prejudices, our anger, our hatred and our opinions of the 'other'.

I want to end this article by returning to address Christians. It may be that only a few dozen or so people out of our 1.9 million Muslim population are involved in this fringe group, but even as we deplore their actions, disassociate them with Islam and report them to the Police; I want to say I am sorry that we were unable to prevent this.

Muslims have never opted for violence and I am sure they will do all they can to root out this extremism, but this is also a national issue, for which a national response is needed. We all mourn together and when the grief subsides we have to all ask some difficult questions of ourselves. If we want to prevent another conflict, we will all fundamentally need to commit to change.