Sri Lanka Economic Acceleration Framework 2020-25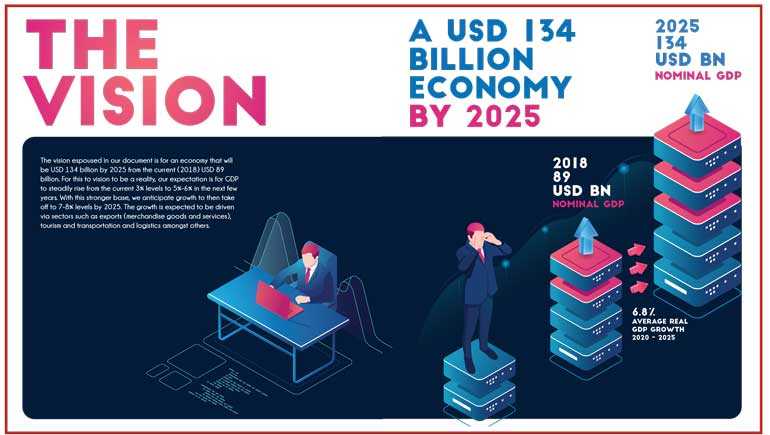 The Ceylon Chamber of Commerce recently launched a working draft of 'Sri Lanka Economic Acceleration Framework 2020-25' towards building a $ 135 billion economy by 2025. Today we feature the General Economy Working Group proposals from the document
Lead: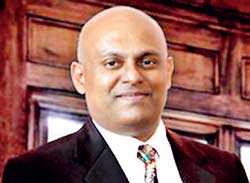 Suresh Shah, CEO/Executive Director, Lion Brewery, Ceylon PLC and former Chairman of the Ceylon Chamber of Commerce.

Members from the Economic Policy Steering Committee of the Ceylon Chamber.

1. Mitigate debt risks
Establish an independent public debt office/agency similar to the previous Independent Debt Office which was first mooted by the Government in 2003/4.
Enhance CBSL laws and controls and continue to issue Treasury bills and bonds on behalf of the Treasury as an autonomous body.
The Registered Stock and Security Ordinance and Treasury Bill Act can be amended to tighten laws related to securities.
Implement the Medium-Term Debt Management Strategy (2019-2023) developed by the Ministry of Finance and Central Bank of Sri Lanka. The document needs to be updated regularly to take into account the new developments in the global and local economy.
Implement accrual-based accounting for Government accounts from the current cash based accounting system by 2024. In the interim period to disclose annually the total liabilities including guarantees, amounts due for goods and services received and subsidies committees, pension liabilities and amounts due on all leases.
2. Improve tax revenue as % of GDP
Incentivise people to voluntarily declare their revenue
Make opening tax files mandatory to broaden the tax net. The NIC number can be used as the tax file number.
Focus on 'holy trinity' of options – broadening tax base, lowering rates and better administration (take learnings from countries such as Vietnam and Georgia that have been able to improve their tax revenue over the last 10-15 years).
3. Improve FDI and export targets to 5% of GDP and 100% of imports respectively by 2025
Countries such as Vietnam which have improved FDI inflows have done so through improvement in the Ease of Doing Business (EODB ranking has improved from 99 in 2014 to 69 by 2019). While taskforces are presently established to improve each of the ranking in the sub-indices of the EODB, this process can be institutionalised with a permanent secretariat to fast-track the reforms required. The Secretariat can be created with secondments from the respective institutions working on improving the index. The Secretariat can also look at other non-index issues which matter in improving the business climate of the private sector.
Trade policy that will be outward in nature and provide access to markets.
Unlock some of the bottlenecks towards FDI growth such as availability on land and labour resources.
Set up specially designed industrial zones which reduce bureaucratic red tape and provide a plug and play model for investment
Consistently promoting an environment of policy predictability
Review existing bilateral investment agreements and renegotiate to provide better investment protection and enter into new treaties with strategically important investment partners. These could be coupled with Free Trade Agreements (FTAs) where necessary.
Improve services provided by commercial sections of Sri Lankan diplomatic missions and strengthen commercial sections of some of the key and big markets (e.g. China and India) with more resources to assist Sri Lankan companies (e.g. hiring locals with good local knowledge).
Key activities for State-Owned Enterprise reform
Interventions and year of intervention:
Develop a communication strategy that outlines the necessity for reforms of the SOEs. Immediately
Convert all commercial entities into limited liability companies. Early 2020
The listing rules to apply immediately to all such commercial entities to improve transparency and governance. Early 2020
List minority stake (up to 49%) of all commercial SOE other than banks to further facilitate transparency and improvement of governance. Divesting can be pursued in two to three tranches to maximise value. For example 15% in year 1, 15% in year 3 and 19% in year 5. From 2020 onwards
Divest non-strategic commercial SOEs completely through a transparent process. 2020 onwards
dentify the impact of subsidised pricing both in terms of the cost of underpricing and the financing cost due to subsiding pricing. Shift the cost of subsidisation, where needed, to the Treasury. 2020
The executive management in SOEs to consist of professionals who have been full time in those entities or have experience in such industries. There should be no political appointees in the executive management. Continuous
Bring all SOEs under a holding company. The board of the holding company to be appointed by the Constitutional Council. The board would be responsible initially to appoint SOE boards. Thereafter, by respective boards with the recommendation of respective nomination committees, subject to ratification by the board of the holding company. These directors of the holding company and the SOE boards would have qualifying criteria and term limits. 2H 2020
All SOEs including the holding company shall follow accounting standards as stipulated by the ICA including the publishing of consolidated accounts.2021 onwards
State banks should be able to extend credit to other SOEs as long as the transaction is at arm's length and has concurrence of the respective RPT committee (of both the bank and the SOE). 2020
Develop a strategic plan with KPIs for all SOEs (if it is not available) and the board to be held responsible for such implementation. 2020
Avoid conflict of interest and ensure a level playing field for operation by limiting the line Ministry's role to policy making and regulation. A ministry responsible for regulating an industry should not be responsible for managing an SOE in that sector. 2020 onwards