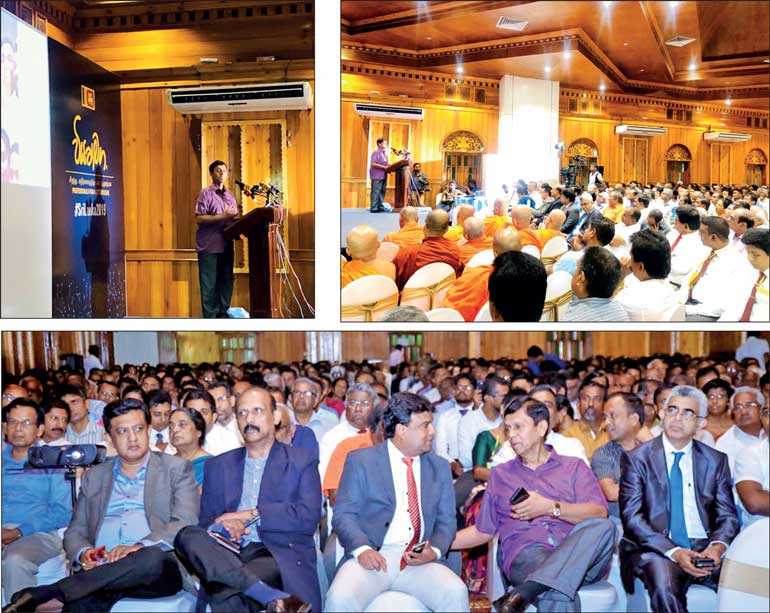 Former Governor of the Central Bank of Sri Lanka Ajith Nivard Cabraal presented a 12-Point Revival Plan for the Sri Lankan economy at the Viyathmaga Seminar held in Matara on Sunday 6 October.

Around 1,500 professionals attended the seminar which was also addressed by former Secretary Charitha Herath, Major General Kamal Gunaratne, Dr. Prasanna Gunasena and Dr. Seetha Arambewela.

Cabraal explained that economic growth is now at a standstill, debt to GDP has risen from 71% in 2014 to almost 100% now, and the Government's interest rates have escalated almost 60% and the interest cost has reached a staggering Rs. 852 billion in 2018 from Rs. 436 billion in 2014.

New investments have dried up and job losses are mounting. Consequently, banks and finance companies are also struggling with massive non-performing loans due to the slowdown of business activities. Cabraal warned that unless remedial measures are quickly implemented, the country will experience tremendous economic pain and hardships.

In such circumstances, a special Revival Plan needs to be implemented if the business sector is to be revitalised and he set out a 12-Point Revival Plan, which he said a new Government will have to immediately start implementing.
That plan is set out briefly.
1. Immediately slash tax rates by at least 20% while also abolishing several obnoxious taxes which have seriously affected business sentiment and confidence. Examples are tax on inward remittances and VAT on apartment sales

2. Steer the country's macro-economic fundamentals so that interest rates will contract by at least 20%. It was pointed out that the AWPLR was only around 6% in 2014 but has now zoomed to over 12%. Cabraal stressed that steps must be taken to reduce that rate to around 8% by end 2020.

3. Take steps to stabilise the exchange rate by instilling confidence among key investors and gradually steer the Sri Lanka Rupee to a value of around Rs.150 per USD by end 2021. Such gradual strengthening of the Rupee will be based on the improvement of the business environment which will then allow all stakeholders to gradually adjust to the strengthening currency.

4. Call for a moratorium on capital repayment by customers who service their interest payments without interruption, for a period of 18 months. By doing so, banks and finance companies will not be compromised since their revenue streams will not be affected, while struggling customers will enjoy some much needed short term relief which will allow them time and space to stabilize their businesses. At the same time, special short term measures will need to be implemented at the CRIB so that financial institutions can be advised to take a more flexible approach over the next 18 months to nurse entrepreneurs back to health.

5. Government to establish a Business Revival Fund with a seed capital of about Rs. 50 billion on similar lines as done in Malaysia with the creation of the 'Danaharta' Fund in the wake of the economic crash due to the Asian crisis. Such a Revival Fund will provide much needed relief to the financial institutions to face the rapidly increasing NPL scenario, while also enabling viable enterprises that were struggling due to the adverse macro conditions to recover and grow, without having to close down permanently.

6. Stabilise all financial and banking institutions immediately and wherever necessary, provide liquidity support via the Deposit Insuyand Liquidity Support Fund. For this purpose, earmark a total funding maximum of around Rs. 25 billion. Also request the financial institutions to actively pursue opportunities to consolidate

7. Initiate several mega infrastructure development projects in order to give a significant boost to the real economy at the ground level. Possibly embark on the 600km ellipsical ring expressway around the entire island. These type of projects will signal a new momentum that will be vital to kick-start the economy.

8. Stimulate the village level economy by increasing the purchasing power in the hands of a large segment of the population. To generate that type of activity, release 25% of all Samurdhi balances to the account holders to be spent or invested according to their needs: such an infusion of funds mainly into the village level will lead to a reawakening of the village level economies

9. Unlock the large number of projects that are awaiting approvals for their commencement. Board of Investment to grant approvals for all pending projects that meet with specified criteria within four weeks. Building permits to be issued by the UDA and local authorities in two weeks. All pending solar and mini hydro projects to be approved in four weeks. The start-up of a large number of projects in this manner will further energise the economy.

10. Immediately start on road shows and promotional activities to attract five million tourists into Sri Lanka before 2025. Also assist small Airbnb type enterprises to flourish by improving their image as well as their service levels.

11. Renegotiate all unfavourable commercial agreements that have been entered into or to be entered into by the current Government. These will include the Hambantota Port, Mattala Airport, Millennium Challenge Agreement, etc.

12. Re-brand Sri Lanka on a continuous basis as a safe Investment destination, a vibrant and growing economy, an attractive tourist paradise, a bustling IT centre, a country with sound health, education and transport infrastructure and services, with rule of law being practiced.