By Dushan Tissera (MBus IB, BSc. [1st Class] ITML)
Brisbane houses an estimated 2.4 million people. This number will only grow. The transportation needs of the growing population need to be addressed and, in a way, is achieved by the BRT system. Brisbane possess one of the best, if not the best, BRT system in the world. It is made up of four segments: South East Busway (SEB), Brisbane Inner Northern Busway, Eastern Busway and the Boggo Road Busway.

The success of this meticulously-planned network is characterised by its dedicated right of way for the buses that largely run in this manner throughout the route of operation and priority at traffic lights. However, it is not just the aforementioned factors that makes a BRT system efficient and productive leading to smooth movement of people.

Lane priority

There are several key observations that can be highlighted in view of the Brisbane BRT system that makes it one of the best. First and foremost, the lane priority to the buses in the network as mentioned above. A good BRT system essentially requires dedicated lanes throughout the journey. Although this is a challenge, especially in congested metropolitan regions, it is the very basic criterion that makes a BRT system a viable solution to the increasing problem of satisfying the transportation demand. This inevitably requires considerable funding, but the benefits can be overwhelmingly influential for economic growth. The faster service will itself attract more passengers and lead to a self-sufficient system.

Brisbane BRT provides well-planned access to the heart of the city and main working areas. The fact that the central city is the focal point of this network is a common criticism by many. However, it is faster, convenient and comfortable for a worker to use the bus service to get to work rather than drive by car. Additionally, there will be expensive parking fees when using private transport. Hence, more people will use these services leading to higher revenues whilst also presenting opportunities to extend lower fares to the consumer.

For Sri Lanka, a primary impeding factor may not necessarily be the amount of funding such a project requires, but the difficulty in putting the planning in to practise. This may largely be due to politics and lack of proper attitude towards a productive public transport system. However, the fact that such complex transport models will require extensive restructuring of CBD landscape undoubtedly will come under heavy propaganda and criticism, both public and political. It is vital that all stakeholders realise the bigger picture of an effective public bus transportation system of this nature. Awareness and education will play a crucial role. It encompasses all stakeholders from individuals high in the hierarchy of power, pulling the strings in decision making down to the ordinary commuter who is a part of the web of society.



Stops and stations

The other significant factor of interest is the superstructure of the system like bus stops and stations. It is important that these are designed to ensure a high level of co-ordination and control. In particular, the bus stations should be good enough to maintain the tight and complex time schedules common with such a system. If the bus stops and stations act as bottlenecks causing servicing delays, the fundamental purpose of a BRT system is not fulfilled. Looking at the Brisbane BRT system, one can observe how the lane design on bus stations ensure smooth flow and transition. Given a direction, there is a lane for stopping, lane for buses not stopping and pedestrian movement options that doesn't hinder the movement of buses at any given time. This is achieved by means of underpasses and overpasses. In addition, many of these stations are built to convey a luxury profile. Architecture reflects a futuristic design and feel. It symbolises the feeling and experience when you use an airport. Design and feel are just one aspect of these stations. These stations also provide adequate information to the public using them. They must be designed to be useful and not as mere tokens of attraction.

It will present an enormous challenge to ensure that such facilities are serviced and maintained well in a country like Sri Lanka. Facilities are more prone to degradation due to lack of attention, vandalism and complete disregard for their importance by everyone from officials running such places to the users of them. Twenty-four hour camera surveillance and adequate fines ought to be a part of the overall plans. However, strict enforcement of these rules and regulations is even more vital, as it is the point of this whole effort that is most likely to fail. Sri Lanka has a long and hard path in achieving acceptable and standardised transportation and a matter that shouldn't be taken lightly.

Rigorous schedules

The above stresses the importance of advanced information technology and transportation systems to control this process. These systems must not merely be carrying out a planned route schedule, but also be able to continuously improve the services. It comes to light that such a system should have been part of present highway construction projects in Sri Lanka. The Brisbane BRT system is tremendously efficient in maintaining its running schedules. Less delays due to application of advanced modelling systems is evident. The overall structure of the network adds to this trait.

It's not merely because of the information systems put in place. Another key feature is that these routes and schedules are updated on a regular basis. To the eyes of the traveling Sri Lankan public, this may seem as an additional problem to the existing woes. However, the communication of such information to the masses should be carefully performed. There is no doubt that a certain level of inconvenience is experienced by the consumer, but the fact of the matter is that these changes in travel patterns seem to directly correlate with improved service quality.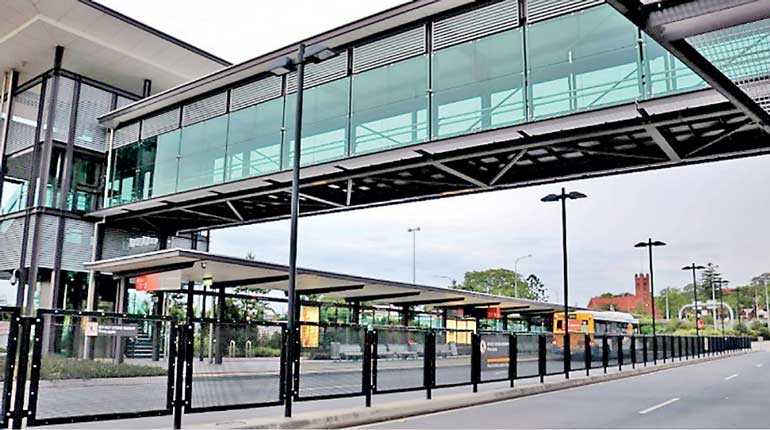 Integrated technology

Use and promotion of advanced systems is also highlighted by the paperless transactions involved. Use of electronic cards is the norm, which not only applies to bus transportation, but also to other modes of transportation like railway travel. The same payment card across all modes of public transport signifies the importance placed on modal integration and consumer choice coupled with consumer convenience. It's more expensive to use paper money to pay the fare. Hence, it is natural for everyone to shift towards electronic methods. This leads to an array of benefits that lead to a different discussion altogether. In a nutshell, an efficient fare collection procedure is vital for a good BRT system. This goes beyond time savings to avenues for further research and development of the network from proper data aggregation, especially in the study of financial implications.

In addition, GPS tracking of buses is adopted which allows the user to know whether a bus is late on that given day rather than depending solely on the pre-planned schedules. This is achieved through official mobile applications, in addition to the use of the website. These may be considered as future steps for Sri Lanka. This portrays the need for a project that required to be planned and put into motion in steps, which extend to the future rather than a system simply neglected of continuous improvement.

Locomotives

Another important feature of a successful BRT is the locomotives used in it. The bus fleet in the Brisbane BRT system consists of CNG (Compressed Natural Gas) buses and diesel buses. This is in line with efforts seen to be greener and cleaner in the provision of services. Looking at the overall transport structure of Brisbane, it reflects an emphasis towards environment friendliness.

These are important aspects in planning a similar system in Sri Lanka. Development should be given prominence economically as well environmentally. Bus transportation in Sri Lanka as a whole needs a huge leap in service optimisation. If a BRT system becomes a reality, it can lay the foundation for quality services to spread across any form of transport.

Marketing

Marketing and branding of this product is also crucial. It must be considered as any other commercial product. Brisbane is successful in sending the message to the consumer of the service. In the modern day, people tend to respond to a better brand in the same way for a better product. Brand image and reputation are vital for product/service success. Like any other criterion of a BRT system, this is an ongoing process which shouldn't be limited to the implementation stages of the system.

In view of the above, a properly planned and executed BRT system can have a profound impact on social and economic development in the island nation. This can be seen both directly and indirectly. The Brisbane BRT system represent the best the world has to offer. It's a challenge for an emerging economy like Sri Lanka to achieve a similar level, but never an impossibility. This island has achieved many feats throughout its rich history in various aspects and with recent developments in logistics and transport infrastructure, it should not be a dream, but a vision for the medium-term future. With the right people in place, the right attitude inculcated, and a plan designed to fit the mould of Sri Lanka and learnings from systems in Canada and Australia, a Sri Lankan BRT system may be the next big achievement. Dream Big!