Institute of National Security Studies Sri Lanka (INSSSL) Director General Asanga Abeyagoonasekera was invited to speak at the 36th International Economic Crime Symposium held at Jesus College Cambridge University from 2-9 September.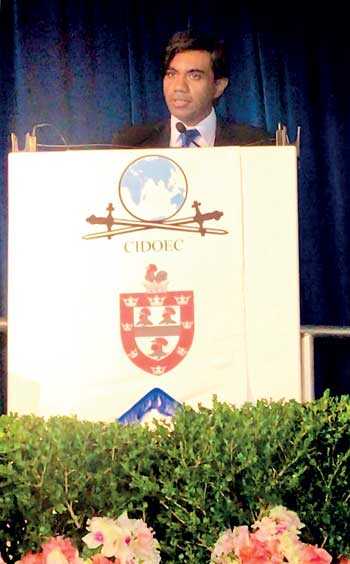 Abeyagoonasekera's paper was on 'Unexplained wealth and for what purpose: A Sri Lankan perspective,' which referred to circulation of unexplained wealth in the economy and its implications to policy making which has threatened national security.

The paper highlighted the importance of unexplained wealth orders and political lobbying using unexplained wealth, referring to the 19th century French economist Claude-Frédéric Bastiat who explained: "When plunder becomes a way of life for a group of men in a society, over the course of time they create for themselves a legal system that authorises it and a moral code that glorifies it."

Bastiat correctly identifies the way a group of people manage to plunder the wealth and use the state legal system to justify the unexplained wealth.

Abeyagoonasekera said: "Undeclared Wealth Orders (UWOs) just like in United Kingdom could be introduced to nations like Sri Lanka and Government such as in Sri Lanka that has come to power, especially with a mandate to curb corruption should implement such measures. Economic crime is perhaps the largest national security threat the nation is facing right now and it directly relates to the financial accountability and transparency of the public authority and individuals representing in the Parliament who craft policy protecting the sovereignty of the people. If policy makers could be easily influenced by lobbying groups, foreign policy, national security and people's sovereignty will be threatened."

His paper was well received by the Chair Bonnie Lano Rippingille, former Judge, member of Florida Bar, USA and the audience.

There were over 1,000 experts from around the world sharing their experience and knowledge with other participants drawn from policymakers, law enforcement, compliance, regulation, business and the professions.

The annual Cambridge Symposium's primary purpose is to provide a vehicle for those involved in protecting the integrity of their institution or society, to meet and explore how more meaningful international understanding and cooperation may be fostered.