Your coming in was not so sudden as your going out


By Upali Ratnayake

Trinity was in the process of looking for a principal and wanted a suitable person to apply. Andrew Fowler -Watt applied among others and I remember your application was deemed to be far superior to all others. There was then no dispute about a Board decision to appoint you.

You knew Sri Lanka well because you worked here for a short while. You were therefore quite familiar with our ways and our brand of English. You took over gingerly because there were all kinds of issues at stake not to mention court cases. You weathered these headwinds with a singleness of purpose bringing together all old boys and encouraging them to assist the school.You were there at every major event to encourage the boys. You were also there at all old boys' events and you never failed to update us with the latest at college. When you came to the Over '60s at CH&FC we saw you move around and greeting everyone.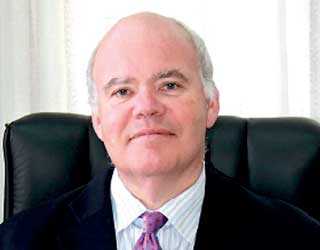 Andrew Fowler -Watt
We see great success in rugby and cricket, achieving results we never had for some time. I must make special mention of Trinity winning the Shakespeare Drama competition last year. Not for the last 16 years did Trinity win this competition. It was a great performance with little or no stage props and costumes.

I remember you invited me to sit next to you at the Wesley Rugby match. It was then that I realised how much you knew about the game and that you knew all the boys by their names. You certainly used your knowledge of the game to help the game and the boys. You learnt the college song so fast and sang it with gusto. You knew the National Anthem too.

When you came down to Colombo and you had to do that often, you did not tarry but it was "Home James and don't spare the 'orses".

You brought in many changes. One was the introduction of London AL classes. You saw with vision that our boys were capable but did not stand a chance of getting into the local university network because there were so few admissions. The London AL would enlarge horizons and boys could aspire to so many other opportunities both in academic as well as professional courses. Many boys will no doubt benefit from these classes. Unfortunately your move to introduce girls to Trinity met with so much opposition. I wish boys realised that sooner than later they would meet up with the girls. They have invaded so many male bastions and with such great success. They have their own cricket, rugby hockey and football teams and they have broken that glass ceiling Marylin Loden spoke of in 1978. Here Trinity was slow to envisage the disruptions that are being taking place.

You also saw the value of the international language in which all international business relations and trade and commerce take place. You therefore placed great emphasis on the teaching of English. You started with the junior school and when you go down there you hear a great lot of English spoken – much the same way as when we were in school in the fifties. These boys will have an advantage in working for the country in the future.

You saw that internationally boarding schools are on the vane. But you admired the Trinity public school boarding tradition. What was wrong with the boarding was that boys now need basic creature comforts – hot water in the morning, privacy and a place to call his own. We saw how with the T150 programme you began modernising the boarding to make it attractive to the students. Indeed you handled the T150 very well. I wonder what will happen to it now that you are not on the ground.

We thought we hired one person when we hired you. But we found we were mistaken. Along comes Vivienne, herself a pretty qualified person to help you and advise you. It was such a joy to see the two of you together at most events. I remember the tea you served us at the junior school after smart boards were installed. The sandwiches were exquisite and I said so to a teacher helping in the service. She told me that "Mrs. Principal looks to all details and insists we get the best". So Trinity bought one and got one free. Thank you Vivi for your part.

Trinity is sorry we had to lose you. But nothing is permanent in this changing world. We are grateful to you for the work you did and Trinity will always remember you for your love for her.