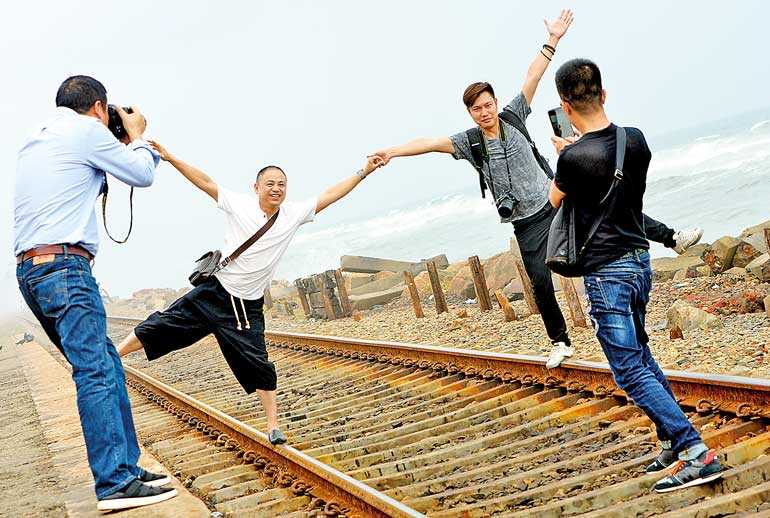 Tourism product should be developed so that the tourist who sets foot at the Colombo Airport is impressed all the way to his journey to the hotel, his/her

visits to the tourist attractions and until he sets foot on the return flight

– Pic by Shehan Gunasekara
This is an attempt to provide a framework for a five-year National Export Strategy consisting of five broad segments.


Government budget support – the key starting point

Considering the national importance of this initiative, the Government itself should invest around 1% of the GDP annually. While as a result, the Government budget deficit would expand by 1% (from the current level of 5.5% of GDP to 6.5% of GDP) it would be the necessary price to pay to revive the economy and start the journey towards sustainable development.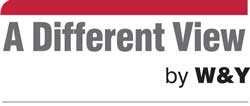 Around half (about Rs. 60 b) of the Government's annual investment could be raised by issuing treasury securities while the balance half could be raised via USD denominated bonds. With a clear national plan in place, it shouldn't be difficult to attract foreign investors for an additional $ 400 m p.a. A slight increase in domestic interest rates need not be a worry and if the need arises the Central Bank should invest in Treasury securities (around Rs. 30-40 b p.a.) to avoid an unnecessary rise in interest rates.


1. Use bargaining tools to get connected to global supply chain

What should we ask in return of increased Chinese presence in Sri Lanka? Persuade their star brands to invest in Sri Lanka to create jobs and acquire technology. The negotiations should be to attract the likes of Huaweis and Lenovos to start production bases in Sri Lanka and get connected to their global supply chains.

Similarly in the case of large-scale imports to Sri Lanka such as Toyotas, Marutis, etc., the negotiations should be to convince some of them to start production bases here. The tariff barriers have anyway made these products quite expensive in Sri Lanka, while it could be increased further as a negotiating tool.

If these global players need the required infrastructure – say in terms of availability of skilled labour, the Government should take steps to provide it over time using the annual budgetary allocation for this strategy. In addition, attractive short-term tax concessions could be given (not long-term concessions which would not be beneficial to Sri Lanka) to entice these entities.


2. A network of SMEs

Export-oriented development of SMEs could be the most effective mechanism to reduce unemployment and increase per capita income in rural areas. A gamut of sectors could be developed such as spices, fisheries, budget tourism, toys and cottage industries.

The Government investment should be in terms of providing access to global markets and also providing the required technology in certain cases. The Government would also have to play the critical role of connecting a vast number of households distributed across the country. The Government could seek the support of the private sector to implement these measures.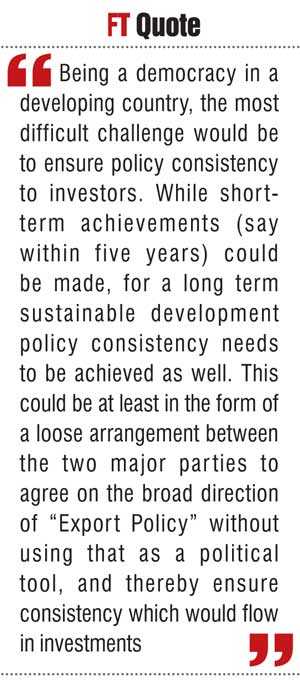 3. IT/BPO – double labour force in five years

It is said that this sector is employing around 80,000 currently. The objective should be to double the number to say 160,000 in five years. This may involve the setting up of a new university so that the annual intake would be increased by multiple times. That would bring down the university entrance threshold as well and thereby allow a greater number to enter this segment.

The school and university curriculum also needs to be upgraded in collaboration with the private sector to improve the employability of the labour force.


4. Tourism – focus on product, not marketing

Tourism product should be developed so that the tourist who sets foot at the Colombo Airport is impressed all the way to his journey to the hotel, his/her visits to the tourist attractions and until he sets foot on the return flight.

This may include expanding and modernising the airport, improving access to tourist attractions (less travel time etc) and developing the tourist attractions itself – in terms of cleanliness, safety and the attractiveness of the attractions (how innovative is Singapore which markets the tiny zoo they've got as a "night safari"?).


5. Attract global giants to invest in port industries

With Sri Lanka's strategic location, industries such as bunkering, ship building/repairing should have significant potential. The Government's investment should be in terms of attracting several large global players to invest in Sri Lanka – the likes of Hyundais and Daewoos.

Short-term tax concessions could be granted (although not long term concessions which would be counter-productive to Sri Lanka) to entice these entities while the benefit to Sri Lanka in terms of job creation and transfer of technology should be ensured.


A final word

Being a democracy in a developing country, the most difficult challenge would be to ensure policy consistency to investors. While short-term achievements (say within five years) could be made, for a long term sustainable development policy consistency needs to be achieved as well. This could be at least in the form of a loose arrangement between the two major parties to agree on the broad direction of "Export Policy" without using that as a political tool, and thereby ensure consistency which would flow in investments.

As always, a plan is only as valuable as the paper on which it is written, unless it's in the hands of a strong leadership team capable of implementing it.


(The writers can be contacted via articles@w-n-y.org.)