By G. Usvatte-aratchi

A.S. Jayawardena stood tall –giant tall – as a public servant and defined public service for his generation, as no one else in his age cohort did. He could afford the luxury of choice in selecting which talents to develop, as few can. He was capable of sustained hard work to cultivate those talents that he chose, and enjoyed their efflorescence.

At work he was demanding of himself and of others. His curiosity was endless and he was intrepid in its pursuit. To his rather narrow circle of friends, he was loyal and to his enormous group of acquaintances, friendly and courteous. He was the elder (Aiya) in hisgroup of relatives, and with Lalitha, the centre of affection and devotion in his family.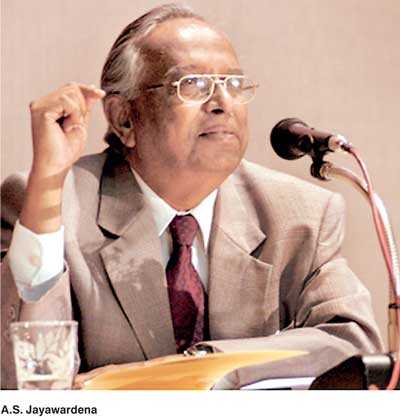 AS and I went up to Peradeniya in mid-1954, about this time of year. At Peradeniya we had a nodding acquaintance of each other, as he skipped the freshman class and as he lived in North End in Marrs and Iin the south end in Ramanathan.

The friendships he cultivated in Marrs lasted a lifetime. His friends included Abey de Vas Gunewardena, adistinguished public servant of unquestioned integrity, Nimal Malalasekera, a brilliant manager in the public service, and 'Baron' Jayarawardena, A.P.Hapudeniya, P.C.Fernando, all public servants of high distinction. Dilimuni was a quiet lawyer of impeccable conduct. P.K.Dissanayake, he befriended at LSE. Sundra Jayawardena became a friend after AS had left university and was a great source of mirth and fun. Ananda Gunatilleke, an engineer from Peradeniya, was a close friend and a frequent companion.

Entry into Central Bank

AS graduated in 1957, short of his 21st birthday. PaulM.Jeyarajan, the redoubtable first Secretary of the Central Bank of Ceylon, recruited him to the even younger Central Bank and assigned him to the Secretariat Department. I joined the Central Bank in January 1960 in the Economics Research Department. The premises in Hemas Building on York Street were crowded and yet we moved in our own circles which were only tangential.

We were thrown together, so to say, when we travelled in the SS Oriana to Southampton in September 1962. Our first portofcall was Aden, then a reputed 'free port'.Although not quite drunken sailors on shore leave, both of us spent some money: each bought a Parker 51 pen, much valued in a pre-computer age. We disembarked at Southampton and took the Boat Train to Victoria Station. The platform was quite festive with ladies in elaborate and colourful hats and many to welcome the passengers.

The voyage of the Oriana, the most luxury passenger ship afloat at that time, was quite fancied by those with money and the leisure to travel from Sydney in Australia to Southampton. Hema de Soyza, AS's college mate and colleague at the bank, received himwarmly with his broad and very pleasantsmile.

In the summer of 1963, I stayed in a hostel of a teaching hospital in London so that I could more conveniently work at the Public Library in Russel Squareand go to the theatre in the evenings and saw more of AS at Commonwealth Hall.He proposed that we do 'a grand tour of the continent': Leslie Gunewardena (brilliant historian), K.O.L.F.Jayaweera (cloud physicist)and AS from London andG.H.Peiris, the renowned geographer and scholar and I from Cambridge.

AS rented a Ford Cortina car, which proved to be quite comfortable and entirely reliable in winter weather. AS was the driver throughout and I still recall with some trepidation the way he masterly drove us gingerly through snow and fog as we climbed from Italy to Zurich late one evening.

Formal education

He was formally educated at Peradeniya, LSE and Harvard and he taught himself much more. These were the sixties and Milton Friedman was yet to deliver hisPresidentialAddress. His three degrees were in government and politics under I.D.S.Weerawardena at Peradeniya and on government and public sector economics from London and Harvard.

Except for a few lectures on Keynes at Peradeniya, there was no evidence that he would master macro-economics and central banking.Friedman's lecturein 1969 was a turning point; it was a response to the conundrum of what came to be termed 'stagflation' in Britain.

For AS, personally, the years spent at IMF were most constructive. He learnt enormously at meetings of the Board of Directors when discussing economic situations in countries and other meetings where papers written by staff for publication (Grey Papers) were reviewed. I recall dinner with AS andW.M.Tilakaratne, who had preceded him at the Fund, where they talked fondly of these meetings.

During the 1970s, debates on macro-economic policy shifted from the Atlantic seaboard to the fresh water lake shores, with Chicago leading the way. AS mastered most of these relevant to policy and that was to guide him in his later role as Governor of the Central Bank. At the Fund he made lasting friendships and I recall the names of Anup Singh and Srinivasan, the latter from the Reserve Bank of India. Let us now release the fast forward button.

As if he knew what was to come, AS took up an offer to manage the Bank of Ceylon which had been nurtured for long by formidable C. Loganathan.Later AS was appointed Chairman of the Bank. Unlike common bean counters, when he became the Governorofthe CentralBank, AS knew the working of commercial banks intimately. He needed neither designer suits at cost to the bank nor expensive cars to impress the banking community. Suits off the rack from Syms or Macy's did fine.Several senior officers who had worked with him in the Bank of Ceylon matured to lead the bank and indeed some major financial organisations in the private sector.

Training bankers

AS developed a deep interest in training bankers and the Bankers' Institute. His colleague in this task at the Bank of Ceylon was Sivgananathan and that association lasted until the end of Siva's life. Sivagananathan had developed good relations with the Institute of Bankers in London and these personal relations were very useful in developing the curricula and syllabi in Colombo.

AS brought Sivagananathan to the Central Bank as a Consultant and together with W.A.Wijewardena labouredto strengthen the work in teaching professional bankers.As I often drive past the new premises for the Institute, I think of this association and its fruitfulness.

Political leaders who saw talent in AS helped him develop them to the full. Sometimein the 1960s, AS, is association with A.J.A.D.Nalini Silva of the Central Bank (and who later taught economics at Fresnoand Iowa) wrote a longish paper ontea plantations. Colvin R.de Silva who became a minister, with plantation industries in his portfolio, invited AS to advise his ministry. With this experience, he later did some work in the Land Commission, after land reforms in 1972(?).

Finance Secretary

In a manner of speaking, he completed his knowledge of the economy when he functioned as the Secretary to the Ministry of Industries. This experience was instructive from another perspective. AS experienced, at first hand, the working of aseverely controlled economy in an atmosphere of pervasive scarcity with 'a permit raj' that created ample opportunities for cronyism and other corruption.

That was perhaps the training ground for politicians and bureaucrats to master the black arts of massive corruption in the public service. AS learnt the wastefulness of that system of controls and permits and its proclivity to generate corrupt behaviour.

It took some time for politicians and the bureaucracy to learn that the management of an economy in the modern world required much more than mastery of Administration and Financial Regulations. The Treasury Department, the Establishments Department and the Department of the FA&A, which dominated the Ministry ofFinance needed a Public Finance Department and other policy analysis and policy making departments.

The Government needed an economist as Secretary to the Ministry of Finance. The Secretary of the Ministry of Finance was themost coveted position in the bureaucracy and bright Civil Servants looked forward to crowning their career with promotion to that post. However, they had not trained cadres for that position and the Government looked to the Central Bank for competent men.

W.M.Tilakaratne of the Central Bank was the first Secretary of the new kind that Government wantedand he was succeeded by AS to be followed by P.B. Jayasundera, all men of first rate ability and distinctly high competence. As Secretary, Finance, these men sat on the Monetary Board of the Central Bank to gain first-hand experience in making monetary policy and running a central bank.

Central Bank Governor

No one was more prepared than AS to be a governor of the Central Bank. He had studied economics of the public sector, worked in the Central Bank as the Director of the Economics Research Department, who alone among staff of the Central Bank had a right by statute to sit in the meetings of the Monetary Board, learnt of work in the IMF and been exposed to debates on monetary policy there, learnt of the real sectors of the economy in agriculture and industry, managed the largest (by assets held) commercial bank in the country and been Secretary to the Ministry of Finance. And so he proved to be.

AS's commitment to the public good and his vision of public service was put to the severest testsoon after he became Governor. The LTTE attacked the Central Bank to destroy both the infrastructure and the human capital that comprised the Central Bank. They damaged the buildings severely, burnt off document and books and killed several dozen good and skilled workers. AS visited surviving victims of this attack, whenever they were seriously ill, no matter where they lived.

But the Central Bank survived and prospered because of the commitment of its Governor and staff to the public good and in doing so they defined public service for all of us. W.A.Wijewardena has written of this episode from first-hand experience and few are likely to excel him in matters of substance.

Central Bank Modernisation Project

At the Central Bank, his most creative years were those spent on the Modernisation Project. He had the most able assistance of NihalNaghawatta, a lawyer, W.A. Wijewardena,an economist and manager, and Rani Jayamaha, an economist and manager with the added lustre of having worked in senior positionsat the Commonwealth Secretariat, London. Rani had also served as Secretary to the Banking Commission chaired by M.R.P. Salgado. A.G.Karunasena was an economist who was then Director of Economics Research. There also was a young lawyer Sarojini Kadurugamuuwa, who was essential in the revision of laws that formed an integral part of the Project. Several others, too many to mention by name, were engaged in the Project.

There were intense and long discussions both inseminars and smaller groups on the proposed changes. Several experts from overseas were consulted. In detailed papers these experts and insiders canvassed alternative positions and the whole corps of senior staff were galvanized in the Project. I had not witnessed 'a cultural revolution' of those proportions anywhere else.

In the Monetary Law (Amendment) Act, No.32 of 2002, The Monetary Law Act, No.58 of 1949was amended in matters of substance for the first time. The Governor after much consultation in the bank asked Government that thePublic Debt Department and the Employees' Provident Fund Department be separated from the Central Bank. They did not perform functions necessary for a central bank to function and indeed were detrimental to the pursuit of the primary objectives of a central bank.

With hindsight we see that the Bank and the Governor were perfectly right in their persuasion which the Government, at that time obtusely, refused to accept. In the hands of a corrupt governor and unscrupulous senior staff backed by a crooked Minister of Finance, the Central Bank found itself mired in a scandal involving the placement of Government bonds.

The bank implemented a program of voluntary retirement, after they discovered that some1,000 members of staff could be done without. It is unfortunate that AS's successors have undone much of the good that followed from that decision. The whole fleet of vehicles and theirdrivers and other staff maintainedby the bankwere retired, saving much expenditure. Accounting in the bank was made to conform to international standardsand digitised.

Rani Jayamaha in 2002 created LankaClear, a platform for clearing checks among banks and it worked beautifully.Recent efforts to create an alternativeis both foolish andmisguided.She also was responsible for ensuring that Basel agreements on bank capital were implemented in Sri Lanka.There were special efforts to offer career paths to staff, as chosen by them. Their training and assignments were determined by the career paths they chose. The bank put out a book of historical statistics relating to the economy and banking and these series have been regularly updated. The Centre for Banking Studies received a fillip with improved premises and a fresh mandate.

Creating a bond market in Colombo

In a separate but connected endeavour, AS set out to create a bond market in Colombo. The primitive bond market that existed was completely dominated by government paper. Firms did not raise funds by selling its own liabilities, bonds, but depended on short term loans from the banking system. The absence of a bond market was acutely felt in a process of using interest rates as a policy instrument by the bank.

As usual, he got the staff thinking about the idea and in addition sought advice from experts overseas. The promotion of Primary Dealers (freshly defined in the 2002 Amendment) inGovernment bonds was a part of that process of creating a bond market. AS did see the all too common danger that bureaucrats, given the responsibility for placing governments bonds with private dealers, would act in collusion to make money for themselves. And that is precisely what happened in 2015.

The mechanisms AS had set up to prevent eventualities of that nature were subverted by conniving staff of the Central Bank working in cahoots with a primary dealer. All that confirmedthe absolute necessity to appoint a man or a woman of UNQUESTIONED integrity as Governor.

AS ventured out to create a futures market for produce and we spent many evenings at the Dambulla Special Economic Zone talking to producers and vendors. The World Bank offered a small grant to the Central Bank in recognition of the imaginative initiative.

Ruins, music, art, antiques

Abhayagiriya and Jetavana ruins had great fascination for him because of their connections with the Mahayana digression. The long hours we spent in Maliga Vila was on account of his admiration for the brass statue of Natha, discovered there. On our numerous visits to Anuradhapura and Tissamaharama, we spent long hours talking about Abhayagiri and Yatalatissa ruins.

Recently unearthed ruins suggested that Abhayagiriya was a large residential teaching institution. The rectangular quadrangles reminded one of similar structures in madrassas in Samarkand and in medieval colleges in England, put up much later. The large 'bath oruva' suggested the scale of the institution. His interest in ancient Lanka ran so deep that he invited the bureaucrat-scholar H.A.P.Abeywardene together with Professor Chandima Bandara to write several short books on archaeological findings.

He had read almost much of the corpus of pre-modern Sinhala literature and was especially fond of Guttila Kavyaya, Ummagga Jatakayaand a few 'sandesha' poems. We had great fun reciting from them from memory as we went on trips. Lalitha led in singing and added much mirth on long trips.

His interest in music was deep. As General Manager of the Bank of Ceylon, he sponsored a monthly program'Aradhana' of 'sarala gi'. H.M.Guasekera of Radio Ceylon produced itand incomparable Amaradeva sang poetic lyrics written by Mahagama Sekera, Madawala Ratnayake, Permakirthi de Alwis, Sunil Sarath Perera and many another. He liked Rohana Baddege and we invited him to sing at Bank House, one evening. Soon after we came to live in Colombo, we invited the highly gifted young sitarist Pradeep Ratnayake to play in our home. Pradeep was no ordinary beenkar and AS invitedthe young gandharva to play at a major function of the Bank that year. Pradeep played superbly and later published it as 'Indrakheela' in a CD.

AS had a good eye for paintings. The paintings that adorn the walls of the Central Bank were bought by him and I hope that successor governors continued and will continue buying. A picture by Motagedara and another by Tilak Abeysinghe hang in his living room. Menaka showed talent in painting which she later diverted to economics.

AS bought antiques with zest and good taste. The north wall in his living room is covered with antique walls. Sometimes we dined on antique plates using antique cutlery, sitting round a19th century dining table!

Lalitha and AS were legendary hosts and much as I would like to write more, I must close drinking coffee in his name in the half cup that Malini bought for him, in Mexico City. Lalitha and AS, Malini and I went on many trips together.This last, inevitably, he went on his own.

I do not mourn his death; I celebrate his life. It is the responsibility of the Central Bank and its present and futuregovernors to lead to celebrate AS's life publicly in fitting manner, for, the good that men do must live after them. As Pericles noted in his funeral oration '…when, men's deeds have been brave, they should be honoured in deed only'.