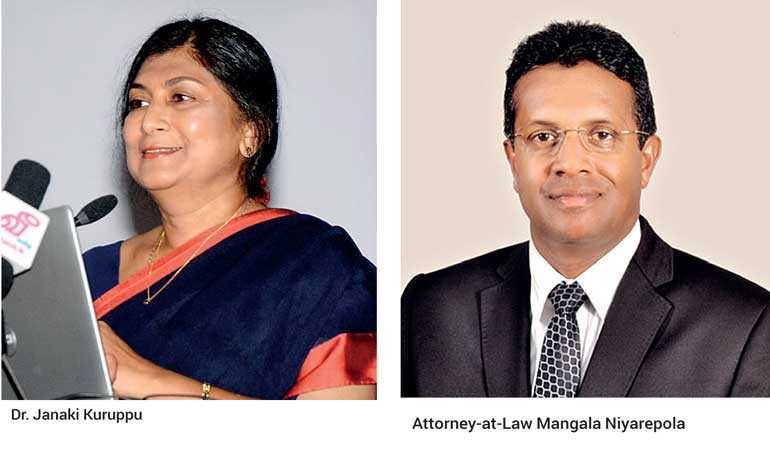 Says CAG Lanka is world's first to introduce legal contract on individual basis, accreditation process and also online portal to hold country's politicians accountable
Stresses under CAG Lanka accreditation mechanism politicians who want to contest at elections need to declare assets and liabilities
Says system will act as deterrent where only honest politicians will be able to declare their assets
Notes CAG Lanka is waiting to receive response from GR
Urges politicians should not purchase assets under names of friends, relatives, drivers and bodyguards
Claims under this system illegally earned undeclared money in overseas banks will also go to Public Trustee
Says voters need to play major role to pressurise politicians to get into system
Establishing an ambitious mechanism to ensure good governance, the Citizens for Accountable Governance Lanka (CAG Lanka) Trust (Guarantee) Ltd. is requesting all voters to register with it to hold politicians and State officials accountable and also to acquire illegally earned finances and properties by them.

The CAG Lanka under its motto 'I am Accountable' has introduced an accreditation process to assess the suitability of the politicians by their educational qualification, background, the services done in their electorate and their commitment to good governance.

In an interview with the Daily FT Dr. Janaki Kuruppu and Attorney-at-Law Mangala Niyarepola said the main objective of forming the CAG Lanka mechanism was to elect the best people's representatives to the legislature and to hold the politicians accountable for what they do.

"Even if you hire a driver you will see his qualifications but nobody questions the suitability or the educational qualifications of the politicians who are going to govern this country. Most voters are not aware of the qualifications of their political representatives," they said.

According to Dr. Kuruppu and Niyarapola, their main mission was to be a catalyst to establish a mechanism of accountable governance in all sectors by securing answerable and legally and contractually bound representation in all spheres of government and public office by educating and empowering voters to select the best to political representatives to govern the country.

Following are the excerpts of the interview:
By Shanika Sriyananda
Q: Why do you think a system like CAG Lanka is vital at this juncture?

A: If you look at the present political context, people are demanding for a better way to govern the country, where the elected representatives deliver their election pledges when they come into power and also to hold them accountable for the consequences of their decisions.

We see lack of integrity, honesty and capability of our elected representatives in all spheres of Government, whether local, provincial or central. It is in this background that a concerned group of professional Sri Lankans, in the public interest, have come together to establish CAG Lanka, which is a political, non-profit advocacy organisation with a vision to achieve accountable governance.

We know that there is no way that voters can see a Curriculum Vitae of a candidate to see his eligibility to represent the people of this country. Under this system, the voters will know the educational qualifications of their political representatives, their background, the services they have already rendered and the future plans for development and upliftment of the social and economic status of the people that they represent. We want people to vote for the politicians by knowing their suitability to govern them.
Q: You mentioned about holding the politicians accountable for their decisions and for what they deliver. Can you elaborate more on this?

A: This project has two aspects – the identification of the best possible candidates to send them to the Parliament and also to hold them accountable for what they deliver.

We invite every politician to register with the CAG Lanka and to share their details, including a declaration of assets and liabilities, which is currently the law of the country. This will be available on the website. There is a mechanism to give them ratings according to their eligibility to contest.

Secondly, this system holds them accountable for their pledges after they come into power. This is a legal mechanism and the politicians can not overlook it as they are legally bound with the CAG Lanka on what they have promised to deliver to people.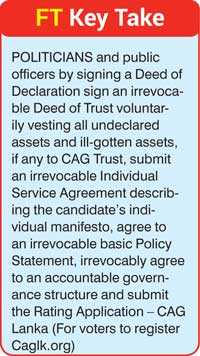 Under this project, those politicians, at the national level and local government level, who are honest, will not have issues and they will remain popular among people for delivering services that they have pledged to do but others will automatically get rejected by the people. This is the start of a long-term project to change the system.
Q: In the Constitution, there are provisions to make the politicians accountable. Why do you think no one was taken before the law for breaching the Constitution?

A: The word 'accountability' had been made alien to the majority of people in Sri Lanka by the successive governments since 1972, notwithstanding the fact that the sovereignty is inalienably in the People of Sri Lanka.

Why I say this is by the 1972 Constitution, which is known as the first Republican Constitution, under its Chapter 5, and Chapter 6 of the successive 1978 Constitution, set out 'Principles of State Policy and Directive Principles of State Policy and Fundamental Duties' respectively.

In essence, the principles of the State Policy of Article 16 of the 1972 Constitution and Article 27 of 1978 Constitution intended to guide the Government in law-making and the governance of Sri Lanka for a just and free society.

Whereas Article 28 of the present Constitution sets out the Fundamental Duties and accordingly, for instance, it is the duty of every person in Sri Lanka 'to preserve and protect the public property, and to combat misuse and waste of public property' (vide Article 28[d]). As you could see, the accountability of both the public officers (including politicians) and other citizens had been addressed in the said provisions of both Constitutions.

But unfortunately, both Constitutions have evaded such obligations, fundamental duties and thus the accountability, by Articles 17 of the 1972 Constitution and Article 29 of the 1978 Constitution by saying to the effect that 'the provisions of this Chapter do not confer or impose legal rights or obligations, and are not enforceable in any court or tribunal.

No question of inconsistency with such provision shall be raised in any court or tribunal. Therefore, it has become imperative to repeal said Article 29 of the present Constitution to bring about truly accountable governance and until that happens, we have to make our politicians legally bound to be accountable in their personal capacities. That's where CAG, as collective citizens, comes in to achieve both.
Q: What did you mean to achieve both?

A: Yes, through CAG's legal framework, we are entering into irrevocable deeds making politicians accountable for the failure to perform their obligations, in one hand and on the other, they specifically agree to support the implementation of some key policy issues of this country, such as repealing of said draconian Article 29 of the Constitution.
Q: Once politicians are elected to the Parliament, over 90% of them are dealing with commissions and other corrupt practices. How will this project help to minimise corruption?

A: Well, we don't know whether we could completely eradicate corruption in Sri Lanka. But how we counter that problem is, CAG has formed a charitable trust called 'CAG Trust' and appointed incumbent Public Trustee, as the Custodian Trustee. This trust is governed by an independent board of trustees consisting of leading professionals including professors, doctors, lawyers, etc.

Now what happens is that the future contestants or politicians, their spouses and dependent children will become a part of the CAG Trust, by irrevocably pledging or vesting any property, wealth and beneficial interests, which had not been included in their Assets and Liabilities Declarations made to CAG. Accordingly, any such property so vests in CAG Trust will be in the name of the Public Trustee and all such trust properties are for the exclusive benefit of the people of Sri Lanka.
Q: How does asset declaration becomes a tool to prevent corruption under this system?

A: Every year, the politicians have to submit the Asset Declaration to upload in the CAG Lanka portal. Here, when it is uploaded yearly, anyone can see the progress of their asset accumulation. A politician can declare any amount of assets, which is legally earned. As we said before, this system will act as a deterrent where only the honest politicians will be able to declare their assets.

This is a voluntary Deed of Declaration. We thought of introducing this system, which the country has failed so far, to hold the politicians accountable for their illegally earned assets as well as forgiving broken pledges.

The next section is where the individuals will agree to fill their own service plans, in which they declare the work that they are intended to do in their respective electorates. Since we cannot challenge the public policies due to constitutional barrier, we introduced the individual contracts in which they agree to support to implement State policies.

Here, the CAG Lanka will play the role of a watchdog as an external regulator, who will be monitoring their performances.
Q: What will be the voter's role, who is always at fault for electing misfits, and how are you going to empower them to stand against the corrupt politicians?

A: They need to play a major role in the system to pressurise their political representatives to get into the system. The yearly updated accreditation will be available online for voters to decide to whom they should vote at elections. We are encouraging voters to get themselves registered with CAG Lanka. The registered voters can communicate with their respective candidates through the portal, which is on live now.

In the future, once we upgrade the portal, they can inform directly to their respective politicians about their requirements in the areas. Our main intention, after six years, is that all the voters use their mobile phones to select their representatives depending on the accreditation points that they get on CAG Lanka portal.

We have this portal in three languages and will be using print and electronic media to reach voters to educate them about the system. At the moment, we are more concerned about getting in touch with the voters through social media.

This is the first time that voters have been empowered to pressurise politicians but it should be a collective effort by voters by joining CAG Lanka. This is why we say 'I am responsible' in our motto as we count each and every voter to be responsible for selecting their future political leadership.

During the elections, the voters can decide for whom to vote depending on political representatives' credentials, educational qualifications and services done to their respective electorates.

There will be a communication channel, where voters can question politicians for what they do in their respective electorate and the services, like tarring gravel roads, that they expect them to do for the people in the area. This is a kind of a chat room facility but we will post questions from registered voters after screening and verifying them to maintain authenticity.

This is also the first time, the voters can influence their politicians to get accreditation to see their credentials to vote for the best political leaders in national and local government level.
Q: Under this mechanism, you said legal action would be taken against the politicians who are not obliged for what they have promised. How possible is it?

A: Yes, they will be taken before the legal process as in their individual Services Plans they have consented that they are obliged to go before the law if they have breached the legal contracts in the Deed of Declaration. Although, they are obliged to provide services consented in the Service Plan, they are not obliged to provide extra services requested by their voters.

We are not breaching the constitutional provisions but we are agreeing with individual politicians who agree to comply with what they have signed in the Deed of Declaration. That's why our motto says 'I am accountable'.

The voters also can report through the system if their politicians are not complying with what they have pledged. Meanwhile, any citizen who wants to take legal action against a politician, we will assist him. Once the politicians signed with the system, they can't just get away from their pledges.
Q: What is the response from the 35 presidential candidates to CAG Lanka and will their credentials be available online?

A: We have already invited all the parties. We met the candidates – Sajith Premadasa, Anura Kumara Dissanayake, Rohan Pallewatta, Gen. Mahesh Senanayake, and Dr. Rajiva Wijesinghe – who have fully endorsed and expressed their willingness to become signatories to the systems.

All of them have endorsed the system but have not signed yet. It is a lengthy documentation process and we are hopefully waiting to get them into the system. But nobody has yet signed the written legal agreement – Deed of Trust and Deed of Declaration by submitting full Assets and Liabilities Declarations and all documentary proof of other accreditation criteria. We have sent the invitation to Gotabaya Rajapaksa and are waiting to receive his response.
Q: Will any politician agree to such stringent legal obligation?

A: Well, most politicians are not used to this kind of system due to the perception deliberately created by the successive governments, for their own benefits to evade their accountability. It is the prevailing law of the country and it was the case since 1975.

According to the Declaration of Assets and Liabilities Act No. 1 of 1975, which was last amended in 1988, it is mandatory that all politicians, public officers, office bearers of recognised political parties, nominated candidates and some others described therein, to make a declaration of all assets and liabilities of such person, his spouse and children within the times specified, each year of holding such office.

Similarly, the Bribery Commissioner could call for such additional information from a person who has made such a declaration. Then, Section 9 of this Act specifically spells out that any person who fails to make such declaration without reasonable cause, make any false statement, wilfully omits any assets or liability form declaration, fails to give additional information as requested by the Bribery Commissioner or contravenes any provision of the Act, shall be guilty of an offense and be liable to a fine not exceeding Rs. 1,000 or imprisonment for a term not exceeding a year or both.

Particularly, where any person is convicted for wilfully omitting any asset or liability form the declaration, such assets so omitted shall be vested in the State free of all encumbrances. Strangely, any such property so vested in the State since 1975, seems unheard of.
Q: How are you going to evaluate the work done by the politicians during their tenure?

A: There will be continuous interaction between the voters, politicians and the CAG Lanka Board of Governance. There will be evaluation meetings in the respective areas, every three months.

Once the signatories signed voluntarily and irrevocably agreed with the process, there will be yearly plans with the budgetary allocations. Then the respective politicians will be holding quarterly meetings with the people in the respective areas, State officials and the CAG Lanka officials to evaluate the performances.

This has been tried in the Philippines where they had a Social Contract System and it proved to be successful. It had resulted in people rejecting the politicians who had failed to deliver under the Social Contract System. In world history, some countries, like Uganda, have tried this model when they had very corrupt regimes.

Those systems were social contracts but CAG Lanka is the world's first to introduce a legal contract on an individual basis, accreditation process and also an online portal.
Q: Can you elaborate more on the CAG Trust?

A: This is a separate and transparent process, which has an independent Board of Trustees. The Custodian Trustee is the Public Trustee. In the CAG Trust each politician, the spouse and depending children, under the prevailing laws, become set laws and they form a mini trust under the CAG Trust.

They sign the Deed of Trust forming a part of the main trust to declare their assets and liabilities, including the properties overseas. Each year, they will do it voluntarily and the assets that they have not declared will automatically go to the Public Trustee as they have consented by signing for this.

The asset declaration will come into effect from the day they have signed it. This will be a deterrent for the politicians not to purchase assets under the names of their friends, relatives, drivers and bodyguards.

Under this system, the illegally earned undeclared money in overseas banks will also go to the Public Trustee as they have consented in the Deed of Declaration. They will also be consented to acquire illegally earned money in overseas banks like Swiss bank, etc. and this is applicable for properties overseas, as well.
Q: Will CAG Trust act as a deterrent for the politicians who are engaged in corruption and fraud?

A: Yes, it will definitely be a deterrent for corruption and gaining such ill-wealth by politicians. Our proposition under CAG Trust is nothing but prevailing law. Due to prevailing loopholes in the said law, we as citizens, cannot see any justifiable reason for any politician who projects himself to be genuine, credible, non-corrupt and in particular that 'I am accountable' to hesitate or refuse to become a signatory to both CAG Deed of Trust and Deed of Declaration and obtain a CAG Rating.
Q: Most of the politicians are misfits; how are you going to get them to reveal their qualifications to the public?

A: Even if you hire a driver you will see his qualifications but nobody questions the suitability or the educational qualifications of the politicians, who are going to govern this country. Most voters are not aware of the qualifications of their political representatives.

Yes, in the present political context, it is more likely that they will not agree to enter into this system as most of them are misfits to be in the legislature.

This is where the voters should come forward to pressurise their politicians to get into the system to get good ratings for their credentials to select them. Simply, the voters need to request their politicians to update their CVs to the system. The core objective of this is to send the best qualified people to govern the country.