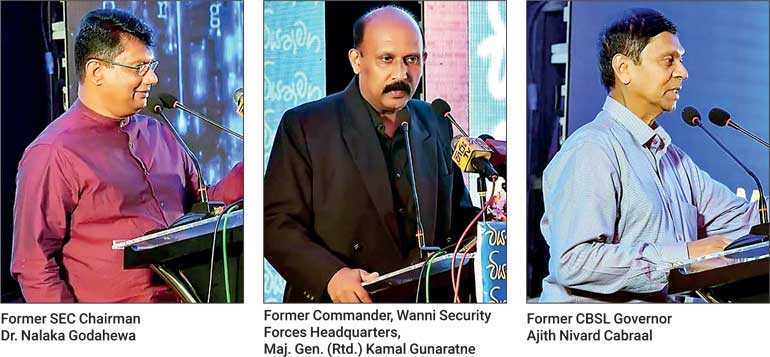 ---
by Shanika Sriyananda
At a recent forum themed 'Catalyst for exponential growth', organised by the Viyath Maga Youth, experts from four different fields highlighted prospective plans of a Government of Sri Lanka under Podujana Peramuna (SLPP) presidential candidate and former Defence Secretary Gotabaya Rajapaksa, to take the country forward by reviving its economy, development, infrastructure, and national security over the next five years.
Technology is the secret for development. We are to use technology in every sector with high-speed internet connectivity, e-government practices, research and development, and also create a fund to support entrepreneurs to support bringing in technology.

– Dr. Nalaka Godahewa
Former SEC Chairman Dr. Nalaka Godahewa, drawing a comparison between the last four years and the period before them, said that all indicators from GDP growth to per capita income under the present Yahapalanaya Government had shown an alarming downfall in the country, which was in first or second place across all economic indicators in South Asia up until 2014.
Speaking about the country's present economic situation and how it could be remedied, he said, "Sri Lanka was the second fastest-growing economy in 2014."
According to Dr. Godahewa, average GDP growth, which was 6.8 % before 2015, had fallen to less than 4%, and while it had been $23 billion four years ago, today it has decreased to $7.8 billion. The GDP per capita income, which was $1,109 has been reduced to $260, while the GDP growth rate, which stood at 7.1% before 2014, has come down to 3.1% in 2018.
"This is equivalent to the GDP growth rate of war-torn Afghanistan. Sadly, this year, with an estimated GDP growth rate of 2.8%, we have even beaten Afghanistan," he said.
Dr. Godahewa said that according to Central Bank predictions, Sri Lanka should have achieved a GDP of $144 billion but ended up with $89 billion.
"The question is why did this happen? The previous Government gave a well-performing economy to this Government, but due to several reasons, the country's economy has fallen into bad shape," he claimed.
He said one of the main reasons was a lack of direction and a Government mismatch, where two political parties holding completely different ideologies ran the country with no proper plan.
"From 2015 to 2018, they had nine different economic policies which were presented at different forums. Secondly, from the day this Government came to power, instead of focusing on economic development, they have looked to suppress their political opponents. Committing Sri Lanka's biggest financial fraud, the bond scam, they lost their reputation as a Government which came to power to uphold good governance," he said, adding that this situation had led to a loss of investor trust.
Today, the Military Intelligence (MI), which is the most powerful intelligence arm in the country, is underutilised, and the CID is operating against the MI, taking its officers into custody and exposing them to the public

– Maj. Gen. Kamal Gunaratne
He said the famous hedging and Greek bonds issues that occurred during the tenure of the previous Government were not due to fraud but a result of poor management decisions, which led to losses of Rs. 12 billion from the hedging issue, and Rs. 0.98 billion due to the Greek bonds incident.
"But under the current Government, due to their poor management decisions, we have had to pay Rs. 1.2 billion as compensation for architects, whom they got to brand it, an Airbus order cancellation fine of Rs. 17 billion, and a Rs. 26 billion fine for delaying port construction," he said, citing poor debt management as another reason for the country's purported economic downfall.
He said Prime Minister Ranil Wickremesinghe, who always blamed the previous Government for drowning the country in debt due to excessive borrowing, could have brought down the debt level by borrowing less, but debts have increased by Rs. 6,600 billion from 2014 to 2019.
"In 2005, Sri Lanka borrowed Rs. 2,200 billion and this increased to Rs. 7,400 billion in 2014. While spending money to end the 30-year-long war, the previous Government had engaged in several development projects and the economy grew four times its size. Estimated borrowing in 2019 was Rs. 14,000 billion. Since 2014, the present Government has borrowed Rs. 6,600 billion for the last five years – and what have they done for the country other
than make each Sri Lankan indebted for Rs. 650,000?" he asked.
Claiming that the present tax system was drafted by a group of foreigners, Dr. Godahewa said taxes had increased by 100%, and Government tax collection in 2014 was Rs. 1 trillion, shooting to Rs. 2 trillion in 2019.
If the new Government takes two years to revive the economy and then we have only three years, which is not sufficient to make an impact on the country

– Ajith Nivard Cabraal
He said losses caused due to the rupee's depreciation had impacted the local debt component, and the Government had lost Rs. 1,497 billion during the last four years.
"The biggest investment under the previous Government was the Hambantota Port, which was built at a cost of Rs. 147 billion, and the Norochcholai Coal Power Plant (NCPP) for Rs. 117 billion, whereas the government lost Rs. 285 billion in 2015 due to rupee depreciation. The cost to construct the Hambantota Port, NCPP, Mattala Airport and the Southern Highway was Rs. 480 billion and we could have constructed 12 power plants or 10 ports from the Rs. 1,497 billion that we lost," he explained, while claiming that the Yahapalanaya Government, which had no vision or plans to develop any sector, was hoodwinking the people.
Dr. Godahewa said that since 2015, professionals in the country who were involved in Viyath Maga had discussed how Sri Lanka could move forward under the leadership of Rajapaksa.
GR believes in meritocracy and technocracy
He said Rajapaksa strongly believed in bringing meritocracy and technocracy to the Government.
"The new Cabinet will be selected not on seniority, but by selecting the best persons who have technical expertise. We will also continue with infrastructure projects which are yet to be completed, to derive their full use which we originally intended," he noted.
Under the 'move forward' plans to bring back business confidence, priority was given to simplify the tax system, revisit outdated laws and regulations that hinder business activities, and negotiate with banks for temporary relief and allow a grace period for loan settlements.
"Building investor confidence for economic revival is important, as the private sector is struggling due to the tax system, high interest rates, and gaining approvals for business ventures, construction, etc. The new Government needs to implement major changes to the tax system by simplifying it, reducing tax rates and assure the business community of the consistency of the tax system for the next five years to build their confidence," Dr. Godahewa said, adding that preventing corruption at the institutional, political, and administrative levels was also a priority of the new Government.
He said Rajapaksa planned to prevent institutional corruption by bringing technology to minimise human interaction in institutions like Sri Lanka Customs (SLC), the Excise Department, Inland Revenue Department and local authorities, where corruption was taking place.
"This idea is not new as in some institutions like Inland Revenue and SLC, the technology is already in place but not functioning. He (Rajapaksa) wants, within a period of six months to one years, to introduce technology to these institutions to reduce human involvement to minimise corruption," he said, while speaking about implementing the National Procurement Policy to introduce a Procurement Management system, a Contract Management System and an Expenditure Monitoring System to prevent corruption at the political and administrative levels, which led to large-scale corruption when dealing with procurement, contract management, etc.
He said under the new system, the budgetary allocations and funds for various ministries, State institutions and departments would be monitored, as over 25% of Government expenditure was wasted, and also supported minimising corruption in these institutions.
The North and East are poorly connected with the rest of the country. We are going to create better connectivity with such areas to link them with cities through an integrated system that connects ports, airports and city centres

– Dr. Priyath Bandu Wickrama
He said the new Government would revive the systems by appointing the right management and paying the right focus with no interference from politicians to prevent corruption at State institutions.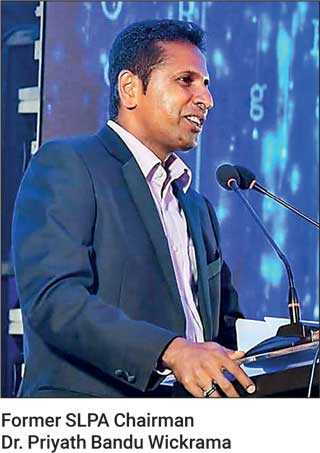 Dr. Godahewa said that under the Rajapaksa Government, the agricultural sector, which only contributed 7.2% to the GDP in 2018, would be improved through innovation, using technology to make it a more export-oriented sector, as one-third of the country's population still depended on agriculture.
"Technology is the secret for development. We are to use technology in every sector with high-speed internet connectivity, e-government practices, research and development, and also create a fund to support entrepreneurs to support bringing in technology. There are plans to identify growth potential in small industries and companies in tourism, software engineering, construction, logistics, etc. which are making a large amount of money without Government support, to help them to improve," he said.
Plans for investment in education
Dr. Godahewa also revealed plans to invest heavily in education to get employment opportunities overseas, and also to provide university education opportunities for all students who were qualified for university education, with State universities only able to accommodate 35,000 out of over 170,000 students who qualified to enter university in 2018.
"Rajapaksa always says investing in education is equal to the investment to end the war, which was made a top priority by the previous Government. Similar to that, he will give top priority to education in the future, as it was one of the key investments to develop the country," he said, adding that the country lost five years of development, and needed 15 years of work within the next five years to bounce back.
Comparing the country's economy to a patient in a coma, former Central Bank Governor Ajith Nivard Cabraal, presenting his special 12-point plan to revive the country's economy, said Sri Lanka's economy needed to be revived quickly by introducing certain critical implementations to ensure that the economy escaped the current morass.
"If the new Government takes two years to revive the economy and then we have only three years, which is not sufficient to make an impact on the country. This is why I have suggested 12 rigorous points for economic revival," he said, adding that the next five years were crucial, and Rajapaksa was the only leader who could take the country forward.
Cabraal said 12 points needed to be implemented together at the same time for an immediate economic revival over the next five years. The 12-point economic revival points that he spelled out were:
1. Immediately slash tax rates by at least 20% while also abolishing several taxes that have seriously affected business sentiment and confidence. Examples are the tax on inward remittances and VAT on apartment sales.
2. Steer the country's macroeconomic fundamentals so that interest rates will contract by at least 20%. It was pointed out that the AWPLR was only around 6% in 2014 but had now zoomed to over 12%. Cabraal stressed that steps must be taken to reduce that rate to around 8% by end-2020.
3. Take steps to stabilise the exchange rate by instilling confidence among key investors and gradually steer the Sri Lankan rupee to a value of around Rs. 150 per $1 by the end of 2021. Such gradual strengthening of the rupee will be based on the improvement of the business environment, which will then allow all stakeholders to gradually adjust to the strengthening currency.
4. Call for a moratorium on capital repayment by customers who service their interest payments without interruption, for a period of 18 months. By doing so, banks and finance companies will not be compromised, since their revenue streams will not be affected, while struggling customers will enjoy some much-needed short-term relief which will grant them time and space to stabilise their businesses. At the same time, special short-term measures will need to be implemented at the CRIB so that financial institutions can be advised to take a more flexible approach over the next 18 months to nurse entrepreneurs back to health.
5. Government to establish a Business Revival Fund with a seed capital of about Rs. 50 billion, on similar lines as done in Malaysia with the creation of the 'Danaharta' Fund, in the wake of the economic crash due to the Asian crisis. Such a revival fund will provide much-needed relief to financial institutions in facing the rapidly increasing NPL scenario, while also enabling viable enterprises that were struggling due to adverse macro conditions to recover and grow, without having to permanently close down.
6. Stabilise all financial and banking institutions immediately and wherever necessary, provide liquidity support via the Deposit Insurance and Liquidity Support Fund. For this purpose, earmark a total funding maximum of around Rs. 25 billion. Also request that financial institutions actively pursue opportunities to consolidate.
7. Initiate several mega infrastructure development projects in order to give a significant boost to the real economy at the ground level. Possibly embark on the 600 km elliptical ring expressway around the entire island. These types of projects will offer new momentum that will be vital to kick-start the economy.
8. Stimulate the village-level economy by increasing purchasing power in the hands of a large segment of the population. To generate that type of activity, release 25% of all Samurdhi balances to accountholders to be spent or invested according to their needs, such as an infusion of funds mainly into the village level which will lead to a reawakening of village-level economies.
9. Unlock a large number of projects that are awaiting approvals for their commencement. Board of Investment to grant approvals for all pending projects that meet with specified criteria within four weeks. Building permits to be issued by the UDA and local authorities in two weeks. All pending solar and mini-hydro projects to be approved in four weeks. The start-up of a large number of projects in this manner will further energise the economy.
10. Immediately start roadshows and promotional activities to attract five million tourists to Sri Lanka before 2025. Furthermore, assist small Airbnb-type enterprises to flourish by improving their image as well as their service levels.
11. Renegotiate all unfavourable commercial agreements that have been entered into or are to be entered into by the current Government. These will include the Hambantota Port, Mattala Airport, Millennium Challenge Agreement, etc.
12. Rebrand Sri Lanka on a continuous basis as a safe investment destination, a vibrant and growing economy, an attractive tourist paradise, a bustling IT centre, a country with sound health, education and transport infrastructure and services, with rule of law being practiced.
Five economic corridors and monorail
Highlighting the impact of infrastructure and economic development, the Port Authority's Dr. Priyath Bandu Wickrama said the Government had not initiated any projects similar to those of the previous Government, which had developed over 480 km of major roads and other infrastructure projects.
"Infrastructure development plays a major role in developing any sector. We intend to place a great deal of concern on developing rural areas, where we are planning to construct a few highways and expand roads to have better connectivity to cities to give access to markets, ports and major economic centres in the country," he explained.
According to Dr. Wickrama, five economic corridors have already been identified to connect major ports, airports and major cities.
"For example, the North and East are poorly connected with the rest of the country. We are going to create better connectivity with such areas to link them with cities through an integrated system that connects ports, airports and city centres," he stated, adding that traffic congestion in major cities including Colombo would be controlled by implementing a well-designed plan to reduce the wastage of the workforce's productive working time due to traffic congestion.
He said railway and monorail connecting all rail lines going around city centres and major roads would be introduced, connecting the Port City rail stations and bus stands like Maradana, Town Hall and Colpetty.
"We expect to reduce the wastage of productive time by 50% with these new projects. The important rail lines – Panadura, Katunayake, Avissawella and Veyangoda – which bring most of the workers to city centres will be connected to the rail-loop. There will be a separate platform where people can go to workplaces, while there will also be a better bus service system operating within the city centre loop to reduce traffic and also reduce vehicles entering the city," he said, revealing plans to electrify four rail lines, fast track lines, a synchronised colour light management system and a radial traffic flow within the city to minimise traffic congestion.
Dr. Wickrama said there would be a new vehicle parking system that would not allow parking alongside the roads, and it would make it compulsory to have parking spaces in buildings when approving building constructions.
According to Dr. Wickrama, there are plans to make Sri Lanka, using its strategically important location, the regional air-sea-cargo hub that will connect the two airports and two ports like in Singapore, Dubai, and Abu Dhabi.
"At the moment, the highway is connected to the airport and the port, but we need to connect the railway to make this hub operation more efficient and effective," he said.
He said tourist corridors would be developed in the areas where there were more tourist attractions to offer more facilities for them, and an online booking system would also be introduced to allow them to buy entry tickets, book hotels and taxis, as well as to get help from tour guides.
Solid waste management, recycling wastewater to reuse, a system to divert flood water to dry zones, implementing renewable energy projects to have over 40% of energy from renewable sources, introducing broadband connectivity, de-urbanisation to improve facilities in rural areas to minimise urban migration, and creating opportunities for people to learn English to improve connectivity and effective communication, were other areas of concerns for the new Government, he said.
Intelligence services in disarray
Speaking on national security and economic development, Maj. Gen. Kamal Gunaratne emphasised the need to have a well-connected State intelligence service with the participation of all the intelligence arms in the country to maintain national security, which is paramount for economic development.
He said the 21 April bomb attacks by extremists had dragged the country into a dark era after enjoying 10 years of peace, following the end of the 26-year-long war against the LTTE.
"Every sector, including tourism, is still struggling to revive. This happens when national security is taken for granted," he said, stressing the need to have regular meetings at the National Security Council to offer directions and plans to maintain national security.
Maj. Gen. Gunaratne blamed the Government for pitting intelligence agencies against each other, and also for not taking them into one fold to work together.
"Mostly, the intelligence arms are now operating in isolation and attacking each other. Today, the Military Intelligence (MI), which is the most powerful intelligence arm in the country, is underutilised, and the CID is operating against the MI, taking its officers into custody and exposing them to the public," he alleged.
Maj. Gen. Gunaratne said that during Rajapaksa's tenure as the Defence Secretary, he established a mechanism to integrate all the intelligence arms from the Tri-forces to the Police, to work and share each other's findings to fight the common enemy.
"As a result of proper co-ordination and teamwork, the Sri Lanka Air Force was able to pinpoint the location of the LTTE's political wing leader Tamilselvan's house among hundreds of others. The target was given by the MI, but unfortunately, this most efficient organisation was not very aware of Zahran's Easter Sunday bombings," he said, adding that the country lost over 300 people and saw over 500 people injured due to the Easter Sunday bombing, mainly due to the failure of the intelligence services.
He asked to name a Government which co-sponsored a resolution against its security forces which eradicated terrorism, and also a Minister who raised his hand to claim the allegation.
"It is a disgrace to witness this. With the Government change, no country goes behind people who work for national security to hunt them. Similarly, no Government in the world reveals top secrets related to national security. Did anyone hear the American President Donald Trump interfering with the CIA's operations after former President Barack Obama went home? No," he said, stating that the CID was trying to destroy MI, which was made a highly effective organisation through a lot of hard work.
He said MI officers who contributed immensely to maintaining national security had no confidence to perform the way they did earlier. He said that under a new Government led by Rajapaksa, all intelligence arms would be given an assurance to perform confidently, as their contribution would help to revive the country's economy and development.