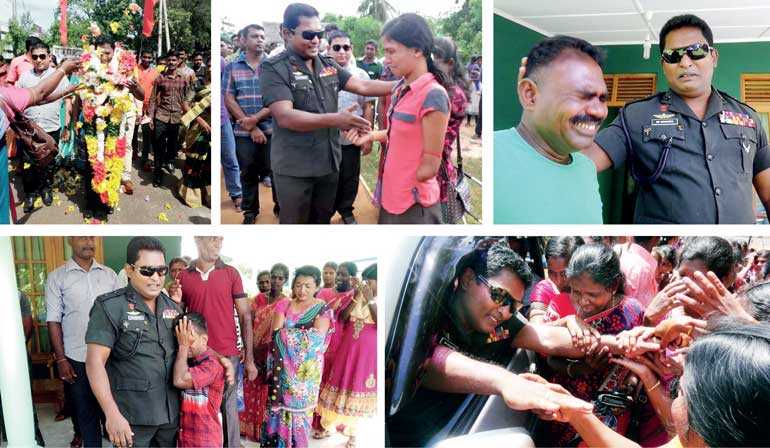 By Shanika Sriyananda

If someone needs to change someone, be a child or an adult, it is the love, kindness, respect and trust that make the magic to bring the change. "Despite their race and ethnicity, I gave them love, kindness and respect as a soldier of the Sri Lanka Army," the former commanding officer of the Civil Defence Force (CDF) in Mulaithivu, Kilinochchi and Jaffna Lt. Col. Rathnapriya Bandu said.

Just a few days ago, the extraordinary farewell given to him by the people in Vishuamadu, which was a former LTTE's stronghold in Kilinochchi, went viral on social media, giving a shocking surprise to all.

This made the former TNA parliamentarian M.K. Shivajilingam blame the former LTTE cadres for betraying the LTTE as they carried Lt. Col. Bandu on their shoulders up to the reception hall of the Cooperative building in Kilinochchi.

Lt. Col. Bandu has been transferred to the Sinha Regimental headquarters in Ambepussa after commanding the CDF in three districts for over five years. In the farewell, young and old men and women, including the rehabilitated ex-LTTE cadres were becoming emotional when he bid adieu.

"When I first assumed duties in September 2012, people, especially those in Kilinochchi and Mulaithivu, didn't have a leadership. They were a neglected lot and left astray. They looked at me, a uniformed man, very suspiciously. But, I changed my style of command to bring out the 'community leadership' in army uniform," Lt. Col. Bandu said when the Daily FT spoke to him recently.

Barely three years after defeating the LTTE, he was given two weeks to recruit 100 people – men and women – to the CDF to solve the severe unemployment problem in the three districts. At that time no one was willing to join the CDF even though thousands of people, including the ex-LTTE cadres, were badly suffering from financial difficulties as they were being resettled and reunited with their families.

"Some people spread rumours that the recruitment drive was just a political move targeting the next election and also that the Government was trying to form a force with Tamils to fight with Tamils if a conflict happened. They had asked people not to join the CDF. We planned the recruitment after resettling most of the war-displaced people in Jaffna, Kilinochchi and Mulaithivu. I received several threatening calls from unknown people, who challenged me to get even a few to the CDF, warned me to stop recruitments and also said that the Tamils will not ever join the Army. I didn't counter attack them but planned the recruitment drive carefully," he explained.

He was given the LTTE's Castro Base, one of the main training bases in Kilinochchi, which had only few concrete pillars to put up a hall to start the recruitment drive. "Since we wanted to make people believe us that it would not be a short-term effort, first we made some permanent structures to set up the CDF base. I went to schools and pre-schools and requested them to give us the best students who could perform well at the cultural event on the recruitment day. We also did some announcements in all areas. I even still can't believe that over 4,000 people came on the first day and we recruited 1,000 men and women to the CDF," Lt. Col. Bandu said.

According to Lt. Col. Bandu, with few recruitment programs it grew to a force of 3,500 CDF personnel, turning it into the most sought after state institution for employment with a waiting list of over 15,000 people from the three districts.

"Living under a military dictatorship for 30 years and herded from one place to another during the final battle, when they came back to their own houses from the IDP centres, they had a void for a proper community leadership that supports them to uplift their lives and understand their grievances better. As soldiers, we are trained to be people's army to lead them while protecting them. I wanted the CDF personnel to fulfil the need of a proper leadership that touched hearts and minds of those people. I studied about their culture, lifestyles, food habits, behaviour, religion, rituals and even the leadership styles of their former leaders including V. Prabakaran," Lt. Col. Bandu, who formerly served in the Special Forces and in the 53 Division, said.

He said as he wanted them to feel that he also belonged to the Tamil society in those areas, he had changed his outfit to match a South Indian and wore dark glasses. The new outlook bridged the gap between a soldier and ordinary Tamils.

"As a soldier, the Sri Lanka Army had groomed us to be fine leaders by instilling leadership qualities in us. I used these in giving the leadership to those people to work as CDF personnel," he said adding that in the first few months, people looked at him and his staff suspiciously as they were uniformed men.

It was found that the education standard was very low among the young people in the three districts. The CDF had taken most of the pre-schools under its preview and started training pre-school teachers, who didn't have Ordinary Level, Advanced Level and Montessori qualifications to be qualified as pre-school teachers. Today, 261 pre-schools function under the CDF and over 58,146 children in three districts are given free education. The CDF is conducting tuition and extra classes for children in grade one to 10. The pre-school teachers, who got less than Rs. 3,000 monthly before, are now getting a salary of Rs. 32,000.

"We are happy that the school principals now say that the education standard of grade one students has improved as they are given a good pre-school education in the CDF run pre-schools. The CDF is doing lots of programs to give employment for people. Over 90% of the people, especially in Kilinochchi and Mulaithivu were strongly connected with the LTTE but we never dug into their past as it was the time that they were struggling to forget their past and need help," he noted.

Lt. Col. Bandu said that those people who were being used to control at the gun point were seeking friendships, love, respect and trust and he and his staff stopped carrying any weapons to show that they trust them. "This gave them to feel that we, the army soldiers trust them, especially the ex-LTTE cadres. Gradually, people came to us. At the end, lots of people came to the CDF office seeking support for various issues even for marital issues. They had leaders but they always lived distantly from the ordinary people. But the soldiers stood for them in day-to-day life," he said.

In some projects handled by the CDF, one or two Sinhalese staffers work with 200 Tamils with no conflicts, he said adding that ordinary Tamils can live peacefully as they lived together historically.

Lt. Col. Bandu said that when their own society rejected the ex-LTTE cadres, they turned to the CDF or army for help. "Unemployed, uneducated and with no skills, most of the rehabilitated ex-LTTEers didn't get respect, trust and help from the people around them. We helped them to stand on their own feet by recruiting them into the CDF. Following the universal concept of reconciliation based on four pillars, we adopted a similar concept called 'one family' which promoted – trust, zero weapons, honesty and dedication. This was first practiced in their families, then the society and lastly in the country as a one nation. This is what we applied in our relationship with the people," he, who learnt Tamil said adding that the language is not a barrier if one could practice these pillars to win the hearts and minds of people to iron out differences and heal the scars.