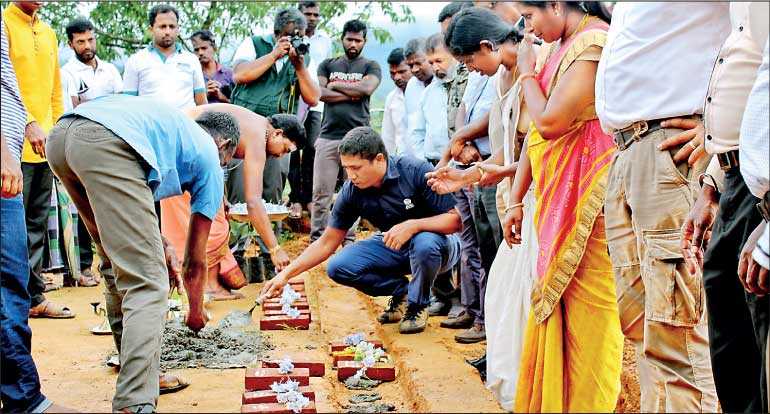 As part of the Assisting Communities in Creating Environmental and Nutritional Development (ACCEND) Project, 20 Improved Gravity Fed Water Systems (IGFWS) will be constructed in 20 estate divisions of Ambagamuwa Division in the Nuwara Eliya District. Through this intervention, the project focuses on providing safe drinking water throughout the whole water system, from the source to the individual homes of the tea estate communities.
In February, the first phase of the five completed IGFWS were constructed in the estate divisions of Fairlawn, Sooriyakanda, Alton Lower, Blairavan and Bargany.

Early last month, a foundation stone laying ceremony was held and organised by the different community-based organisations (CBO) together with the estate managements of the five IGFWS in the second phase construction in the Norwood Upper, Stockholm, Mahanilu, Gouravil A and Gouravil B estate divisions.

This occasion was graced by the District Secretary Rohana Pushpakumara, who expressed great appreciation to the European Union through the implementation of ADRA in partnership with OXFAM. The initiative is part of the ACCEND Project in addressing the need of vulnerable tea estate communities to have access to safe drinking water and promote health and sanitation. Through the second phase, around 5,217 individuals representing 1,242 families will benefit from this initiative in the aforementioned estate divisions.

The ACCEND project is a project funded by the European Union in collaboration with the Government of Sri Lanka and is implemented by ADRA in partnership with Oxfam.

The project is being implemented in Nuwara Eliya, Matale and Monaragala Districts within a span of four years, aiming to contribute towards the improvement of health, nutrition, hygiene and sanitation of communities in the Central and Uva Provinces.