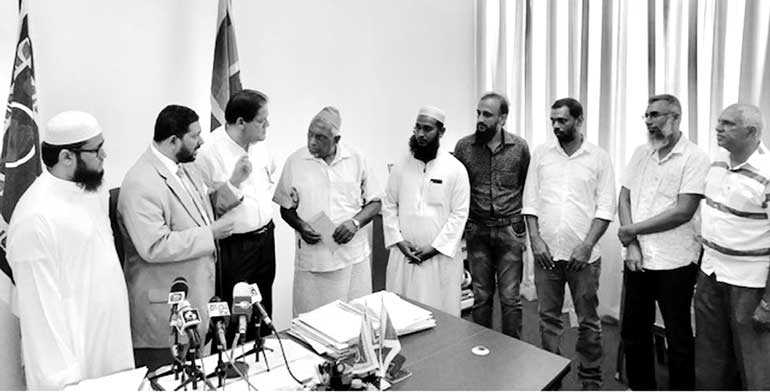 On behalf of the Western Provincial Council, its Governor Azath Salley handed over a cheque for Rs 1.5 million on Thursday to the management of the Minuwangoda Jumma mosque to do the necessary renovations following the mob attack which damaged some parts of the worshipping place.

The cheque was formally presented to Chief Trustee of the Jumma mosque in Minuwangoda Al-Haj M.R.M Zavahir.

Following the presentation of the cheque, Governor Azath Sally told the press that he visited the mosque personally and found the volume of the physical damages caused to the mosque building. "Since it is the holy month of Ramadan, Muslims have to perform their prayers in a congregation during the daily night prayers, Taraweeh," the Governor said, adding that the vandalism has disrupted the rhythm of the Ramadan month.

Addressing the press, Salley said that he personally saw the damages caused to the Muslim properties and the embarrassments caused to the community. He insisted that those who were responsible for the attacks should be brought to book and be given stringent punishment for these losses and for contributing communal disharmony to the society.

The Governor said following the Easter Sunday bomb blasts, Archbishop Malcolm Cardinal Ranjith has clearly stated that there should be no discrimination against any particular community since foreign hands are behind the suicide bomb blast. "Around 98% of the perpetrators involved in the bomb blasts had been apprehended because of the information provided by the Muslims," he said, indicating that 99% of the Muslim community is against this form of extremism and terror.

He also said that adequate security arrangements have been made in 1,285 schools in his province for the students to resume their academic career without any fears from Tuesday.