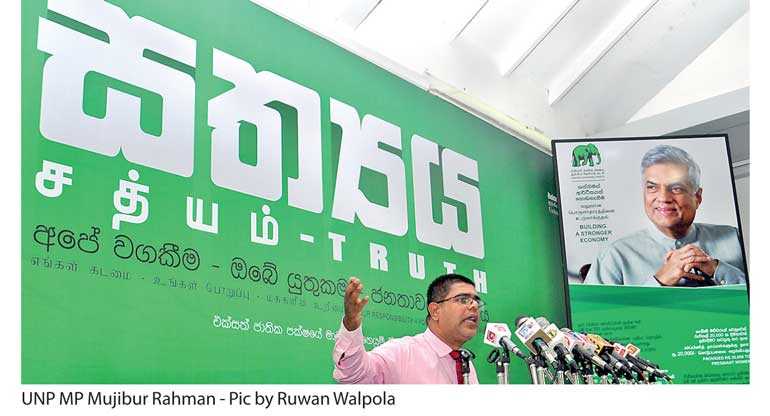 Dismisses claims by Wimal, insists bill was to compensate all war affected
Points out that children were also forcefully conscripted and need assistance
Cabinet paper included LLRC provisions formulated during Rajapaksa era
Says Govt. duty to assist everyone impacted by war not just north
By Rahel Kirinde

The United National Party (UNP) yesterday sought to dismiss allegations made by MP Wimal Weerawansa that the Cabinet paper presented by Minister D.M. Swaminathan was meant to fund former Liberation Tigers of Tamil Eelam (LTTE) combatants.

"The bill was never meant to fund LTTE combatants. It was based on a 1986 circular method of indemnification and the compensation of all people affected by the war and that includes innocent children who were forced to be a part of the war," said UNP MP Mujibur Rahman while addressing the media at a press conference held at the UNP headquarters of Sirikotha.

MP Weerawansa had earlier urged the public not to pay taxes, claiming that they would be used to fund former LTTE combatants and their families. He also said that this had not been done in any other part of the world.

"We fund the entire public sector with tax money inclusive of health services, free education, state employees' salaries and infrastructure; even the MPs' salaries are paid with tax money. It is absurd to think that this should be stopped," Rahman said.

"The Cabinet paper included provisions from the Lessons Learnt and Reconciliation Committee (LLRC) established by former president Mahinda Rajapaksa. One such provision was that when indemnifying for reparation, all individuals affected should be treated fairly and equally," he revealed.

He further stated that any issue with the provisions of the LLRC report should have been brought up when it was first established.

The LLRC was established in 2010 in order to promote national unity and reconciliation among all communities of the country and to prevent future conflict.

"It is the duty of the Government to ensure that the children who were coerced into terrorism are not looked down upon or abandoned. They have been hurt as much as everyone else," Rahman reiterated.

He further cleared misconceptions that the Cabinet paper specifically compensated people in the north of the country. "The proposal was unbiased. It was not limited to one specific area. It required that every citizen, even people in the South that were affected by the war, be compensated," he noted.

The Cabinet paper was ultimately rejected by the Cabinet due to the clause that permitted compensation for those who were involved in terrorism-related activities, claiming that they had already been offered rehabilitation and did not need to be compensated. A request was made to revise the paper and resubmit the proposal.