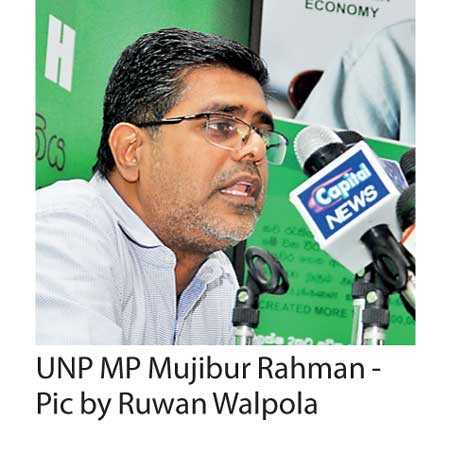 Highlights significance of 19th Amendment
Stresses that Govt. seeks to act within laws of country
Insists that overall political intervention has reduced
The United National Party (UNP) yesterday recapped the milestone achievements of the Good Governance Government, highlighting efforts to end fraud and corruption within the country.

UNP MP Mujibur Rahman, speaking at the UNP headquarters Sirikotha, remarked that the Government was able to bring about major political and legal reforms by transferring the powers of the Executive President to the Constitutional Council of Parliament.

"Before the 19th Amendment the Chief Justice, the Attorney General, the Inspector General of Police (IGP), Court of Appeal judges, High Court judges were all directly appointed by the President. Now it is done by the Constitutional Council. We have ensured the conduct of independent authorities take place free of political interference," he said.

He added that the Government managed to establish autonomous institutions such as the Financial Crimes Investigation Division (FCID) which functions to eradicate and prevent fraud and corruption within the country. "We even made the Bribery and Corruption Commission an independent authority," he said.

Rahman revealed that the use of political influence on police officers had also been restricted with officers having the freedom and right to complain to the National Police Commission.

MP Rahman also stated that the Government had taken every measure possible to rid the country of fraud and corruption despite allegations that the government protects thieves. "The only reason we have not been able to penalise culprits of corruption from previous regimes is because we cannot step out of the boundaries of the law to punish anyone," he said.

"Our current democratic system does not permit us to do so."

Elaborating further on the reforms of the Government, Rahman mentioned the establishment of three new high courts, with one court having already started the evaluation of cases with a three-person judge board.

Rahman also noted that the Government had succeeded in ensuring everyone's right to information and freedom of speech unlike previous regimes.

"Our Right to Information Act enables easy access to government information without any restrictions," he said.