Geneva: The United Nations High Commissioner for Human Rights Zeid Ra'ad Al Hussein yesterday urged the Sri Lankan Government to accelerate the pace of fulfilling all the obligations in the consensual resolution HRC 30/1 adopted by the United Nations Human Rights Council (UNHRC) in October 2015.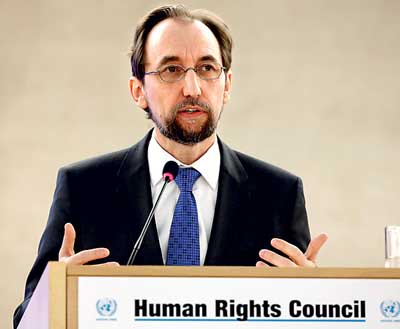 Providing an update on the human rights issues in 40 countries at the 36th session of the Human Rights Council in Geneva, High Commissioner Zeid urged the Government to swiftly operationalise the Office of Missing Persons.

He asked the Government to also move faster on other essential confidence building measures such as the release of land occupied by the military and resolving long-pending cases registered under the Prevention of Terrorism Act and reform the draconian act.

"I repeat my request for that act to be replaced with a new law in line with international human rights standards," Zeid said.

The High Commissioner noted that In the North, protests by victims indicate their growing frustration over the slow pace of reforms.

"I encourage the Government to act on its commitment in Resolution 30/1 to establish transitional justice mechanisms, and to establish a clear timeline and benchmarks for the implementation of these and other commitments," he said

"This should not be viewed by the Government as a box-ticking exercise to placate the council, but as an essential undertaking to address the rights of all its people."

He said the absence of credible action in Sri Lanka to ensure accountability for alleged violations of international human rights law and international humanitarian law makes the exercise of universal jurisdiction even more necessary.

The High Commissioner said overall in the first three years of his current term the world has grown darker and more dangerous.