---
597 persons test positive for COVID-19, triple cluster expands to 39,571
Over 7,000 persons currently receiving treatment for COVID-19
Recoveries rise to 35,329, with 706 persons leaving hospitals
---
By Shailendree Wickrama Adittiya
---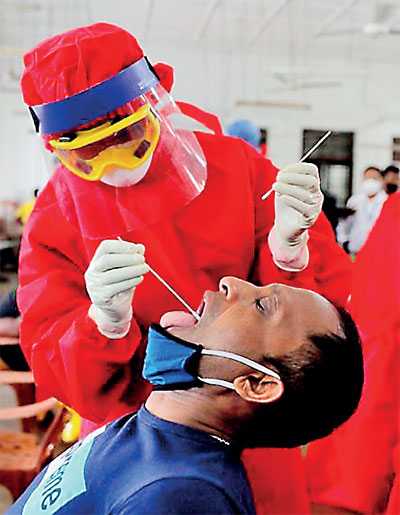 The total number of COVID-19 patients detected in the island yesterday rose to 43,299, with 597 persons testing positive for the virus.

Of yesterday's patients, 526 persons are associates of the Peliyagoda COVID-19 cluster, 66 are linked to the Prisons cluster, and five are overseas arrivals, the Department of Government Information stated. The overseas arrivals who tested positive for COVID-19 yesterday include two arrivals from Ukraine, two arrivals from the United Arab Emirates, and one arrival from Bangladesh.

Since the emergence of the Divulapitiya COVID-19 cluster on 4 October, the triple clusters from Divulapitiya, Peliyagoda, and Prisons have expanded to 39,571 patients.

The total count also includes 1,680 Sri Lankan returnees from abroad and 130 foreigners. The local cases include 950 Navy personnel and their contacts and 651 persons linked to the Kandakadu Treatment and Rehabilitation Centre from inactive clusters.

The Epidemiology Unit states that 7,766 persons are currently under medical care for COVID-19. This includes 495 persons at the Punani Treatment Centre, 487 persons at the Bingiriya Treatment Centre, and 460 persons at the Gallela Treatment Centre.

Hospitals are also monitoring 675 persons suspected of having COVID-19.

In terms of recoveries, hospitals yesterday discharged 706 persons. The recoveries include 103 persons from the Dambadeniya Treatment Centre, 96 persons from the Bingiriya Treatment Centre, and 50 persons from the Neville Fernando Hospital.

The total number of COVID-19 recoveries in the island is 35,329.

The Epidemiology Unit adds that 17,476 persons from the Colombo District, 8,947 persons from the Gampaha District, and 2,918 persons from the Kalutara District are among the total patients detected in the island. The district distribution of patients also records 1,284 persons from Kandy, 700 persons from Kalmunai, and 607 persons from Ratnapura.

The total count includes the 639 patients detected on Wednesday. According to the Department of Government Information, 190 persons from Gampaha, 133 persons from Colombo, 89 persons from Kandy, 50 persons from Kalutara, and 42 persons from Ampara tested positive for COVID-19 on Wednesday.

According to the Health Promotion Bureau, 1,236,174 PCR tests have been carried out in the island to date. This includes 12,592 tests performed on Wednesday.

In addition to this, the Sri Lanka Police yesterday asked all persons who travelled in the NB 9268 bus from Polonnaruwa to undergo quarantine as the bus was used by five COVID-19 patients who fled the Gallela Treatment Centre during the early hours of Wednesday to travel to Kurunegala.

According to Police Spokesperson DIG Ajith Rohana, five inmates of the Negombo Prison who were directed to the Gallela Treatment Centre after testing positive for COVID-19 had fled the centre. The individuals are between the ages 26 and 52 years and one individual was located in Chilaw yesterday.

DIG Ajith Rohana added that a total of 13 persons have fled treatment centres to date.