Had he been given the job, would Lee Kwan Yew, the iconic strongman of Singapore, have succeeded in dragging Sri Lanka into the first world?

The answer to this intriguing question, posed at a time when sections of Sri Lankan society are panicking over the prospect of a free trade agreement between the two countries, can be found in a new book, written by a man with an intimate knowledge of, and decades of living experience in both island nations.

'A tale of two countries' (Ravaya Publishers) is a compilation of essays by Ajit Kanagasundram, son of the legendary civil servant K. Kanagasundram, a confidant of D.S. Senanayake and first Chairman of the Gal Oya Board. Taking its title from an unpublished essay that contrasts the evolution of Sri Lanka and Singapore, the book contains eight other essays that examine some of the milestone developments of post-independence Sri Lanka and how they have impacted the country's progress or lack thereof.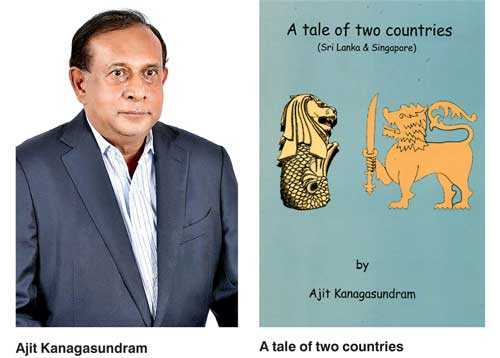 Thought provoking, insightful and in parts controversial and provocative, these essays provide a mix of anecdotal nostalgia, critical introspection, intelligent analysis, outspoken candour, humour and philosophy that will be grist for the conversational mills of Sri Lankans, who the author notes, are lively discussers of politics whenever they meet.

In his foreword, Deshamanya Tissa Devendra says the essay on Sri Lanka and Singapore "should be compulsory reading for all Sri Lanka's politicians, economists, academics and the 'common reader'."

The essay analyses five areas of national life in Sri Lanka and Singapore before reaching a conclusion on how Singapore, that once aspired to be like Sri Lanka, grew into one of the most successful and stable economies in the world, while Sri Lanka is where it is today. These areas are nation building, education, national corporations, corruption and governance.

The essay begins with a description of how Singapore gave priority to having an inclusive policy towards the minority Indians and Malays in contrast with Sri Lanka's pro-Sinhala stance in governing the country. It goes on to compare our record in corruption in airlines and electricity generation. The book is also brutally frank and scathing on our "white van" murders and the complicity of our security forces. However, the author is possibly the only Tamil writer to take a balanced view of civilian casualties at the end of the war, describing them as not "war crimes" or premeditated, but more collateral damage due to negligence and callousness. There is also an interesting section on the contribution of "Ceylon Tamils" to Singapore's early progress and governance.

Controversially, the author suggests that Sri Lanka should emulate Tamil Nadu in India rather than Singapore – a suggestion that is bound to provoke comment.

The essays that follow, 'The Gal Oya Project,' 'The Mother of All Projects – the Mahaweli Project,' 'The elite we destroyed – the Ceylon Civil Service,' 'Fly me to the Moon – our venture into aviation,' 'Crime and Punishment,' 'The plight at the end of the tunnel – our economic situation,' 'The contribution of Jaffna Tamils to Singapore' and 'Farming in a finite world' provide insights in the same vein, buttressing the points made in the lead essay.

A Cambridge University Honours graduate in Economics, Ajit Kanagasundram was one of the pioneers of computerisation at the Central Bank of Sri Lanka, and was one of the victims of the July 1983 riots that forced him to leave for Singapore. There he created a the largest commercial data centre in Asia outside Japan for Citibank, and was responsible for developing the first international payment and credit card system in the world for 38 businesses globally, also for Citibank. In 2005 Kanagasundram was appointed Managing Director of DBS Bank, the largest bank in South East Asia, responsible for both technology and operations. He currently runs a renewable energy company dealing with Solar power and Ocean Thermal Energy Conversion, with assets in Sri Lanka and Indonesia.

Priced at Rs. 280 'A tale of two countries (160 pages) is available at Vijitha Yapa Bookshop outlets and will be on sale at a discounted price at the Colombo International Book Fair from 21-30 September.

The author says all proceeds from the sale of the book will go to a fund for war widows on both sides "as they are the true victims of our failure to govern ourselves with justice and compassion during the last 70 years."