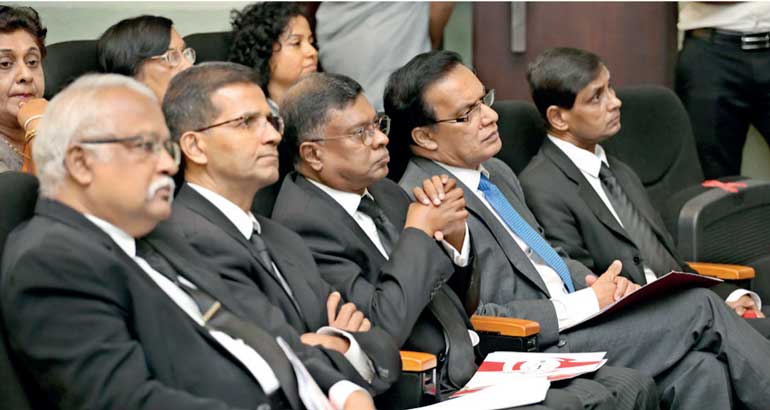 A delegation of The Honourable Society of the Inner Temple ('The Inner Temple') addressed the members of the Bar Association and the Medical Association of Sri Lanka on 4 September at the Dr. H.W. Jayewardene QC Auditorium (BASL Auditorium).

The delegation comprised Treasurer of the Inner Temple David Pittaway QC accompanied by his wife, Jill Pittaway, and Senior Bencher of the Inner Temple, Julia Dias QC. The respected panel of speakers was chaired by K. Kanag-Isvaran P.C. and the session was moderated by Avindra Rodrigo, Attorney-at-Law, who themselves have been called to the Bar of England and Wales by the Honourable Societies of Lincoln's Inn and Grey's Inn, respectively.

The speakers were welcomed by BASL President U.R de Silva P.C. and were formally introduced by Kanag-Isavran P.C., who, during his introduction, also paid tribute to Dias QC's father and other family members who are no strangers to the legal profession in Sri Lanka.

The first speaker, Pittaway QC highlighted several important aspects of clinical negligence during his presentation whilst sharing his experience in a real life medical negligence case tried and determined in the UK. The floor was then opened to the audience of both medical and legal practitioners for questions on clinical negligence.

Dias's presentation on challenges to the enforcement of arbitration awards and the appointment of arbitrators followed thereafter. She highlighted the grounds for refusal of enforcement or recognition under the New York Convention which is also reflected in the Sri Lankan Arbitration Act.

Both speakers engaged in a session on pre-trial hearings, a concept novel to Sri Lanka introduced by the latest amendments to the Civil Procedure Code brought about in June. As stated by Pittaway, though the British have been slow in adapting to the pre-trial hearing introduced by the Woolf reforms, pre-trial hearings have now been fully embraced by both litigants and practitioners in the UK. Both speakers briefly mentioned the advantages of having a pre-trial hearing. The sessions came to a close followed by light refreshments organised by the BASL.

The moderator Rodrigo engaged the audience in an interactive Q&A session at the end of each topic of discussion.