---
Sampanthan says demands of Tamil people to have powers of governance within united, indivisible, undivided SL must be respected
Urges EU delegation to ensure Govt. fully implements undertaking given to UNHRC
Also urges international community to ensure justice for relatives of missing persons
Tamil National Alliance leader R. Sampanthan briefed a visiting European Union delegation on the long process that has gone on in finding a political solution to the national question on Wednesday, and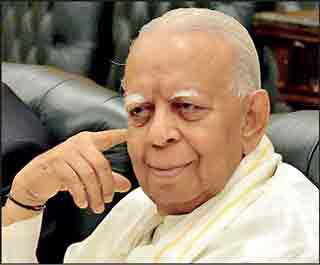 R. Sampanthan
highlighted the commitments made by the Government of Sri Lanka to the EU, India, UN, and other international communities.

During the meeting with the EU delegation led by Asia Pacific Deputy Managing Director Paola Pampaloni, Sampanthan said the Government has not kept to its commitments thus far, and these commitments were made during the armed conflict between the LTTE and the Government.

"These commitments cannot be abandoned just because LTTE has been wiped out. The struggle has been for the Tamil people, and not for the LTTE, and the legitimate demands of the Tamil people to have powers of governance within a united indivisible undivided Sri Lanka must be respected," he said.

The TNA leader also stressed that the international community must come out publicly regarding these commitments, as their silence in these matters encourages the Government to ignore these commitments.

He also called on the EU delegation to ensure that the full implementation of the UNHRC resolution is being carried out by the Government, and especially as to what has happened to those who were handed over to the armed forces and Government authorities by their relatives during the last phase of the war.

"If such persons have gone missing, the relevant officials must be called upon and inquired into to ascertain the truth. The international community should play its role to bring about the justice concerning these persons and ascertain the truth; our people are longing to know the truth," Sampanthan said.

The EU delegation assured that their concerns on these matters will be reflected soon in their decisions, a press release from the TNA said.