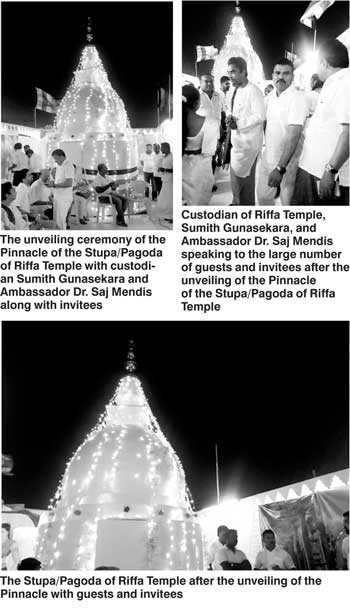 The first ever Buddhist temple in the Kingdom of Bahrain was established in 2008 in the city of Riffa by the Sri Lankan community under the stewardship and leadership of Sumith Gunasekara. This humble Buddhist temple was probably one of the first ever temples to be established in the region of Middle East and North Africa (MENA).

With the unstinting assistance, cooperation and patronage of the Sri Lankan expatriate community, primarily Buddhists as well as all other faiths and ethnicities of Sri Lankan origin, Ambassador of Sri Lanka, Dr. A. Saj U. Mendis along with the custodian of the temple, Sumith Gunasekara, unveiled the pinnacle of the first ever Buddhist Stupa/Pagoda in Bahrain coinciding with the Vesak and Poson ceremonies. A large number of Sri Lankan expatriates and non-Sri Lankans of Buddhist faith as well as of all other faiths and religions were present at this iconic and unprecedented ceremony. This Stupa/Pagoda could be, probably, the first ever Pagoda to be unveiled in the region of MENA, thus manifesting the tolerance and forbearance of the Kingdom of Bahrain.

Today, the Riffa Temple has a large number of Buddha statues, murals, Bo-Tree brought all the way from Sri Lanka and a place for meditation, among others, to Sri Lankan expatiates of Buddhist faith. Since Bahrain has relatively a large number of Sri Lankan expatriates of Buddhist faith, the Riffa Temple would serve as a place of worship and for meditation as well as a place for spiritual refuge, among others. The other major practicing religions in Sri Lanka i.e. Islam, Christianity and Hinduism, have their own intrinsic places of worship in Bahrain.

At the unveiling of the Pinnacle of the Pagoda of Riffa Temple, Gunasekara, in his opening and welcoming remarks stated that the Sri Lankan expatriate community along with him worked tirelessly and tenaciously for over six months in order to construct the Pagoda. Further, he added that the gold colour plated Pinnacle was designed and brought from Sri Lanka. His message was that the Riffa Temple, which is frequented not only by Buddhists but also by Sri Lankan and other expatriates of other religions and faiths, would serve as a place of reconciliation, appeasement and tranquillity. Ambassador Dr. Mendis stated, at this historic and momentous occasion, that been the only Temple in Bahrain with a Stupa/Pagoda would enable and facilitate the people to reflect and to instil the teachings of the Great Teacher, Lord Buddha.

Sudesh Karunathilake, a patron of the Temple, expounded and accentuated the challenges, difficulties and predicaments Gunasekara and other well-wishers have countered not only in construction of the Stupa/Pagoda but also in the maintenance of this religious edifice. After the formal ceremony, all guests, patrons and visitors were treated with refreshments.