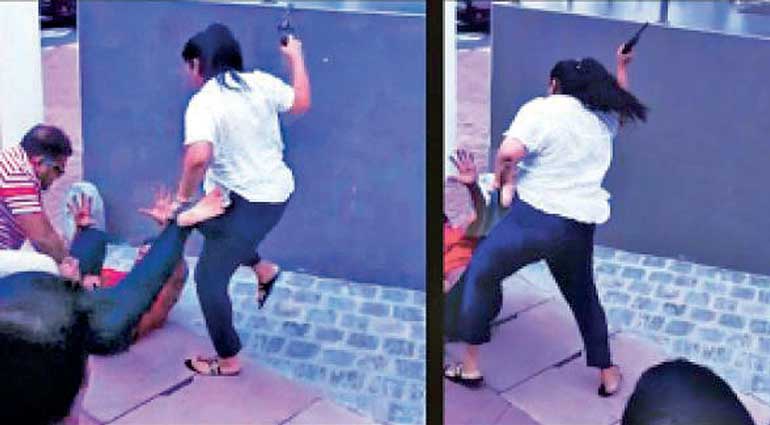 By. T Farook Thajudeen

Southern Provincial Councillor (PC) M.K. Kasun and his wife Tharaka were further remanded till 27 March by Kaudwela Magistrate Prasanna Alwis yesterday.

The Magistrate further remanded them after observing that the charges against the PC and his wife were non-bailable as they come under Section 300 of the Penal Code and under the Firearms Ordinance.

However, the Magistrate, after considering the submissions of the suspect's Counsel and the OIC of Koswatte Police, directed the latter to file a detailed report after viewing the complete CCTV footage and the visuals of the mobile phones. He also ordered the Police to inform the Court whether the weapon is an automatic one and if it is licensed.

At the outset of the inquiry, Counsel Sandya Thalduwa, Kamal Wijesiri, and Premanath Dolawatte, appearing for the suspects, contented that the media had telecast only a part of the video footage of the camera visuals and if the entire episode is viewed the viewers will have a different opinion about the incident.

They said the driver of Kaduwela-Colepetty bus had repeatedly honked the horn of the bus to overtake the cab when there was no way to allow him to overtake due to the heavy traffic.

At the Koswatte junction, when the PC strived to park his cab at the Odel car park the bus driver stopped the bus behind the cab and coming to the cab had knocked at the windscreen asking the PC to lower the windscreen.

When the PC lowered the windscreen the driver of the bus had punched the former on his face causing grievous injuries.

The Counsel said that four sutures had been put on to the lips of the PC for injuries he received.

They said that during the clash the PC and another person had joined the clash and assaulted the PC. Therefore, the wife acting in selfdefence had carried her husband's pistol to scare the attackers.

The couple was arrested by the Koswatte Police allegedly for assaulting a bus driver of Route 177 for blocking the way of the vehicle of the PC at the Koswatte junction.

A video was circulating on social media which shows Tharaka Perera, showing off a pistol and assaulting the bus driver.

The Police arrested the couple on the spot with a 9mm pistol and five bullets in their possession.

It was reported that the apprehended PC M.K. Kasun was the son of the former Southern Provincial Council member M.K. Ranjith (Chandi Malli) who was shot dead in Colombo a few years ago as a result of an underworld clash.