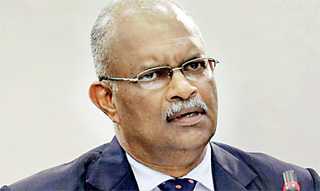 Shani Abeysekera
---
SSP Shani Abeysekera was transferred back to the Welikada prison hospital from the Colombo National Hospital yesterday.

Abeysekera was transferred to the Welikada Prison around 7 p.m. last evening.

The former CID Director underwent emergency heart surgery for the insertion of a cardiac stent on the evening of 18 February.

Abeysekera was not granted access to his family despite his illness. The former CID director contracted COVID-19 while he was remanded at the Mahara prison and was immediately transferred to an Army treatment facility in Polonnaruwa.

In a report to court, Infectious Diseases Hospital, Rajagiriya Senior Physician Dr. Ananda Wijewickrema said Abeysekera had suffered a heart attack during the journey from Mahara prison.

The order to release Abeysekera back to prison comes only days after Prof. Channa Jayasumana was appointed acting Health Minister while Pavithra Wanniarachchi recovers from the coronavirus.

Commenting on reports that SSP Abeysekera was being denied access to medical treatment, Human Rights Commission of Sri Lanka former Commissioner Ambika Satkunanathan tweeted that the UN Human Rights Committee, the African Commission on Human Rights, the international American Court of Human Rights, and the European Court of Human Rights have all found that denial of free access to medical treatment in detention can constitute torture or ill-treatment.

"The Sri Lankan Constitution also stipulates that no person shall be subjected to torture or to cruel, inhuman or degrading treatment or punishment," Satkunanathan said.

"The acting Health Minister should be aware of the principles of medical ethics relevant to the role of health personnel, and particularly physicians in the protection of prisoners and detainees against torture," the former HRCSL Commissioner tweeted.