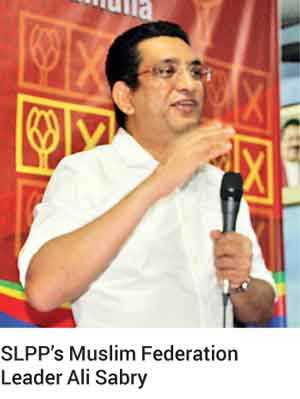 SLPP's Muslim Federation Leader Ali Sabry PC has called upon the members of the Muslim community to show their solidarity towards the victory of the party led by Premier Mahinda Rajapaksa, who has an affinity towards the Muslims of Sri Lanka.

Sabry was speaking in Colombo on Thursday before the Muslim professionals who have come to extend their fullest cooperation to the SLPP, which is contesting at the forthcoming polls on 5 August. The meeting was coordinated by Nawaz Mustaffa, son of the former minister from Nintavur M.M. Mustaffa.

Speaking further, Sabry said the SLPP is going to win the elections and form a government, therefore, he appealed to all the Muslims in the island to give their fullest cooperation to the party, so that the community could reap the benefits of the winning party.

The President's Counsel pointed out that the religious parties have no place in the Sri Lankan society, such divisions will be a continuous threat to the peaceful coexistence among the various communities in the island, therefore, he added that it is nothing but right to help the SLPP leadership to form the government, so that all communities could lead a peaceful life.

SLPP Muslim Federation National Organiser A.L.M. Uwais Hajiar said the SLPP has only fielded eight Muslim candidates at the forthcoming polls and it is the responsibility of the Muslims to send them to the legislature to speak on its behalf.

He also said the leadership of President Gotabaya Rajapaksa has proved so well that he successfully brought the Coronavirus under control, and that has been exerting all his efforts to eradicate the drug menace which affects the youth population of the country.