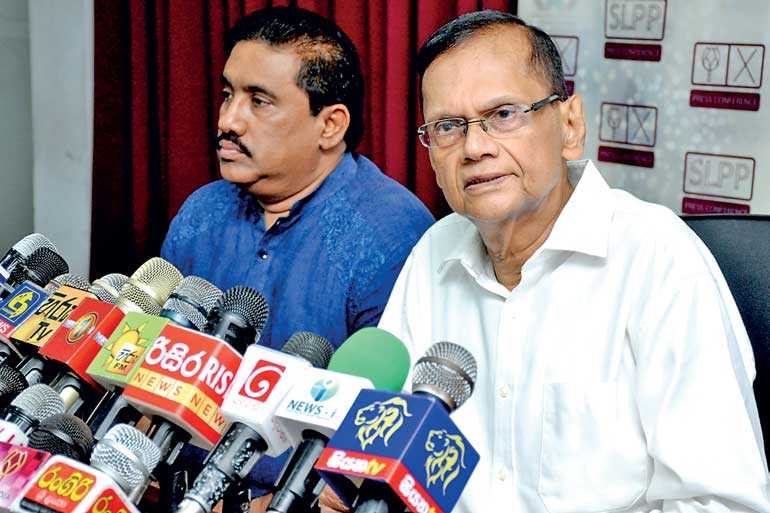 Sri Lanka Podujana Peramuna (SLPP) Chairman Prof. G.L Peiris with MP Rohitha Abeygunawardena at the media briefing – Pic by Lasantha Kumara
---
By Nuwan Senarathna
The Sri Lanka Podujana Peramuna (SLPP) yesterday said criticised the Sri Lanka Freedom Party's (SLFP) abstinence in voting in the third reading of Budget 2019, causing a serious rift in the anti-United National Party (UNP) camp.

While the decision will have no bearing on the talks between two parties, SLPP Chairman Prof. G.L Peiris claimed that the move had created a serious challenge that needed to be solved to regain the trust of the anti-United National Party (UNP) camp.

"The SLFP actions had dented the trust of the anti-UNP camp. We cannot argue that the SLFP's decision has not dented the public's trust. One thing is clear, from now on the SLFP has to take 50% of the responsibility for harmful decisions of this Government," Prof. Peiris told reporters at Party Head Office in Battaramulla.

The Appropriation Bill 2019 was passed in Parliament on Friday with 119 MPS voting in favour, while 74 including the Janatha Vimukthi Peramuna (JVP) were against it. However, a group of SLFP MPs, largely identified as loyal to President Maithripala Sirisena, abstained from voting.

Prof. Peiris said the SLFP's decision to abstain from the vote would also hold them accountable for the outcomes of the Budget. He also questioned the intentions of the SLFP, insisting that moves to abstain from the Budget vote would not help to defeat the UNP Government or its economic policies that oppressed the public.

"If you refused to vote against the United National Party (UNP) Budget, that is a gesture of protecting the Government," he added.

He pointed out that Budget was the most important bill, which any party should not miss. He noted the final vote on Budget 2019 was the only chance the SLFP had to correct itself but it had intentionally skipped the opportunity.

Prof. Peiris questioned the double standard of SLFP that certain MPs of the SLFP who criticised the Budget but absent during the vote. "People who took that stand to abstain from the Budget vote will have to explain to their respective electorates how they can credibly claim to be against the UNP and economic policies," he added.

However, Prof. Peiris said the issues that arose following the SLFP's decision on the Budget vote could be solved during the talks between two parties. He noted that the SLPP would go into talks with the SLFP with no strings attached.

Talks between the SLFP and SLPP commenced on 14 March looking to form a broader political alliance against the UNP. Following the first round of talks, both parties were able to find common ground. The next round of talks will be held on 10 April.