SLFP General Secretary Prof. Rohana Lakshman Piyadasa at addressing media yesterday along with SLFP Senior member Dayasiri Jayasekara - Pic by Ruwan Walpola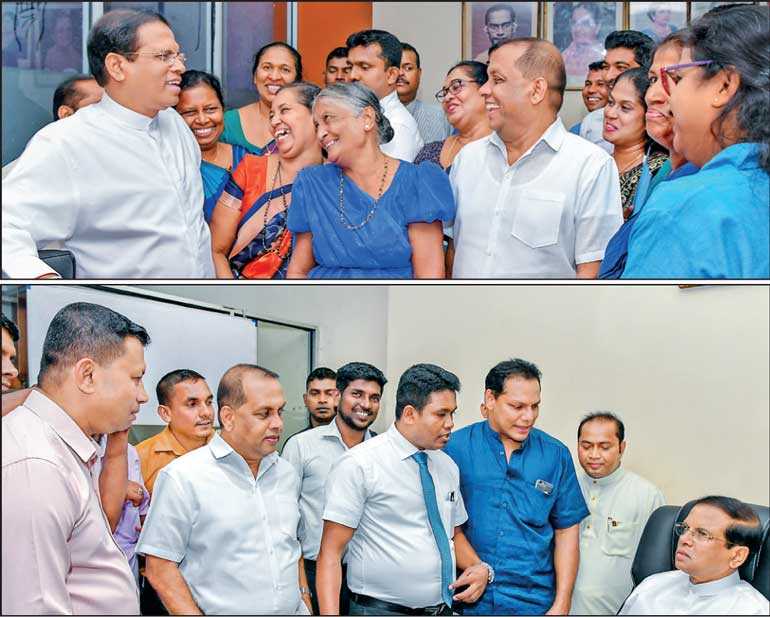 President Maithripala Sirisena yesterday visited the SLFP Headquarters and met with members and officials
---
SLFP Gen Secy. defends President's 26 October action
Dayasiri insists that the breakaway group is being instigated by the UNP
Says the Party will form a broader alliance with the SLPP and a number of other parties
By Chathuri Dissanayake
Sri Lanka Freedom Party (SLFP) yesterday brushed off accusations made by the new breakaway group that President Maithripala Sirisena violated the Constitution, accusing external forces of influencing its members.

Party General Secretary Prof Rohana Lakshman Piyadasa, speaking to media at the Party head office, defended the President's actions, despite the Supreme Court decision stating that the decision was in violation of the Constitution.

"He wanted to hold elections, the people wanted an election," he claimed.

Six SLFP organisers, disillusioned with the direction the Party has taken to form a broader alliance with the Sri Lanka Podujana Party (SLPP), spoke out against the decision, noting that the Supreme Court has also determined that the President's post 26 October move was in violation of the Constitution.

However, Prof Piyadasa insisted that such a violation has not been committed by the President.

Critical of the move taken by the group speaking against the leadership, SLFP party senior Dayasiri Jayasekara told media that the group in question is being instigated by the United National Party (UNP) which is now trying to form a National Government.

"The real faces of the people controlling them will come out in public in a few days. The UNP now wants to form a National Government with the Sri Lanka Muslim Congress, and this breakaway group, which calls themselves the Association to Protect Sri Lanka Freedom Party," he said. "Then they will be able to give Ministerial appointments to people like Range Bandara." However, Jayasekara said that the SLFP is looking at forming a broader alliance with SLPP, SLFP, Mahajana Eksath Peramuna (MEP), Bahujana Nidahas Peramuna(BNP), Sama Samaja Party and Communist Party.

"We are looking at forming a broad alliance of progressive leftist camps with the contribution of all these," Jayasekara said.

"If there is anyone who worries that the SLFP will go into oblivion in this alliance, then it's a problem within the party, we should know to build our party," Jayasekara said, expressing the confidence that grassroot level members are still with the Party.

The General Secretary too defended the decision by the SLFP to form a broad alliance with the SLPP, saying "it was all in the game of politics."

"We will always take political decisions that will further the goals of our party," he insisted.

SLFP members speak up against alliance with SLPP