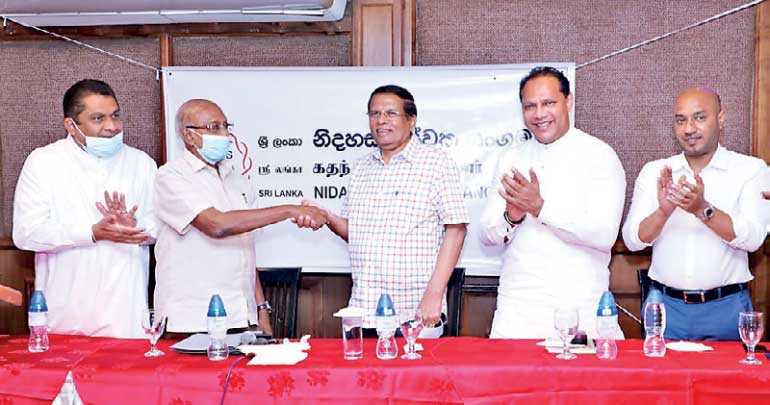 Sri Lanka Nidahas Sevaka Sangamaya Secretary Lesley Devendra shakes hands with SLFP Chairman Maithripala Sirisena after the signing of the MoU while (from left) State Minister Lasantha Alagiyawanna, SLFP General Secretary Dayasiri Jayasekera and party member Duminda Dissanayake look on
---
The Sri Lanka Nidahas Sevaka Sangamaya (SLNSS) and the Sri Lanka Freedom Party (SLFP) yesterday entered into a Memorandum of Understanding (MOU) to establish a joint trade union bureau, SLFP General Secretary Dayasiri Jayasekara said.
A number of SLNSS members met with SLFP seniors to sign the MOU.

According to Jayasekara, the SLNSS had decided to act as an independent body in 2018. However, following a series of discussions, the SLNSS and SLFP had decided to agree on several key issues and sign an MOU.

The newly-established bureau will have 11 members, with the leader of the SLFP holding the post of chairman. The chairman will appoint the 10 other members of the bureau. The chairman, secretary and treasurer of the SLNSS have membership of the bureau.

Five trade union members, representing the private sector, plantation sector, State enterprise sector, cooperatives sector and women, will also be appointed to the bureau.

According to MP Jayasekara, the MOU will see all trade unions which are part of the platform align with the policies and views of the SLFP. The SLNSS, which is made up of 234 unions, has pledged its full support to the SLFP, Jayasekara added.