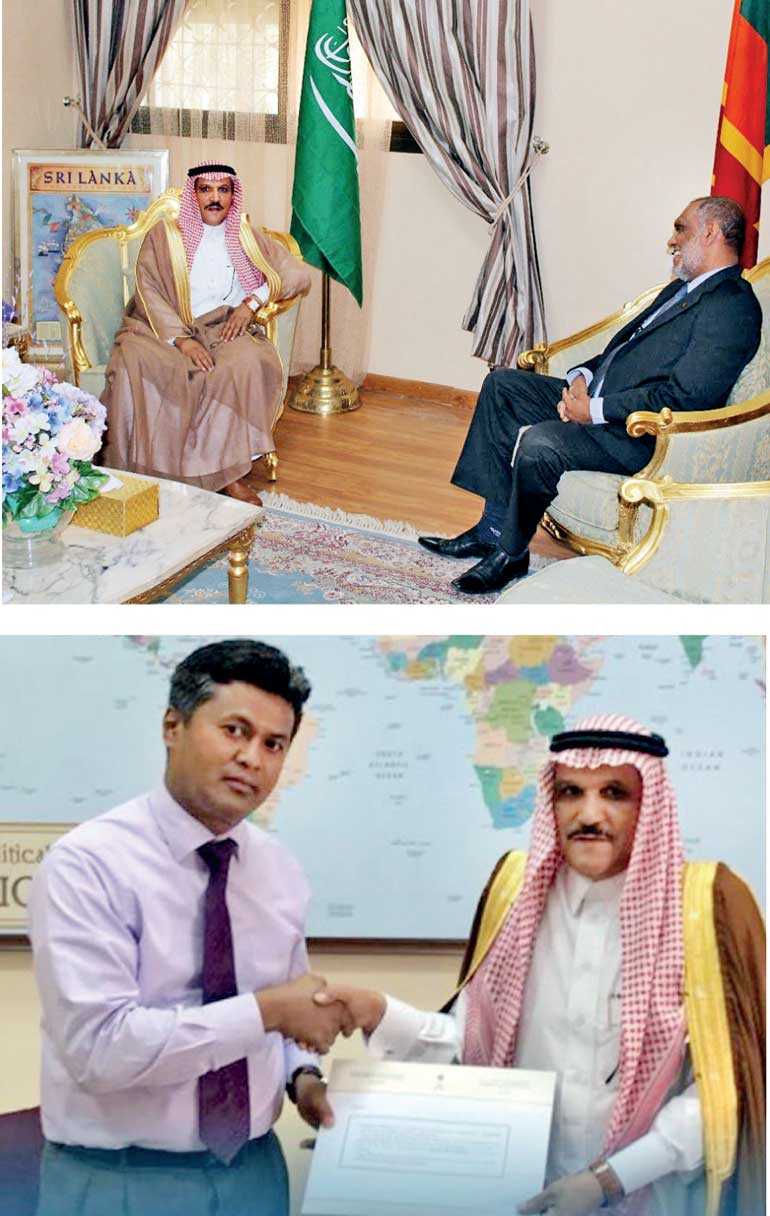 By Mohammed Rasooldeen in Riyadh

Saudi Arabia's new ambassador designate to Sri Lanka arrived in Colombo last week.

Upon arriving in Colombo, Ambassador Nasser Al-Harithi presented copies of his credentials to Chief of Protocol Affairs of the Ministry of Foreign Affairs, Mohamed Hassan, in Colombo last week.

Al-Harithi succeeds former Saudi Ambassador Abdul Rahman Al-Jammaz who left Colombo upon the completion of his tour of duty four years ago.

Prior to his departure to Colombo, Al-Harithi paid a courtesy call on the Sri Lankan Ambassador in the Saudi capital of Riyadh, Azmi Thassim, where the two diplomats exchanged greetings and talked about bilateral relations between the Kingdom and Sri Lanka.

Al-Harithi, who joined the Kingdom's Foreign Service in 1985, had served in Saudi missions in New York, Suez-Egypt, Islamabad and became the Director General of General Administration for Administrative Communications in the Ministry of Foreign Affairs in Riyadh. His last posting was in Nepal, where he served as the country's Ambassador in Kathmandu.

Sri Lanka set up its embassy in Jeddah in 1981 with Dickman De Alwis serving as its first charge d' Affaires, where subsequently in 1993, the Saudi Government reciprocated with a mission in Colombo, appointing Abdullah Al-Zahrani as its Charge d' Affaires. Later in 1985, the Lankan embassy moved its location to Riyadh.

The former ambassadors of Sri Lanka in the Kingdom include the late M.R.M. Thassim, late A.L.M. Hashim, late Cader Markar, Izzat Ahamed, Javid Yusuf, Nowfel Salih Jabir, Ibrahim Sahib Ansar, A.M.J. Sadiq, late A.A.M. Marleen, Ahmed A. Jawad, Krishnamoorthy and Hussein Mohammed, who left the Kingdom two years ago .

Speaking to the Daily FT, Ambassador Thassim said that he was glad that an ambassador had been appointed to the Saudi mission in Colombo after a long lapse. "The presence of an ambassador in Colombo will facilitate several functions to go smoothly," he noted.

Recalling the longstanding bilateral relations between the two countries, he said both nations had seen eye to eye with each other on several international issues which benefit the larger section of the world population.

To boost the current cordial bilateral relations, he said Sri Lanka was currently focusing on promoting trade, tourism, investment and the deployment of skilled workers in the Kingdom.

Saudi tourists have started going to Sri Lanka in large numbers lately. Last year there was a record of more than 50,000 Saudi tourists to the island.

"We hope to increase this number in the coming years by increasing the facilities and services provided to Saudis who go to Sri Lanka for business and family holidays."

"Sri Lanka is popularly known as the land of the smiling people," he stressed.

The Saudi Fund for Development has been a partner in progress with Sri Lanka, he said. Recently he recalled that a 200-bed epilepsy hospital, which was fully funded by the Saudi Fund for Development, was opened by Sri Lankan President Maithripala Sirisena in Colombo.

Thassim said that it was the great support from the Kingdom which helped fulfill a long-felt need of the island nation.

The SR 100 million, 10-storied hospital building consists of an operation theatre, Intensive Care Unit (ICU), High Dependency Unit (HDU), 242-bed male and female wards and an auditorium for capacity building for medical staff island-wide.

Saudi tourists are given visas on arrival at the airport and also can easily obtain entry visas at www.eta.gov.lk.

The country's national carrier SriLankan Airlines operates 18 flights to and from Colombo from the three major airports of Dammam, Riyadh and Jeddah which include daily flights from Jeddah and Riyadh. Saudis travelling to Colombo also find convenient connections to Malaysia, Singapore, Indonesia, Seychelles, the Maldives and various cities in India.