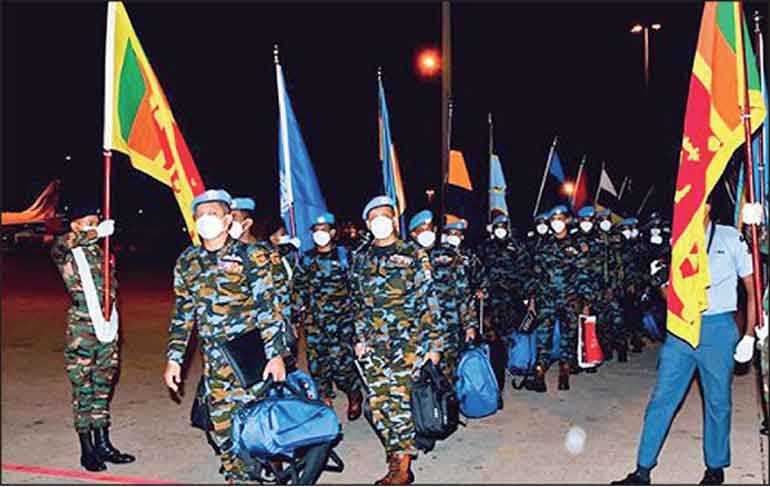 The first group of the seventh contingent of the Sri Lanka Army Medical Corps (SLAMC), and the fifth contingent of Sri Lanka Air Force (SLAF) Aviation Unit bound for United Nations Peace-Keeping Mission in South Sudan's (UNMISS) have left the island from the Colombo International Airport this week.
The seventh Army contingent of the Sri Lanka Army Medical Corps (SLAMC) serves at the UNMISS Level-2 Hospital in Bor, South Sudan while the SLAF Aviation Unit is tasked with aircraft deployment.

Sri Lanka Army Commander Lieutenant General Shavendra Silva met the departing first team of the seventh Army contingent comprising 10 officers and 22 other ranks at the airport for the send-off.

Wishing the troops best of luck, the Army Chief reminded them of the importance of maintaining the highest level of discipline while serving and their commitment to the role and tasks in South Sudan.

The fifth contingent of SLAF comprising 14 officers and 38 airmen departed to South Sudan from Bandaranaike International Airport on the same flight. Group Captain Duleep Hewavitharana leads this Contingent as the Contingent Commander.

The South Sudan bound seventh contingent Sri Lanka Army is commanded by Col. Roshan Jayamanna and made up of four medical specialists, four medical officers and a dentist, one commanding officer, seven administrative officers, 41 SLAMC other ranks, including Ward-In-Charge, nurses, critical care nurses (gynaecological), operation theatre technician, Physiotherapy (DPM), radiographer, X-ray technician, SMO/MPH (ECG), dental assistant, dental technician, medical storeman, pharmacist, pharmacy technician, lab technician, lab technologists, hygiene assistant, admin clerk, cooks, ambulance drivers, sanitary duty man, mortuary attendant and nine other ranks from the Sri Lanka Signal Corps, Corps of Engineer Service and the Sri Lanka Army Service Corps.

The other team of the seventh contingent will depart on 9 December after remaining troops of the sixth contingent arrive home on 8 December. The first batch of returnees of the sixth contingent arrived in the country last Sunday.