Warns further delays will deepen inter-communal tensions and frustrations
Questions why land has not been identified despite committee report being out on 28 Dec.
Finds fault with the PCoI report on Easter Sunday attacks
---
By Asiri Fernando
---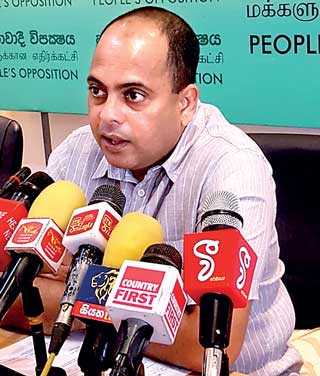 SJB Parliamentarian S.M. Marikkar
---
The Samagi Jana Balawegaya (SJB) yesterday accused the Government of dragging their feet on issuing regulations for the burial of COVID-19 deaths and appealed for the Government to fast track issuance of relevant guidelines.
SJB Parliamentarian S.M. Marikkar yesterday warned delays by the Health Ministry to issue the much-awaited guidelines regarding the burial of the COVID-19 dead could lead to more resentment and tensions between communities. Marikkar made these comments at a press conference held at the opposition leader's office, where he was joined by MP Tissa Attanayake.
MP Marikkar also stressed that the gazette granting approval for COVID-19 dead to be buried was based on a report by a panel of experts led by Prof. Jenifer Perera. He questioned why locations identified by experts as a suitable ground for burials were not being disclosed to the public.

"What was the government doing for two months following the recommendations by an expert panel on the option of the burial of COVID-19 related deaths? The report was submitted on 28 December. Now the Director-General of Health Services is saying they are looking for suitable land for the task." Marikkar accused the Health Ministry of creating unnecessary pain and adding to the suffering of families by delaying the regulations needed to get the process going.

"We would like to point out that Peradeniya University has stated that Kuppiyawatta cemetery is suitable for the task due to the depth of the underground water table there. It has been signed by Prof. Athula Senarathne. Why is the Health Ministry trying to bury this report? If the Health Ministry and Government made an error regarding not allowing burials now is the time to put it right.

"Please don't drag this out as it will cause animosity between communities," Marikkar pleaded.

Meanwhile, addressing the same media gathering, opposition MP Tissa Attanayake stated that the recently tabled Presidential Commission of Inquiry (PCI) report had many shortcomings and noted that it had even been rejected by Catholic religious leaders.

"The PCI report on the Easter Sunday attack has been tabled in Parliament. However, going through it, we find that several annexures and parts of the complete document are not yet available. The report doesn't speak of who was behind the attack. There is nothing in the report about punishing those involved. The SJB working committee has rejected the report as it is an incomplete document. Even the Cardinal has rejected this report."

Attanayake added that the PCoI had ignored the victims of the attack and failed to identify the international linkages of the extremists.