SLFP Parliamentarians to support the upcoming Budget
Wants sugar tax increased
Safeguarding the rights of people and not the rights of multinational companies will be the focus of the Budget to be presented on 5 March, stated Health Minister Dr. Rajitha Senaratne recently. Stating that some SLFP Parliamentarians will also be supporting the new Budget, the minister said the Government has directed the country's health policy on the correct path.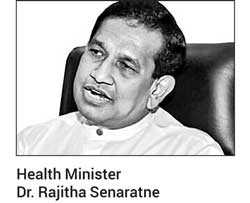 "Our Ministry has started a program to train medical staff after discussions with Singapore's Sinha Health Project. This program is aimed at providing training to personnel from doctors to management staff, where they would have the opportunity to study how health services work in a developed country," he said.The minister also reminisced about how plans were almost underway for price regulations in private hospitals when the President dissolved Parliament, and gave promise that this would be established soon."Our Government had imposed taxes on carbonated drinks as a means of fighting against diabetes which was reduced by Mahinda Rajapaksa during his usurped Government. We are discussing with the Finance Ministry to once again increase this tax," he stated.Dr. Senaratne further stated that a Gazette will be released soon regarding this tax increment. He said that there's much need in the country to safeguard children from wrong food habits and also to protect people's rights and not the money of multinational companies.The minister made these comments during a speech given at a school supplies distribution for 200 school kids in the Bandaragama Divisional Secretariat by the Rajitha Senaratne Foundation yesterday at the Divisional Secretariat office. The Private Secretary to the Health Minister Specialist Dr. Sujatha Senaratne and distinguished guests were present at this ceremony.