Cabinet Co-Spokesperson Rajitha Senaratne yesterday said that much more is needed to be done to address the grievances of the war-affected community in the North.

While condemning State Minister Vijayakala Maheswaran's statement supporting terrorism, Senaratne justified the context in which the statements were made.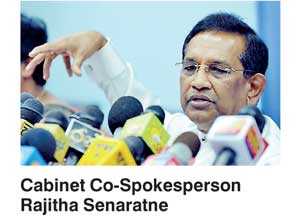 "We don't accept that there should be any return to terrorism. That is wrong. But, we accept there are legitimate issues in the delivery of services. Housing for the war-affected community was delayed as the TNA wanted brick and mortar housing. There are still detainees who have not been charged or released. Their cases are still being processed, but it is taking time. These are issues that Vijayakala raised," he said, speaking at the weekly Cabinet press briefing.

However, he said that the wave of crimes in the North is normal for any post-war society, where small armed gangs come into operation after the end of an armed conflict. "It is normal for any such society, but the important thing is they are being controlled now," he said highlighting that even before 2015, weapons have been discovered in the Northern Province.

"There is no space for an armed uprising now. The people of the Northern Province do not want it. Now, all Tamil political parties are in the democratic stream. All those extremist groups have been defeated. We saw this in the last election," he assured.