Accused of violating tender procedure when leasing harbour to a private company
---
By T. Farook Thajudeen
---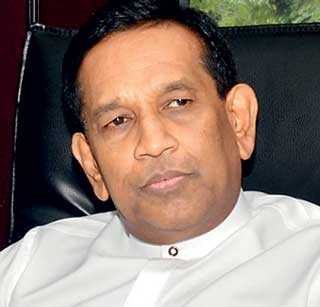 Dr. Rajitha Senaratne
---
Former Fisheries Minister Dr. Rajitha Senaratne and two others were interdicted yesterday on five charges under the Bribery Act over an alleged case of causing loss to the Government by violating tender procedures when leasing out the Modara harbour to a private company.
The Commission to Investigate Allegations of Bribery or Corruption (CIABOC) had filed indictments against former Minister Dr. Rajitha Senaratne, former Chairman Upali Liyanage and former Managing Director Neil Ravindra Munasinghe of Fisheries Harbour Corporation (CHFC) under Section 70 of the Bribery Act for causing the loss when leasing out the Modara Fisheries Harbour to a private company in 2014.
Yesterday the case was called before High Court Judge Pradeep Hettiarachchi and the charge sheet was served to the accused while further inquiry was postponed for 22 April.

The accused in the case were alleged to have arbitrarily and unlawfully under-invoiced the lease value when leasing out Modara Fisheries Harbour to Sea Gulf UK Ltd. between 1 August 2014 and 1 November 2014.

The Bribery Commission alleged that the former Minister and the other two accused had leased out the harbour to Sea Gulf UK Ltd. with ulterior motives.

The accused were indicted under Section 70 of the Bribery Act and Section 113 and 102 of the Penal Code. The prosecution had named 17 individuals as witnesses and had listed 55 documents as production items to the case.

President Counsel Anil Silva with K.V. Thavarasha PC, Nandana Perera and Dharmaja Dharmaraj appeared for Dr. Senaratne on the instruction of Gowery Sangary Thavarasha.