Committee appointed by President to investigate prison reforms asked to consider granting relief to certain categories of prisoners
Those in custody for minor offences and unable to pay bail to be considered
Prison rights groups have called for release of some prisoners to ease congestion as fears over COVID-19 grow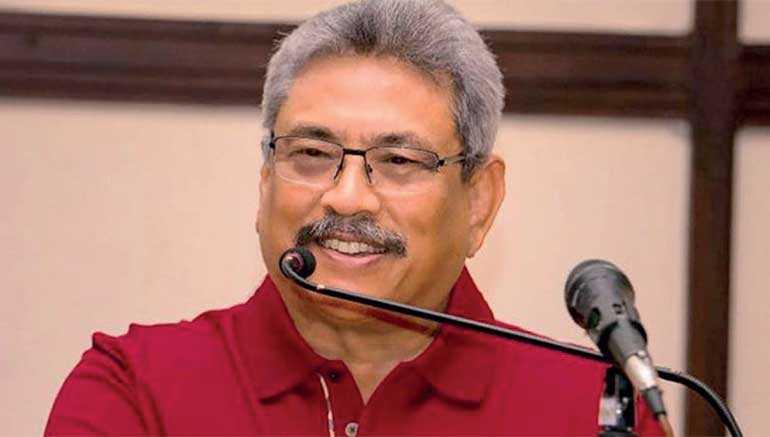 President Gotabaya Rajapaksa
President Gotabaya Rajapaksa yesterday instructed a Committee he appointed to look into prison reforms to examine the possibility of providing relief to prisoners who are in custody for minor offences and unable to pay bail.

President Rajapaksa gave these instructions when the Committee members met him yesterday.

The President's directive came amidst calls for the release of certain categories of prisoners to reduce the overcrowding in prisons, as fears grow of the possible spread of COVID-19 among prisoners.

The Committee for Protecting the Rights of Prisoners (CPRP) wrote to the President last week, asking him to consider a pardon for certain categories of prisoners.

In the letter, the Committee appealed to the President to send prisoners who are qualified for home leave under the provisions of the Prison Ordinance to their homes, while considering a presidential pardon for those who have committed minor offences, those who are in custody as they are unable to pay bail, and those suffering from illnesses, as well as prisoners over 70 years of age.

CPRP Chairman Attorney Senaka Perera told the Daily FT that all prisons in the country are overcrowded, with the Welikada Prison, which can accommodate only about 800 inmates, now having close to 5000. "Most prisons also lack proper medical facilities," he said, adding that countries such as Italy, South Korea, and Iran have begun programs to release prisoners to ease congestion due to the threat of the spread of COVID-19.

Meanwhile the Committee appointed by President Rajapaksa, consisting of Prison Department officials and lawyers, will submit a report on 26 March, after looking into the possibility of release of some prisoners.

The Committee consists of Commissioner General of Prisons Janasiri Thennakoon, President of the Bar Association of Sri Lanka (BASL) Kalinga Indatissa PC, Legal Advisor to the President Harigupta Rohanadeera , Prisons Commissioner Venura Gunawardena, BASL Secretary Kaushalya Navaratne, and several others.