Tells Hindu newspaper in interview can make 19A work only with two brothers at the top
Says for country to be governed successfully, stability is needed
Dismisses allegations linking him to white vans
Says Govt. was "strict about journalist during war but not in peacetime"
President Gotabaya Rajapaksa called the 19th Amendment (19A) a failure and said he would drop it from the Constitution if the Government secures a two-third majority in the upcoming Parliamentary Election.

"The only way you can even make the 19th Amendment work is with two brothers (laughs) [at the top]. For a country to be governed successfully, you need stability," President Rajapaksa said in an interview with the Hindu newspaper during his State visit to India.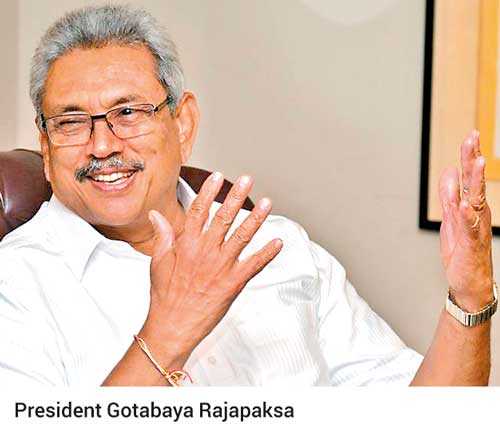 In a wide-ranging interview which was published yesterday, the President also dismissed allegations linking him to white vans and human rights violations.

"Those (white vans) are bogus allegations, and certainly nothing of the sort was done by me. Post-2009, we had tried to study the allegations, but it is difficult. We were not responsible, and even though we did ask the CID (Criminal Investigation Department) to investigate the charges, but they didn't have any evidence.

"If it was easy, why didn't the [Sirisena] Government pursue these charges? The fact is we were strict about journalists during the war, but not in peacetime. Remember, MR's Government didn't start the war, we finished the war. Why aren't previous presidents being asked about these allegations?" the President said.

The President also said that allegations of human rights during the war are wrong. "In peacetimes, my engagement was even more than during the war to try and work on these issues. I did demining, I worked on resettlement and rehabilitation and development, and I got all militia to disarm. Without me there would not have been Provincial Council Elections, which our Government conducted for the first time in the North and the East.

"We ensured the elections were free and fair; we didn't try to manipulate them or bring in a candidate of our choice. The international community did not recognise these things, even the Tamil politicians did not recognise these things which led to a [better situation in the North and East]," he said.