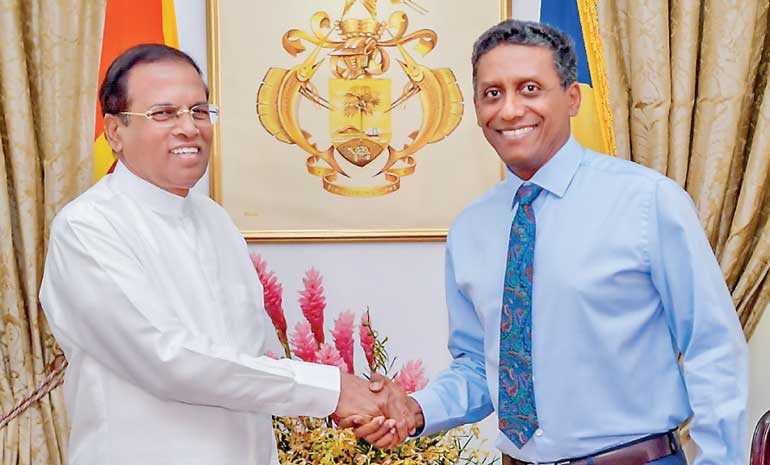 President Maithripala Sirisena and Seychelles President Danny Faure
President Maithripala Sirisena returned to Colombo yesterday (10), after completing a successful visit to Seychelles.

Sirisena, who paid a two-day state visit to Seychelles on the invitation of his Seychellois counterpart, Danny Faure, attended high level bilateral talks where the two sides agreed to take existing cooperation between the two countries to a higher level, especially in the fields of trade and tourism.

Sirisena was warmly received by Faure and a Guard of Honour was held in his honour. After a cordial meeting, bilateral discussions commenced. The President said that he would give instructions to the relevant sectors to improve relations between business forums and get more Sri Lankan businessmen to participate in trade fair to be held in Seychelles end 2018.

The Seychelles President praised Sirisena's initiative to eradicate drug abuse and requested his assistance to find a solution to the drug menace there. Faure expressed his gratitude to Sirisena for providing assistance to improve the health sector in Seychelles and requested training opportunities for Seychelles doctors in Sri Lanka.

He also requested Sirisena to grant military training opportunities to Seychelles security force members in Sri Lanka and assist in obtaining training for judicial and legal drafting sectors. The President said he would take action in this regard and promised to award 10 scholarships annually to Seychelles students in the field of vocational trainings. Faure stressed they were ready to provide any support to Sri Lanka to develop the fields of economic and trade sectors as well as to provide any support at any time.

This tour took place at the time of completion of 30 years of diplomatic relations and marks a new milestone in the bilateral relationship between the two countries, Faure said.

Diplomatic relations between Seychelles and Sri Lanka commenced on 3 October 1988. The Sri Lankan High Commission in Seychelles was established in 2013. Faure stated that a permanent place would be allocated for the construction of the Sri Lankan High Commission, which is currently functioning in a leased building.

Nearly 2,400 Sri Lankan workers serve in Seychelles and the President also extended his thanks to Faure for the support given to the welfare of those employees.

Both countries are also signed new two Memorandums of Understanding for further expansion of bilateral cooperation.

A new agreement on advancement of information technology was signed between the University of Moratuwa and Information Technology University of Seychelles and an agreement relating to the expansion of bilateral cooperation in the field of vocational training was signed between Sri Lanka Vocational Technology University and Seychelles Technology Institute.

Sirisena planted a seed of Coco de Mer, an endemic plant of Seychelles, in the National Botanical Garden of Seychelles, after a welcome by Waila Pecrocrow, Seychelles Minister of Environment, and Raymond Brioche, CEO of the National Foundation of Botanical Gardens. The President toured the botanical garden which is a major tourist attraction since it was established in 1901.

Sirisena undertook an observation tour of the Seychelles Maritime Academy, managed by the Sri Lanka International Maritime and Engineering Higher Education Institute, and exchanged remarks with students of this reputed institute. Sirisena also reviewed some of programs relating to strengthening bilateral relations in the maritime sector.

Sirisena was accompanied by Sri Lanka International Maritime and Engineering Higher Education Institute Chairman Capt. Ajith Peiris as well as Capt. Tharaka Thelwaththa. Later, he visited the island of Praslin, home to Valée Demai Nature Reserve, a UNESCO world heritage site.

The President held a meeting with Sri Lankan professionals employed in Seychelles and students, who warmly welcomed the President. This meeting was held at the Conference Hall of Seychelles where the official website of the Sri Lanka High Commission of Seychelles was also launched by the President. The official website of the Seychelles Buddhist Society was also opened by the President.

Sri Lankan professionals who have stayed in Seychelles for over 30 years and contributed to strengthening of the ties were appreciated and presented with souvenirs and the Sri Lankan community in turn presented a special souvenir to the President.

Minister Lakshman Seneviranthne, State Ministers Piyasena Gamage and Mohan Lal Grero, and Sri Lankan high Commissioner for Seychelles Tikiri Herath Gunethilake and others were present.