Praises Sirisena for not running for second term
Extends support to presidential aspirant Gotabaya Rajapaksa
Says SLFP cannot extend support to UNP due to policy clashes
Argues SLFP cannot partner with those who align with TNA and Rishad Bathiudeen
Former Deputy Speaker and SLFP MP Thilanga Sumathipala yesterday claimed that President Maithripala Sirisena was the only elected president of the country who has not sought a second term and that it was praiseworthy.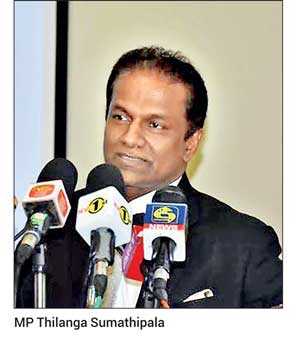 Sumathipala told reporters that the SLFP cannot support the UNP presidential bid due to discrepancies in policies and that it was not possible to support Sajith Premadasa the UNPF candidate as it would most likely lead to Prime Minister Ranil Wickremesinghe retaining the same post in a new Parliament.

"Maithripala Sirisena as the leader of the SLFP will not support Sajith (Premadasa)," he said. His statement come in the wake of recent meetings held between Sajith Premadasa and the SLFP on the possibility of extending support.

Sumathipala argued that National Democratic Front presidential candidate Sajith Premadasa could not run for presidency without Ranil Wickremesinghe's support and that Premadasa will be obliged to appoint Wickremesinghe as PM if he is successful. "Therefore at present the SLFP under Maithripala Sirisena's leadership is not in a position to support the UNF," he said. "We know that the UNF will not face elections without TNA support, however the SLPF cannot align with anyone who moves in to coalition with the TNA due to policy discrepancies," he elaborated.

The former Deputy Speaker also pointed out that the SLFP cannot support any candidate that aligns with the TNA and individuals like Rishad Bathiudeen. "There has been significant protest from the SLFP grassroots against ministers like Rishard Bathiudeen who are alleged to have supported extremism, the public doesn't trust him, therefore we as the SLFP cannot support a candidate who aligns with him," he said.

The SLFP central committee has prepared three agreements including an MoU between the SLFP and Gotabaya Rajapaksa and one between the SLFP and SLPP, Sumathipala relieved. However, they are yet to be finalised and signed by both parties. Responding to a query on why there was a delay, Sumathipala claimed there was no delay. "I am confident that the SLFP will support Gotabaya Rajapaksha," he added. He also said that in the future SLFP will likely be represented by the 'Chair' symbol for General Elections.