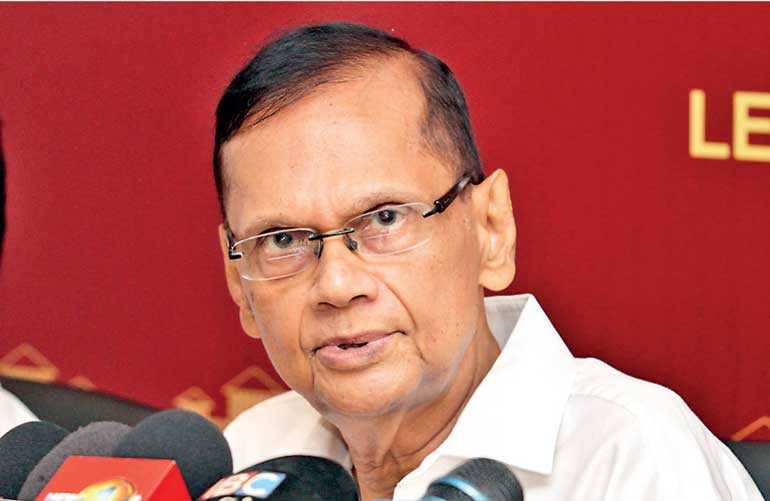 SLPP Chairman Prof. G.L Peiris - Pic by Chamila Karunarathne
---
Says concentrated effort to prevent former Defence Secy running for President
By Nuwan Senarathna

Sri Lanka Podujana Peramuna (SLPP) yesterday questioned the intention behind the two lawsuits filed against former Defence Secretary Gotabaya Rajapaksa in the United States, insisting a political motive was behind the developments.

One case was filed by Ahimsa Wickrematunge, daughter of former Editor of The Sunday Leader Lasantha Wickrematunge, and a second by Roy Samathanam.

"It is very clear these cases are clearly connected with the Presidential election that is likely to take place at the end of this year. It is also clear all these initiatives are backed by LTTE sympathisers. These people have connections with diaspora communities that are still sympathetic to the LTTE," SLPP Chairman Prof. G.L Peiris told reporters at the Opposition Leader's office in Colombo.

He claimed the move to file lawsuits against Rajapaksa was a move to prevent him from renouncing his US citizenship, which is a prerequisite to running for the Presidential elections.

Prof. Peiris claimed lawsuits filed against Rajapaksa would not be a barrier for him to renounce his US citizenship. "It is up to Rajapaksa to decide whether he wishes to renounce the US citizenship and what time he needs to do so. No government or country can compel an individual to continue with the citizenship of that country against the wishes of that individual. Citizenship cannot be forced on people."

He also claimed both Wickrematunge's daughter and Samathanam had the opportunity to file cases against Rajapaksa previously, insisting filing a case at a time when Rajapaksa decided to renounce his US citizenship raised suspicion over the intention of the two lawsuits.

"Wickrematunge's matter is 10 years old and Samathanam's matter is 12 years old. Throughout that period almost every year Rajapaksa has been visiting the US. Therefore it is remarkable that neither of these people felt that it is necessary to initiate action during the whole of that period but suddenly they have decided to take this step," he added.

Prof. Peiris also claimed Samathanam was backed by the LTTE to file a lawsuit against Rajapaksa, pointing out that a US law firm such as Hausfeld could not be hired without large amounts of funding by a third party. "Hausfeld is a very expensive law firm, therefore the average person cannot afford their legal expertise," he added.