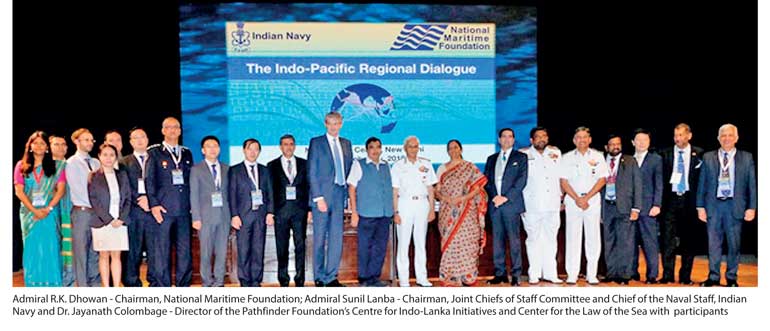 The Indian Maritime Foundation conducted the 2018 edition of the Indo-Pacific Regional Dialogue recently in New Delhi, India.

Admiral Dr. Jayanath Colombage, Director of the Pathfinder Foundation's Centre for Indo-Lanka Initiatives and Center for the Law of the Sea, attended the conference and emphasised the importance of collaboration and cooperation in securing the Indian Ocean, because no single country could fully meet the challenges on its own.

Its sessions focused on 'Maritime Merchandise Trade: Patterns and Trajectory of Growth Vulnerabilities and Mitigation Options', 'Regional Structure and Connectivity: Challenges and Opportunities', 'Non-Traditional Security Challenges & Opportunities' and 'The Role and Potential of Industry in Holistic Maritime Security' in the Indian Ocean in the context of holistic maritime security.

The 2018 edition of the Indo-Pacific Regional Dialogue explored four basic themes, each of great relevance to India's geopolitics.

These include 'The changing pattern of regional merchandize-trade and its associated infrastructure such as ports', 'The role of regional cooperative structures (such as IORA and IONS in the Indian Ocean and their corresponding structures within the pacific segment of Indo-Pacific), Pan-regional connectivity models such as BRI, the North-South Transit Corridor (NSTC), the Asia Africa Growth Corridor (AAGC), project masum, The SAGAR conrefitim', ' Regional solutions to the challenges of persistent sea surveillance, increasing digitalisation of the maritime space and cyber malevolence in the maritime domain' and 'Optimizing the contribution of Indian private and public industry (including shipyards) towards enhancement of holistic maritime security, especially through the 'make-in-India' campaign'.

Shipping, Road Transport and Highways, Water Resources, River Development and Ganga Rejuvenation Minister Nitin Jairam Gadkari represented the Indian Government and was the Chief Gest at the conference.

India, Bangladesh, China, the United Kingdom, Israel, Sri Lanka, Singapore, the Republic of Mauritius and the US participated in this two-day event and all representatives presented their views at the sessions.